The great bust of 2008, that is what many might refer to this event as. I know I am. For almost 5 days everything indicated that this system would be a wide spread significant event. NWS offices, SPC, and all chasers were hyping it up, taking time off work, gearing up, and getting really excited. At the very last second mother nature said "nah screw you guys."
I wouldn't consider it a bust on my part, for one my target area saw more tornadoes than any part of the country which is a win as far as my forecasting skills go. Second, we did intercept a tornadic storm [more on that later.] So I could hardly call it a total bust however, it surely didn't live up to what it was supposed to be. I'm glad I went out and wasn't deterred from going by a 5 percent tornado risk from SPC and early morning "crapvection."
Anyways, I left home around 830am, early morning crapvection [that chilly rain we had all morning] was all over the place. I knew this would put a damper on the day. The dynamics were off the charts and this SHOULD have been an "armageddon" setup. The early morning crapvection would ruin the chance for the instability needed to truly get things going. The main source for instability is the sun, you need the sun to heat things up and get things going so crapvection is obviously a bad thing.
I had a target area in mind from the night before, yet knew the action for today was going to depend highly on live conditions. I decided to gradually inch my way there, stopping off at several locations to monitor things, that way I could adjust where I'm heading. I headed down I-55 and first stopped just south of Pontiac, IL. At this point there was some clearing over Missouri which offered a ray of hope. This in turn convinced one of my chaser pals [Danny Neal] to change his mind and head back out so we setup a meeting point in El Paso, IL
There I/we sat at McDonalds for 4hrs keeping tabs on things. This McDonalds chose the luxury approach for lighting.
You know things are bad when you're making observations like this instead of the weather.
Convection [aka storms to you every day folk] started firing up in parts of Missouri and based off the storm tracks they would head into our target zone so off we went. we sat in El Paso a little too long in my opinion, so now it was time to do the last minute 90mph dash of doom in order to catch things.
We shot down I-39 to I-74 and blasted west to get into position, by this point almost all the other northern IL chasers were heading out in a similar fashion.
We make it to our destination in time for some interception. The storms approaching us go tornado warned, and reports of tornadoes on the ground start coming in along with damage from the towns but go figure we now find ourselves in a no data zone when we need it most. Given the HP nature of the storms and their distance we had little to go by but what we see and what NOAA radio is telling us.
We head further west which I knew was a bad move, all day storms were moving northeast, so going too far west would put them all behind us so we stop for a brief observation of the approaching storm:
Considering by now its almost 7pm, it was extremely hazy and cloudy all day and plus the fact we were dealing with HP supercells it was a not a photo-friendly situation.
Anyways, NOAA radio gives us the ETAs of the storm/tornado at various locations and mentions the exact location these pictures were taking at so we made a jog back east to get out of a direct hit.
We setup in what we think is a good position based off this and rolled the cameras when it soon became apparent that our storm was in fact moving northeast and that the area of interest would pass behind us and we would get cored. We decided not to go back west because potentially driving into a rain wrapped tornado is never a good idea. So here are the videos:
Pretty boring. Once that was over we decided to head back into town to get some data, another heavy downpour was happening and thats when things got ugly. Apparently me driving 70mph in the blinding rain wasn't fast enough for some hillbilly jackass in a pickup truck towing a trailer because he passed me then quickly turned into my lane in front of me clipping my front bumper. I step on the brakes and do a little swerve causing me to loose control and slide backwards into the muddy median. It really is amazing how many thoughts can go through your head in about 10 seconds. My van being the trooper it is suffered no damage, yet needed to be yanked out of the mud for a cost of 75 bucks.
I was a bit shaken up at the thought of how bad things could have turned out if I rolled over, but alas everything was ok in the end so there was no use pondering over it. It was dark and storms were racing off to the east and not doing anything. I decided the chase was over and followed Danny and his father back home. They wanted to stay close in case I had further troubles as a result of the crash.
Total Miles: 490
Tornadoes: 0
Hail: pea-dime
Highest wind measured in core: 28.7mph
Lesson learned: Stick to your target zone, dont wait for storms to fire and then race over there at the last minute, its better to sit in your target zone and risk a bust than to race over there last minute.
My post on StormTrack the day before:
"I'm going to keep my target fairly general as of now and say anywhere from Quincy northward to Burlington, I am also going to be prepared for a more southern target as well based on live conditions. Surface heating and better instability is the only thing that would draw me to a more southern target."
SPC storm reports for the day, mostly within my target area.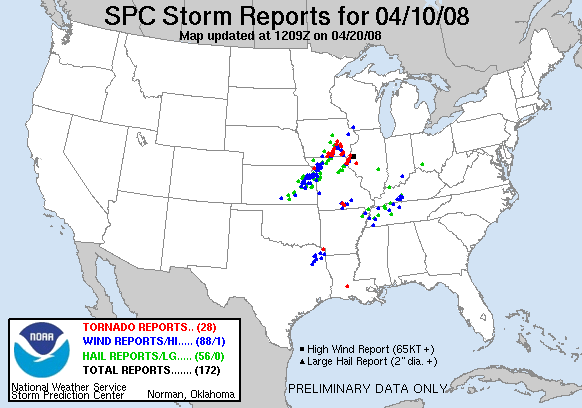 Tornado probs for the day. Less motivated chasers only head out if they see the 15 percent hatch area, and are discouraged at a meager 5 percent but as you can clearly tell probabilities mean next to nothing!
Well there is chase 3 of 2008,. This has been a difficult year for many chasers, there have been notable outbreaks for sure, but the weather pattern we're in has been keeping the storm systems in non-favorable areas.
Thanks for checking it out!
Leave a Comment: