Summary:
Had a Gentleman's chase on the way home from the setup the day before. Meandered my way to intercept storms that formed along the Mississippi River and eventually moved to intercept cold core type storms that stood a decent chance at producing a tornado. Noted a definite funnel cloud that was reported as a tornado as well as some decent structure. Called chase once cold core storms got absorbed by squall line racing in from the west.
Stats:
Tornadoes: 1
Hail: .75″ [Penny]
Wind: 30mph thunderstorm gust.
Something I was happy to see: Flat terrain.
Detailed Account:
Originally I wasn't planning to chase today. I wanted to chase down south, but going solo there was no way I could handle the driving myself so I just planned to crawl home busted and drown my sorrorws. I awoke at my sleezy motel in Rolla, MO to a 10 hatched tornado threat from SPC that covered part of the area on my way home. I decided I might as well try. I hadn't really paid attention to the forecast for this day so I was strictly going off SPC. En route Jesse Risley called me with some great nowcasting advice. A boundary was sitting just behind me as I traveled up I-44 and was going to be the focal point for new development somewhere near the STL metro area. Helicities in IL were very supportive of rotating storms, and with a cold core low moving into IL the setup was quite favorable for mini sups moving north that would be capable of producing tornadoes.
Storms went up as expected west of STL, I crossed the river and moved to intercept the line, not all that thrilled about the linear appearance. As I was moving to intercept those I noticed massive towers going up to my east. These would be the cold core storms and I quickly changed course to move on them.
En route I noticed the familiar yellow chase vehicle belonging to Andrew Pritchard. I ended up just behind him as we raced after these storms. His luck is just as bad as mine and low and behold, got stuck behind another slow moving school bus! I could not believe this was happening to me a second day in a row. To make matters worse there was a 1 lane construction zone but luckily we arrived as the light turned green. You can see the conga line behind the bus at the stop light.
Thankfully the bus ended up making a turn shortly after this allowing me to once again pursue the storm at normal chase speeds. I got on the first group of cells which began to weaken on radar.
I let the southern-most storm approach me with nothing more than some heavy rain, but at least it offered up a nice view of its updraft tower.
There were also some interesting spiraling inflow bands which told me these were in fact trying to rotate into mini supercells.
A new cell blew up even further east and I made that my new target storm. The difficult thing about cold core type setups is so many storms can go up and picking the right one is basically just a roll of the dice. On my way both that storm and the one I was leaving went tornado warned. It actually worked out in my favor though. I was on a good road moving north in between two tornado warned cells.
I could see the bases of each storm, and was treated to a nice display of mammatus overhead while remaining in between the two storms.
I then began to notice a funnel coming down on the storm to my east [the farther of the two of course] and quickly grabbed the video camera to catch it on film. Video still:
I pulled over to observe the funnel for a few moments but quickly regained the pursuit. I wanted to be closer. I hit a brief patch of trees and when I re-emerged the funnel was gone. This was in fact reported on the ground by local law enforcement. As usual I am skeptical but then again I have seen lesser funnels make ground contact so anything is possible. I ended up catching up to the storm which gave me a nice view of its updraft tower from the backside, the base, and I could even make out a little rotation with it as it moved north.
By now I had reached I-55 and followed the storm from behind. It was trying to organize again and at one point a large RFD/clear slot began to surge in.
I was hoping it would be able to completely wrap up one more time but it was moving into worked over air from previous storms and my guess is the storm ended up inhalingthis cold air as it could not get it done. By now the squall line which had developed was closing in and would soon gobble up this storm. I was near the Springfield metro area and ready to call the chase at this point, but a new storm blew up to the south that would remain isolated for at least long enough to give it a shot at a tornado. I quickly found an exit and darted back south after it. Since it was moving north it didn't take long for me to catch it. You can see me next to the storm of interest with the squall line quickly approaching.
As I closed in I noticed an unfavorable sign. The squall line was on our heels and would quickly devour the storm. A dramatic whales mouth moved over the highway to announce this. They are pretty cool to look at but unfortunately, more often then not it means you won't be seeing a tornado anytime soon.
I did another about face and headed for home. Out my window I could see the colliding whales mouth with what base the mini supercell had. I thought maybe I could get lucky and there would be some sort of boundary reaction that could spin up a brief tornado so I pulled over to watch it for a minute.
As usual though, the outflow won and nothing ever came of it. I started home and just north of Springfield I encountered what was left of the storms core which dropped some penny size hail on me for a few moments. Driving home and leaving the squall line behind which left a view of a shelf cloud with green skies underneath.
I stopped one last time to debate shooting video of the shelf cloud to use as a time lapse for a project I am working on, but decided this one wasn't quite as dramatic as what I have envisioned in my mind. I arrived home a couple hours later…north of the warm front with brisk easterly winds and temps in the mid 40s. Yuck.
Conclusion:
This was a nice chase. I wish the tornado touchdown could be either confirmed or denied once and for all. This seems to be a recurring theme for me this year with unconfirmed tornaodes. At least I had a long view and was able to get some video of the funnel as opposed to brief glimpses in my mirror in between trees. Of course one of the other cells further north of me produced much more convincing funnels/tornadoes, so I would hardly say my bad luck streak has ended, but I was quite satisfied with the day. If a survey comes out and confirms the tornado that would be nice, but just like the day before I am not holding my breath.
Map, arrow shows location I viewed the funnel:
SPC storm reports, with detailed tornado report below it.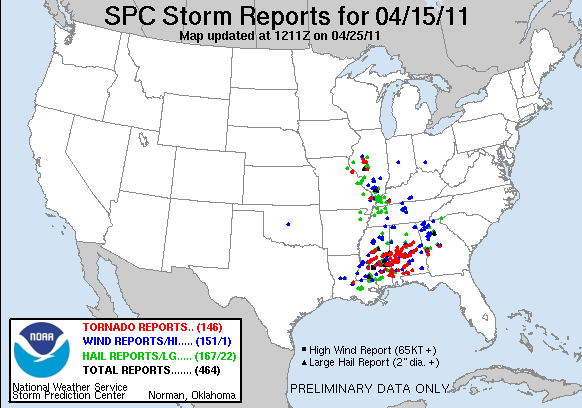 Leave a Comment: