Summary:
Got a late start chasing down long lived supercell that tracked from the Texas panhandle into Kansas, managed to catch storm just in time as it began producing tornadoes.
Stats:
Tornadoes: 4
Hail: 0.00″
Wind: n/a
Firsts: OK panhandle tornadoes.
The Forecast:
Highly amplified trough slowly moving into the plains. Forecast to cut off and spin there for a couple days. Beautiful speed and directional shear combinations despite nature of trough. Moisture was severely lacking, and was a big concern, otherwise things looked good. The hope was the terrain of the high plains would offset the meager moisture. Surface low target in CO also presented itself along with dryline target stretching into the TX panhandle. Lapse rates also forecast to be very steep due to cold nature of trough typically still found in April. SPC began with a SLIGHT but then went ENHANCED risk for hail, with marginal tornado probabilities due to moisture concerns.

Detailed Account:
A month prior to this event I planned a leisurely visit to Dallas to visit Chelsea Burnett, a fellow weather nerd who lives in the area. Planned trips during chase season are something I never do, but lately I've been trying new things in life. Naturally the models began showing a setup almost from the moment the day came into range, just to add some conflict of interest to my life. The setup, IMO, was one of a marginal nature as I tend to despise cut off lows and highly amplified troughs, nothing worse than marginal temptation when you have other plans. Luckily Chelsea was down to chase if it looked worth it, afterall, earlier in the year I promised I'd help her get her first daytime tornadoes.
Still not entirely sold the day of, she was totally down for it, and since I never turn down a chance to chase of course I was too. Once she arrived home from work we were off. I had to make a stop to pick up a power inverter since I only packed the bare essentials for my flight (2 cameras and my laptop.) We would be getting a late start, with a target somewhere in the TX panhandle. Initiation looked late, and the better tornado parameters also weren't forecast to arrive until near 0z, so even with our 1pm departure it would appear we could make it. The plan was to just drive out towards Amarillo and get on whatever storms were ongoing, so we were hoping the later forecast would come to fruition, in addition to storms being further east than west. Would we make it?
A cluster of storms went up in the northwest Texas panhandle, not our ideal situation, but with other storms struggling to take off, the southernmost one was the only thing to go after so we pressed on. Fast forward about 6 hours and we are almost to the Oklahoma border now, getting our first look at the storm. An obvious sculpted meso was present, but it looked high based.


Dust and tumbleweeds were flying everywhere, and trucks were driving sideways. The storm had inflow, but it was cold. Ridiculously cold for chasing standpoints as a matter of fact, with the storm moving towards a METAR showing 68/48 – yuck. I was pessimistic and close to calling the whole thing off, but we came this far and it would be stupid to give up the moment we finally get there.
Things quickly improved though as the storm entered the Oklahoma panhandle. The structure on the storm improved dramatically and finally motivated me to bust out my real camera, with a dramatic inflow tail, curling meso underneath a knucking updraft. It was a pretty supercell now at least.

I kept us moving north, while studying roads and radar Chelsea suddenly screams OH MY GOD. I look up and out of nowhere, a stovepipe tornado in the distance. I reach around the seat and fumble to get my video camera rolling. We were still a bit far away and filming through the windshield is never ideal. Not to mention in the haste of things I left autofocus on so the tornado is hard to see on video, but its there.

Wow. The storm waited for us to at least be close enough to catch a view of the tornado, but we had to keep going. This tornado quickly dissipated, and another formed soon after. The tornado itself was a bit bigger and we were inching closer so it at least shows up better in video.

It was near dusk and daylight was fading fast, but we had to keep moving. If the storm would produce more we had to be closer for a better view. As we kept up our pursuit we caught up to the chaser masses and were soon part of the conga line I so loathe. We noted a series of power flashes up the road but it appeared to be the result of RFD and not a tornado. Soon after we came up to several snapped poles.

It had been about 15-20 minutes since the storm last produced and I could see rotation within the wall cloud tightening up. The conga line was moving annoyingly slow especially since I had a feeling another tornado was about to touch down, and it soon did. Number 3.

The tornado formed quickly as a stout stovepipe, but quickly morphed into a more scuddy structure, with no laminar sides. In an unusual display of behavior, a new condensation funnel quickly formed to the left. There appeared to be twins, but I wasn't 100% sure if this was some multi vortex action, or a totally separate tornado. Numerous other chasers who had a slightly better angle have confirmed it to be a separate.
Some video stills of tornado number 4.
This tornado lasted about 2 minutes before quickly roping out. Elated we actually pulled this off, we kept north as darkness fell. Now in perfect position on the storm, we were hoping for a new cycle, but a line of storms had caught up to it and it was beginning to get engulfed. We were now in Kansas, on a day we thought/hoped for intercepting storms in the Texas panhandle. This seemed like a good time to call the chase and proceed to celebrate. The panhandle region is no-mans land, with only tiny towns with minimal services dotting the landscape. Your only 2 real options for anything resembling a city that might have a nice sit down restaurant open past 9pm are Guymon, OK and Liberal, KS.
I chose Guymon since it was on the way home, and tomorrow presented another opportunity as well. I snagged a room at the America's Best Value Inn for a good rate, and much to our very pleasant surprise, the room came with a Jacuzzi, and a Pizza Hut across the street. Now normal tradition is to grab a steak dinner after a successful tornado chase, but I'm going to go ahead and say this beats tradition anyday.

Conclusion:
What an amazing day. Everything fell into place just right to allow us to pull this off. Chelsea got to see some (sort of) daylight tornadoes. While our positioning  (especially for the first 2) was less than ideal, the fact we pulled it off made it a huge victory. This marginal day produced, on a day I was already scheduled to be out there. We got 4 tornadoes, then a Jacuzzi suite. Seeing her face light up with excitement brought me back to my early days and that feeling of witnessing my first tornadoes. Its a moment in life you never forget. Again, today was simply amazing. 2016 has been really good to me so far. 7 tornadoes by April 15th is the 2nd most of any season. The tornadoes occurred in an environment where dewpoints were between 48-50, considered anemic by chasing standards. Sometimes you just have to throw the meteorology books away and just chase.
Map. Arrows shows location tornadoes were documented. Click to enlarge.

SPC Storm Reports: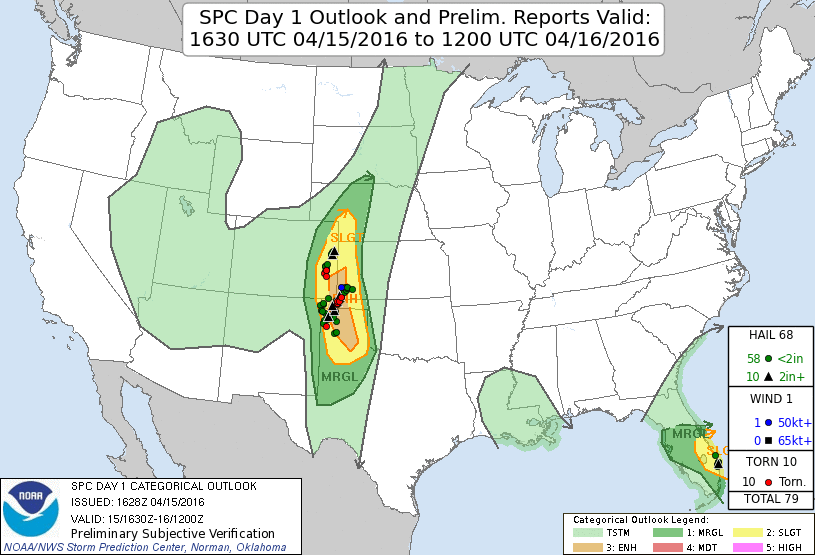 Leave a Comment: