Summary: A fun chase this was. After seeing some recent chaser reports from Texas that showed quarter size hail covering the roads several inches deep and watching several core punch videos I told myself I want a piece of that action.I enjoy a good hailstorm almost as much as I do a tornado. Spring has been really lame up here and I need some sort of action. Well 3 days later it looked like I had my chance. The same system was crawling along thanks to a blocking pattern and would provide a chase opportunity in Kansas on a Saturday. Hail chances were good, and with slow storm motions the chances for ground covering hail was better. There were slight chances for tornadoes as well, but I never felt confident in the tornadic potential in the setup. It was a Saturday and I had nothing to lose. So off I went.
Stats:
Tornadoes: 0
Largest Hail: 1.25″ – 1.75″
Highest wind: est 35mph
Features: Whales mouth, shelf cloud, shear funnels.
Miles: Approx 1850
Detailed Account:
Made it down to Wichita and did the usual 3 hour power nap at Mikes house. Awoke around noon and began to look things over to narrow down a target when tornadic cells started going up in the cold core region near Dodge City. No way could I make it there. There was barely a chaser out there as the far west initiation was not anticipated by anyone. Development started in a SE fashion so off we went down US-54. It was a mess of storms all with good hail potential so the plan was to drive through them unless we saw tornadic potential.
We start to near the storms as we head towards Pratt.
We had our first encounter with hail shortly after but missed the main action. The road was already covered and we got about 10 seconds of roughly Penny size. It was a start but we were after bigger and better things. The next best storm was south of Greensburg and had a golfball hail marker so we made that our target. There were tornado warnings way off to our northwest that began to lose their punch so we didn't bother trying to play hopeless catch up.
The storm south of Greensburg as seen from afar, quite the precip shaft!
Well we made a perfect intercept on the storm a couple miles West of the town [which is recovering nicely from the monster EF-5 that tore through there in may of 2007.] Only the storm decided it wanted to quickly die before reaching us and we were left with a couple seconds and pea size and smaller stones and rain. There wasnt much going on so I started to feel pessimistic at this point.
We figured the area we were in was getting worked over by all the activity and that Oklahoma would have some better play so we opted to go south on 281. Shortly after a nice storm on radar blew up and was tracking towards Alva, this became the storm of the day and our new target, we were far but motions were only 15mph so we knew we could catch it if it held its act together.
We lost data for a bit but knew where we wanted to go so we just kept on going. Mike was on the phone with some buddies to get some nowcast aid in case things took a drastic change. We had our 3rd encounter with hail along US160 which surprised us since our now 1 hour old radar scan showed no storms heading in that area. It was the biggest stones so far though so it kept the day alive on the way to our target storm. We stopped in Medicine Lodge for gas and a data check. The storm hadnt moved much like we planned, but the road network was not in our favor. The storm that had just hailed on us turned out to be a little bow echo that was heading for our location. We were back on our way.
Big lowering from the approaching bow echo, had some nice CG strikes with it.
So after about another 30 minutes of driving we find ourselves at routes 8 and 11. The supercell storm was just off to our east and began taking on a Bow shape with an interesting feature that resembled a rear inflow jet. The decision was made to punch through it and sample the hail since the tornado threat had ended. This is when the day got really fun.
Radar shot of the storm and us entering from the west, as usual my spotter network icon is behind.
It didnt take long, after about 5 minutes the hail started. This was the beginning of a good 15 minute barage of hail. This is where the video will take over. Here is clip 1 as it first starts to fall.
The hail started to get bigger which is where clip 2 begins, it stops briefly but then starts up again, I decide to pull over to get a better look at it.
Clip 3 is more of the same, hail still falling a couple minutes later and begins to cover my truck!
So as it begins to wind down we need to pick up the chase, but before that I have to report what is going on so I set the camera on the dash while I fumble around with spotter network to get the report out. Documenting is important!
So once that is finished we decide to continue east and get through it, maybe get some picture or drop south to various points along the massive line of storms that has evolved. We catch up with more hail after a few minutes.
A picture of all the hail covering the road.
After that we pulled out ahead of the storm, it begins to show some very nice photogenic structure. It is clearly outflow dominant but the colors and contrast were amazing and made for wonderful pictures. Good video and good pictures makes for a good chase! WE stop at several point to take various photos.
I love the green core.
Simply amazing looking. I enjoy just being in the presence of such storms. The colors and views are breathtaking.
A little further down the road and trying different camera settings on the mini pod.
After our photo ops the line of storms began to break apart so we were ready to call it a day. The best action was another 2 hours south and there was only about that much daylight left. Since the action was linear we began to head for home. On the way parts of the line began to re organize into some bow segments so we decided to sample one before jumping back on I-35.
So now the day was officially over. Time to head for home. I got just what I came down there for. Road covering hail larger than quarter size. I was happy. The photogenic storm structure was an unexpected bonus.
So that is the 4th chase for 2009. The year has been very slow for photogenic tornadoes and the setups have been less than ideal. For me personally though Im off to a much better start than 2008. By this time last year I had the same number of chases, but zero in the way of good pictures and only some mediocre video. I cant wait for the pattern change ahead, the real action should begin soon and I think the rest of the year will yield some amazing opportunities.
Google Map of the chase. The early initiation which caught all chasers off guard also meant my original target zone didn't pan out to well this time. No big deal though. You cant win every forecast and part of chasing is being able to adjust last minute to the ever changing world of the weather. Thanks for checking it out!
SPC storm reports for the day.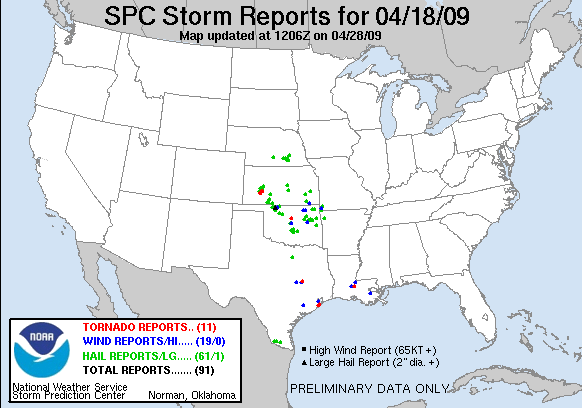 Leave a Comment: