AMAZING!
Summary:
Awoke at our motel in Childress, TX where we decided we were in perfect position for the day. Moved NW to intercept once storms went up and documented at least 6 tornadoes, maybe even 8! Broke several personal milestones on this chase.
Stats:
Tornadoes: 6*
Hail: .75″ [penny]
Wind: 40mph [estimated]
Miles: 310
New milestones: Most tornadoes on a chase, first time seeing 2 tornadoes on the ground at once.
*Confirmed tornado sightings. There may have been as many as 8, if a confirmation can be made, the number will change.
Detailed account:
The day had arrived. This was supposed to be the first real tornado producing setup of this slow and dismal year so naturally I was excited. We awoke in our hotel and went over some data, the 0z NAM had shifted the target into SW KS much to our dismay. After checking the 6 and 12z runs it became apparent our original target appeared on track.
Some general thunderstorms were moving into the area, which were a nice sight and sound. My truck and Skips van in the parking lot.
We sat in the parking lot for several hours waiting for things to pop. Several other chasers joined us and pretty soon we had a decent convergence going. It was nice to meet some of the people I have chatted with online. Storms began to initiate and everyone went their separate ways. We stopped for gas and could see a building tower nearby.
I decided going NW towards Clarendon would be the best way, and off we went. The tower continued to grow.
As we continued to track the storm north of Clarendon it really started to get organized. Eventually a nice wall cloud formed but was still pretty far in the distance. The structure was near textbook and eventually we could see rapid rotation. Some funnels began to dance around it and eventually in the center a nice bowl funnel lowered and made brief contact with the ground. This was tornado number 1!
After that the storm cycled and soon dropped another tornado which started out as a nice narrow trunk and then morphed into a fat cone. Video will show this better than the pics below.
While watching this cone, Mike noticed another tornado on the ground from the storm behind this one. I turned around and sure enough way in the distance was another cone tornado! The contrast was pretty bad but it was definitely visible to the naked eye and I was able to pick it up on film. At this point I made the call to move north and stay ahead of the storms, at which point the rope out from the tornado pictured above came pretty close to us, probably less than a mile.
We ran into a massive chaser convergence at the I-40 on ramp and had to actually wait to get on. Once on we blasted east when I noticed another tornado in my side view mirror. Given the hilly terrain it was hard to get a look at but it was definitely there and would go as the only undocumented tornado by our group. We exited the highway and kept on the storm, which had stopped producing tornadoes for quite some time now but was still looking threatening.
What a beautiful meso.
Amazing view!
Danny Neal going to setup his shot.
As the storm neared our location the circulation intensified. It looked as if the whole sky was turning and was an amazing sight. The colors were simply stunning, black, green, gray and white.
While watching and filming the rotation a small rope tornado briefly touched down, within seconds another one did the same thing. I reported the multi vortex funnel not realizing I had stopped recording thus missing the second vorticy touching down. I stepped out and noticed ANOTHER giant white barrel funnel, this one looked to originate from a high cloud base and never made it to the ground. Shortly after that still, deeply embedded in the rain another trunk emerged, it was too hard to tell if it made it to the ground, I wrote it off as a funnel but other chasers are calling it a tornado. For the time being I will stick to it being a funnel until someone can prove otherwise.
At this point the storms were beginning to congeal into a line. The highly sheared environment provided some interesting movements in the scud even.
Here is the video showing most of the tornadoes and the many funnels we saw!
Once the storms congealed we began to head back east towards the Shamrock area, there was a massive supercell with a reported wedge heading for Childress, our target city but we deemed it out of range. We stopped in Shamrock while I uploaded video and we awaited to be overtaken by the squall line. Our portion of the line went tornado warned and we moved to intercept, noting that the sirens in town never sounded. We let the line overtake us with nothing more than some gust winds and pea size hail.
Out of position for the Childress storm and now having our storms congealed into a line we called the chase and headed for Wichita, stopping in Elk City, OK for a celebratory dinner. This place was an all you can eat steak buffet and I had intended to take a picture of every plate I got but only remembered to do it for one of them.
Map:
Storm Reports: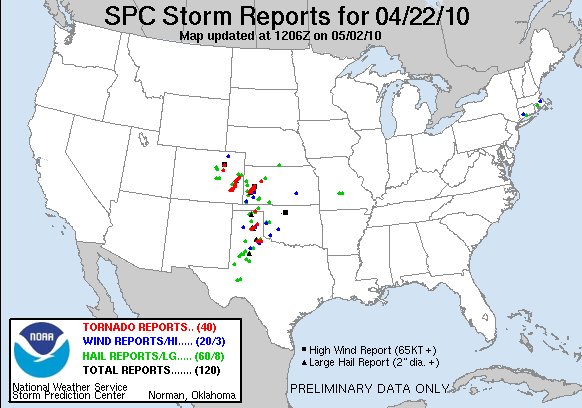 Conclusion:
This was a fantastic chase. I couldn't have asked for anything better out of the day other than my stream not malfunctioning. I broke a personal tornado intercept record as well as accomplished a new milestone in my chase career. I also trumped the number of tornadoes seen in all of 2009 on this one chase. We nailed the forecast and made good intercepts of the storms, although I would have liked to have been closer. I won't complain though! Today was a day where every potential target saw storms, this is the ideal chase day for chasers and many also bagged multiple tornadoes.
Leave a Comment: