Summary:
Intercepted a
tornado warned storm near New Liberty IA, once this storm was dying we
headed back east to Rock Falls, IL where we would wait at a McDonalds
for something new to develop or just let the squall line overtake us
and mess with the hail. This is becoming a good idea in my books
because we did the same thing back on
10-18-07
and it ended up working in our favor. This time we got a funnel cloud in Rock
Falls, IL. Food and chasing, gotta love it! Once that storm died we
messed with the outflowish stuff on the way home with blinding rains,
dinky hail, awesome lightning strikes, and decent shelf cloud
structures.
It was nice to be able to see daytime
structure again, up until now during this season everything happened at night. Observing stuff in between split second lightning flashes insn't nearly
as climactic. It was very nice to be reminded storms do happen in the
day, and another win as far as my forecasting goes and my
non-likeliness to let a grim SPC outlook deter
me.
Stats:
Miles: 405
Tornadoes:
0
Hail: dime
Highest wind measured:
35.8mph
Other features noted: Nice funnel, shelf cloud, wall
cloud, RFD notch/clear slot.
Detailed account:
A finicky,
local setup left me taking a half day of work. I had a preliminary
target of I-88 and I-39 near the Dekalb oasis. A conditional setup if
ever there was one, the dynamics were there, though not incredibly strong. The moisture was there, but the upper level wind pattern and position
of the low pressure system would only allow a small window of time for
something to develop and the biggest wild card was if we could get
the clearing needed.
Low and behold [as I told
people it would since the trough was taking on a negative tilt!] a mid
level dry punch came in and vaporized much of the morning crapvection. This helped
clear the skies. Chasers suddenly rethought their plans and SPC upped
the probabilities on their outlooks.
As we were
heading down I-80 storms started firing in northern MO and southern IA,
we scrapped our target and waiting game and went into instant chase
mode.
Got stuck behind the short
bus!
Beastly
looking supercells were now in southern IA, tornado warnings were going
up, we were near the border at this time racing to catch them, we
wanted to get into a position near the highway. As on time as we
were we were still a bit late. We stopped at the Iowa-80 truck stop
to gas up and ponder our move. There I could see the approaching
storm:
Son
of a…its an HP monster as is typical around here. Not
visually friendly and the most dangerous storms to try and intercept.
So we plot the point of interception, and blast towards New Liberty, IA
about 15 mins away from where the truck stop was. I love dirt Iowa
roads, they're fun when dry but not fun when wet. There we observed the
storm but Matt and his buddy didn't want to get closer. Next time I'm
over-riding their decision [maybe I have a sub conscious death wish but in my opinion we could have been
closer.]
The challenge in the rolling hills of Iowa
is to find the highest hill with the best visibility. Here you can see
a lowering and the RFD notch/clear slot coming in behind it. This
storm was tornado warned, and a tornado had been
reported.
Something
tells me my camera was on bar/party mode instead of chase mode. Ugh.
Taking pics while trying to scope out the
best view.
Nice
lowering, most likely the wall cloud, but could be a leftover funnel. We are too far.
Well
it was obvious we had caught the storm at the end of its tornadic life
style. Todays setup didnt promote long lived supercells and since the
cap totally eroded, there was convection everywhere. The radar was a
giant mess of storms, not the ideal chase setup since the best storms
need to be in their own environment. Storms need their own supply of
moisture and when theres too many, they compete with each other and
often times nobody wins and if one does, it is often very
brief.
We decided our next move would be to head
back east/home. I tossed out the idea to stop for food and A- wait for
new possible development or B- let the line overtake us and we could
measure wind/hail [just like 10-18.] So we decided to stop in Rock
Falls, IL based off radar. We stopped and ate at the local McDonalds, chatted
with the locals which I always enjoy.
We're
watching a cell approaching our location on radar when suddenly the
people become restless and are looking outside. Nothing more than a mean looking
storm rolling in so we observe it.
Oh
yea, we met up with Danny Neal and his father at this point
too.
Something
catches our attention…WHAT IS THAT!?
After much discussion we do believe
this to be a funnel and given the HP characteristics of the cell,
this is exactly how it would look. You can see it better in Danny's
pic.
I
PSed mine to enhance it.
Sure
enough, there is an LSR [local storm report] for this
funnel:
0610 PM FUNNEL CLOUD 5 N ROCK FALLS 41.84N 89.71W04/25/2008
WHITESIDE IL PUBLIC REPORTED AT THE INTERSECTION OF IL HWY 40 AND FULFS
RD. RELAYED BY ILLINOIS STATE
PATROL.
So we quickly jump back on the
chase and get behind the storm, which had a very nice base and put down
some very suggestive lowerings. One could be a wall cloud but I didn't
notice rotation. There does appear to be a weak RFD notch as
well.
We followed this storm for about 20 minutes, but the road network along
the rock river was tricky, and the storm was moving quickly. Eventually it
appeared to weaken on radar so we ditched it. There were storms all
over the place, so we would just sample them all on our way home. At least we got
treated to some decent shelf structure on an outflow-ish non-severe
storm.
So
that sums up chase 4. 2008 has been a very wacky year in regards to
weather patterns. It has also been a very challenging year for chasers
as well to try and chase these awkward setups. We're nearing the peak of
tornado season, and I have yet to see a more classic looking setup. So
hopefully something will come of it.
SPC storm reports for the
day.
Their
outlook in the morning…
and
the outlook later in the afternoon once is was apparent stuff was gonna
go down…just goes to show how last minute the weather can
be.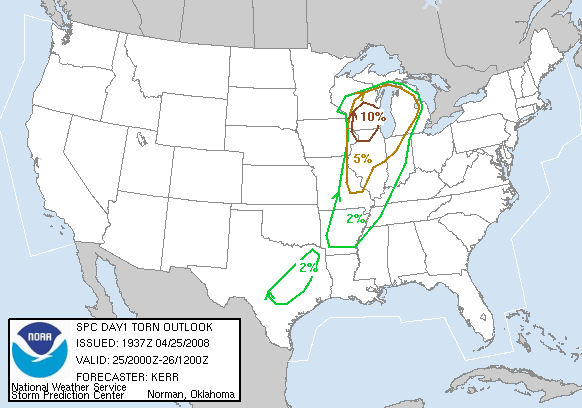 Leave a Comment: