Summary:
Chased, I mean sat around in Kansas for another cap bust.
Stats:
Tornadoes: 0
Hail: 0.00″
Wind: n/a
The Forecast:
A powerful cut-off system to be was entering the plains and this would be the initial pieces of energy. Great speed/directional shear was in place with ample instability for storms however the main jet energy was lagging to the west and the cap was forecast to be stout. In addition, strong surface heating would potentially lead to dewpoint mixing further enhancing the potential for a cap bust. SPC went with modest probabilities, since if a storm could form, it would likely have been supercellular.

Detailed Account:
It seems like a recurring theme this year, but here we had another multi day string of chase days that began with a less than par setup. The next couple days looked better, and the consensus was  might as well chase this one too since we'll already be out there, just in case. That "just in case" would never end up happening. I managed to get off work early enough to get a good nap in before having the usual crew of Joe, Alec and Danny meet up at my house and we were off. Daytime initiation looked questionable, and I started wondering why we even left so early.
On the way down some morning storms went up in northeast Kansas, which looked pretty in the rising sun.

Those would be the only storms we would see all day. We made it to Wichita around 7am and had a very long breakfast at Dennys while we debated driving to the TX/OK border where initiation seemed more probable due to deeper moisture, but decided to hold our ground where we were as several models broke out precip in this area as well. We slowly made our way over Kingman, KS where we found a park, and when I say park, I mean a gravel parking area with some picnic benches, a few trees and a hand water pump. There we sat all day, I caught a couple brief cat naps while the other 3 tossed around a football. Jonathan Williamson and Bill Manos met up with us to join in the fun. Eventually we deemed the day a bust, grabbed dinner at a local Pizza Hut before rooming up in Wichita for the night. The next days target choices wouldn't be easy so we thought we would split the difference and just wake up early.
Pics:
Conclusion:
I was hoping there would at least be a high based hailer to mess around with, but again we were left with nothing. Some storms went up along the OK/TX border at dusk, but those offered little rewards to those who were on them and I am glad we didnt waste the extra time or money to drive down there. 2014 at this point could very well be the worst chase season of my career.
Storm Reports: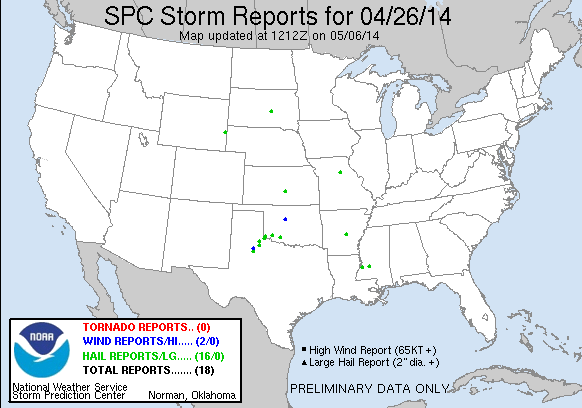 Previous Chase Log                           Next Chase Log
Leave a Comment: