Summary:
Intercepted 3 intense tornadic supercells, dodging hail up to softball size and having a couple close encounters with weak tornadoes that were located deep within the notch. Pursued storms after dark but eventually called off chase when the reward no longer outweighed the risk.
Stats:
Tornadoes: 2
Hail: 4.00″ (Softball)
Wind: 60mph RFD
Number of new dents on Alec's car: 4389
The Forecast:
Strong instability and shear already in place. Deepening surface low to develop across west-central Texas and slowly move east. This would provide enough forcing to trigger storms and given parameters, intense supercells appeared increasingly likely. Earlier concerns of moisture return were negated by morning observations. This was a conditional setup that had all the right ingredients fall together just in time. SPC started the day with a SLIGHT risk but quickly upgraded to MODERATE once things began lining up.

Detailed Account:
After a nice off day topped off with an awesome BBQ hosted by Bart Comstock and Lindsey Farias, we awoke early Sunday morning to a rapidly evolving forecast. Today always held some potential, but I was skeptical it would play out like all the previous setups. A quick glance at some morning observations showed the days potential could be quite significant. We quickly geared up and were out the door by 11am. Initiation looked early so we figured we would be racing to get into positions on storms once we met them. The debate was whether or not to head down I-35 or I-44. We chose I-44 because we thought it would put us in better position. En route storms went up near Abiline (which seems to be a hot bed lately) so it turns out I-44 was the good call.
A couple storms of interest appeared on radar. One further south of I-20 that immediately caught my attention as the potential to be the storm of the day. A second cell closer to us also displayed a worthwhile appearance on radar, but I was hesitant to check it out with that beast lurking to the south. We debated in the car on which storm to target. I wanted to high-tail it to the southern storm. The other storm was on our way though so we compromised to at least have a look at it but I did not want to pursue it in anyway that would make getting on the other storm more difficult. This part of Texas is not chaser friendly, large hills, lots of vegetation and few E/W roads. The storm was tracking into an area with literally zero options to move in for a closer look. We could see the structure from afar though, and it was a good way to observe the storm without falling behind the storm I wanted to be on.
We stopped for a look, the storm displayed a large base but not much organization, at one point a beefy wall cloud rapidly developed, but soon became elongated.
(pic)
To me this signaled the storm would remain outflow dominant and wouldnt be worth staying on any longer and we were finally on our way to the southern storm. On our way down funnel cloud and tornado reports were coming in. I was getting that sick feeling we were missing the show, but we were close and gaining ground fast. Ben Holcomb and veteran chaser Jeff Piotrowski caught up to us, as they too had bailed on the storm we were on. Passing through the town of Rising Star, TX we noticed baseball and larger hailstones laying all over town, along with broken windows on vehicles and even houses. The core meant business. We finally caught the back of the storm at Dublin, TX. Given our road network we only had one option. Hook slice. In we went and soon found ourselves in a barrage of large hail. This made us nervous with our already compromised windshield but it was do or die. Sure enough the hail increased to baseball size and we found ourselves with more cracks. Finally enering the notch of the storm a gigantic and well structured meso appeared infront of us. Beautiful structure with large hail falling all around. I rolled down the window to snap some pics.

We managed to escape the hail just as the storm began weakening. New storms were getting going to our west and we decided to let this one go and backtrack in case those became better organized. Passing back through Dublin, there was so much hail it looked like it had snowed. With the storms to our west not getting organized just yet we decided to have a look around and pick up some of the stones, the largest we found were about tennis ball size.
Seeing that much hail is always neat, but we were ready to get back on the hunt for a tornado and we continued west to our new storm. We tracked it west where we were met with unimpressive whales mouth-like structure. We didn't think much of it at the time until winds rapidly changed direction and we felt a surge of warm air. Suddenly winds whipped around from the opposite direction and we had leaves flying around us. That was odd, but it appeared to be a new RFD surge and perhaps the storm was making an attempt at better organization. We flipped a quick U-turn to stay in the notch. While sitting at the main intersection as we headed back through Dublin with sirens blaring we heard a loud crunch. Turned out to be a rear end collision, we passed it to see a smashed up Honda that had slammed into the back of a large pickup, the truck sustaining almost no damage.
We caught the storm in the town of Stephenville, Rapidly swirling rainbands were about to cross the road infront of us signaling the area we refer to as "the bears cage" we decided to punch through it to come out on the north side. There we sat and watched the area cross only yards to our south, suddenly dirt began whirling up as the circulation crossed highway 377. We had a tornado in progress. I dropped a report on Spotter Network and we kept pursuit of the storm. All the main highways took us away from the storm but I found a nice county road that went almost due east that would keep us in close proximity with the notch. We encountered another barrage of large hail as softballs were reported in town. We decided to seek shelter next to a small tree briefly and endured the assault. We watched as hail 3″+ in diameter crashed down around us. Once that eased up we pressed on.
The business area came into view again and we could see an area of occlusion that was about to cross the road infront of us. We stopped to let is pass. This turned out to be a weakening tornado, and as it moved just to our north it made itself known with dust swirls and even a piece of flying debris that I was able to capture on film.

Again we had another close encounter with a week, deeply embedded HP tornado. Ben Holcomb was further south than us and from his vantage point the tornado appeared to be a large cone. The storm was now appearing to be entering a weakening state so we stopped to observe it for awhile. I picked up some more large hailstones that we encountered along the way.

By now yet another supercell had blown up back west as this one began weakening. Jeff Piotrowski and Ben Holcomb bumped into us again, and in an excited frenzy, we all turned around to head back west towards the latest storm. We went back through Stephenville and then south out of town. We managed to find a high spot to observe the structure, which was pretty classic.
(pic)
At this point a wall cloud with rapid rotation and rising motion began to quickly organize, I thought this was it. I grabbed the tripod and prepared for a photogenic tornado. Jeff Piotrowski happened to pull into the same area, jumped out and exclaimed "100% this will tornado" but unfortunately, after about 2 minutes of teasing us, the rotation weakened and the wall cloud flattened into the base. The RFD core was rapidly approaching so we bailed south once again. I found some winding backroads that would keep us in the notch, but daylight was fading fast. Inflow began picking up at this point as I figured the LLJ was kicking in and things would ramp up after dark. We pulled over, Ben caught up with us again, and a nice funnel cloud developed in the field next to us.

We could never confirm a touchdown though. By now it was fully nightime and pursuing the storm got even more dangerous. We kept in the notch as best we could, trying to pick out features in the darkness in surprisingly little lightning. At one point we noted some powerflashes off in the distance. We endured even more hail assaults as well, and at one point Alec sought refuge next to a tree again by pulling in a driveway, but tall grass obscured the culvert next to it. "DIIIITCH!" I shouted as I saw us going straight for it, Alec pushed the gas and with a loud thunk we dove into the ditch but managed to quickly get out before getting stuck. A close call for sure. Inflow was screaming from the north, and Ben reported a tornado to our south. By now we were nearing our nerves ends, after hook slicing and doing the cage tango for nearly 7 hours we were ready to call it a day. Nighttime chasing offers little results, and neither of us felt like core punching softballs in attempt to maybe get lucky and see a tornado in between lightning flashes. The reward no longer outweighed the risk, and we decided to just blast through the forward flanking core and get dinner in Ft Worth. Ben agreed. We stopped under a gas station overpass to try and get some big hail video, but by now the storm had stalled and the area was quickly flash flooding.
It was hard to see the exit in the blinding rain and quickly flowing water, but a semi truck seeking refuge pulled in and gave us an idea where to go. We punched through the flowing water and were back on the road. We slowly made our way out of the north end of the storm. Stopping at a large gas station near I-35. There were many people in their vehicles huddled under there seeking shelter from the storm. We spoke with a family who was trying to travel home that going south was not a good idea as they would encounter damaging hail and perhaps a tornado. They seemed interested in our chasing and took some pictures of our busted up windshield. The day was finally over, and we met up with Ben, JR Henly and Jon Stone at a Bdubs in Ft Worth for dinner.
Conclusion:
What a hectic, wild chase. The structure and large hail encounters were nothing short of amazing. Our close HP tornado encounters were awesome as well, but I wish we could have gotten something better tornado-wise. This year is making us work for our brief HP tornado encounters. I am ready for something classic and photogenic at this point. This was one of the better chases I have had in awhile though. Skillfully navigating the tricky terrain and road network boosts our confidence in being able to move around storms for the future. Overall it was a great day that originally started off with low expectations. The storm went on to produce more tornadoes after dark, but from what Ive seen from other chasers, we didn't miss much. As of this writing, the NWS has confirmed 10 tornadoes from this day, all of them rated EF-0.
Radar Image of us in the hook:

Video:

Map. Arrows show tornado intercept locations.

SPC Reports: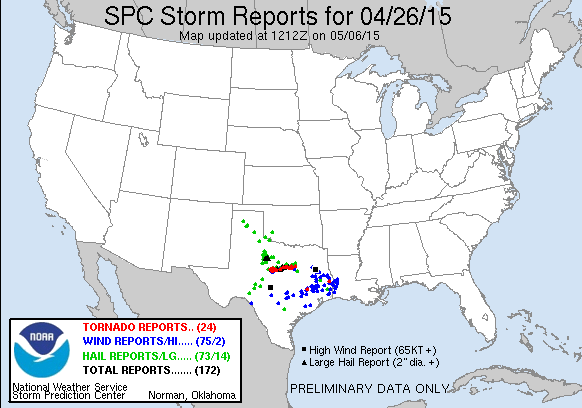 <—Previous Chase                             Next Chase —–>
Leave a Comment: