Summary:
Intercepted several storms on Moderate Risk day that fell way below expectations. Witnessed some mediocre structure and experience storm gust out overhead.
Stats:
Tornadoes: 0
Hail: .25″ (pea)
Wind: est 55-60mph
Detailed Account:
On the one year anniversary of the super outbreak, a chase setup presented itself in Kansas. It looked pretty marginal from the get-go, but a favorably timed day off of work lead to me bolting out the door for the marathon drive along with Jonathan Williamson, Alec Scholten, Lorraine Mahoney and Mike Mullenhoff. The setup involved a really tight surface low that would track east across Kansas bringing favorable directional shear atop a very narrow corridor of good instability. The narrow warm sector was a big concern, but if storms could from along the dryline and not cross the warm front too soon they would have great parameters to work with. The SPC went Moderate Risk for tornadoes on our way down, which in theory is a good thing but for some reason to me I tend to have my worst busts on Moderate Risks and thus have labeled the 15% hatched tornado risk "the kiss of death." I know it is just superstition, but for some reason I was instantly worried when this happened.
We made great time getting into Kansas and had several hours to spare. We met up with chasers  on the north side of Emporia and had lunch, keeping an eye on things. The warm sector corridor was indeed narrow, only 50-75 miles wide and we spent much of our day under a cool stratus deck. It did not feel like a chase day at all under these conditions. I finally got too impatient and said its time to get into the warm sector and wait on the boundary. We were finally greeted with temperatures in the mid 70s and a bubbling cu field. NOW it felt like a chase day. Towers were beginning to explode as we arrived and it looked like showtime would be imminent.
Storms were stuggling against a cap that ended up being stronger than predicted though. This began to concern me because the storms had such a narrow field to work with and would need to get going sooner to maximize time in the warm sector. Instead though, they wasted half of it struggling against a cap, further limiting the time. I snapped this distant shot with the zoom of the crew waiting patiently alongside the chase vehicle.
We moved to stay with the struggling storms, which were finally starting to intensify a bit, but were more of a congealed mess as opposed to discrete supercells. We followed the first batch north to I-70 with no real severe weather being produced from them. We stopped at a gas station for a fuel up and to re-evaluate the situation. Some new storms were forming to our southeast and I wanted to set course for those storms, but there was some disagreement about that. Not in the mood to argue I said fine, knowing it was a bad call. We got into position on the dying storms as they encountered the warm front and briefly tried to get going with some weak areas of rotation and pea size hail but the efforts were short lived as they quickly crossed the front and died. We moved east on 70 and pulled off for a structure shot from the storms to the south, the ones I wanted to be on.
It was here something neat happened. A flanking storm went up on one of our dying cells and began to exhibit some supercell characteristics with a tiered updraft and broad rotation. The structure was pretty neat, despite the storm being in a chilly unfavorable environment.
Photo credit to Mike Mullenhoff:
Another neat thing happened, suddenly a clear slot rapidly opened up before our eyes and we were blasted with an intense burst of wind. It was chilly outflow, but I knew what was going on. The storm basically gusted out on top of us. A very common process in thunderstorm life cycles, but until now I have never experienced it in that way. The intense burst of wind even showed up on the radar velocity for one scan. My position icon is a bit off because I didn't think to check the image until after we got back on the highway.
The storms to the south began looking better on radar, and finally we were all on the same page to go after them so it was time to pray and high tail it down there. Much to my dismay and sure enough, funnel and tornado reports came in. My mood was instantly ruined, and I spent the next hour grunting in mostly silence while trying to get ahead of them again knowing we had blown our chance by sticking with the storms to the north. We did make good time and positioning getting to them though, and just as we arrived the storm finally went tornado warned, but we never noted anything other than some pointy scud funnels. We tracked the storms into Topeka where they began to fall apart with a couple brief barrages of hail. With no other storms in the area, the chase was called and we set course for home, stopping for dinner at Applebees and meeting up with Ben Holcomb, Sarah Glenn and Scott Bennett. Ben had captured the funnel and tornado, and luckily they were very brief and nothing spectacular so I was able to recover my mood and enjoy the rest of the night. There was no way I was going to make it home after being awake for over 36 hours so we roomed up for the night and actually had a really fun time.
Conclusion:
The setup was a major letdown, and a bad call to go north cost us what little there was to get from the day. Had we missed something great on those southern storms I would be kicking myself really hard. It is one of those chasing lessons though, always choose the smarter target meteorologic-ally instead of being willing to settle for junk in order to justify a long drive. Go big or go home! Despite the overall failed nature of the chase, it was allot of fun and many laughs and great conversations were had. That alone makes any trip worth it, and I will gladly do it 100 times a year if I could. Watching and experiencing the storm gusting out on top of us was a neat experience.
Map. Red arrow shows approximate location where the storm gusted out over us.
SPC Storm Reports: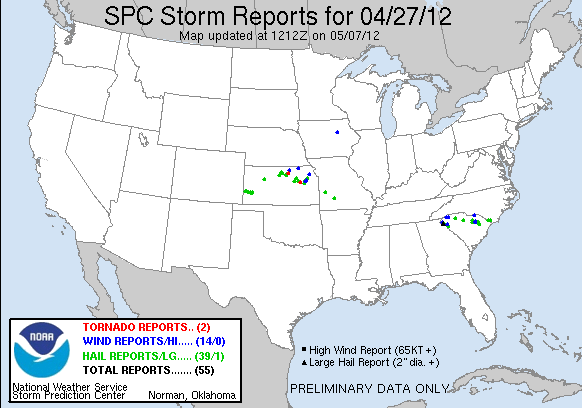 Leave a Comment: