Summary:
Chased potential second day tornado outbreak but instead wound up with grungy storms on a classic 15% MDT risk bust.
Stats:
Tornadoes: 0
Hail: 0.00″
Wind: n/a
The Forecast:
Same system as previous 2 days, slowly moving east as it occludes, pushing severe potential further and further away. Airmass was forecast to recover form the previous days onslaught, and a moistening boundary layer was set to fire off another round of tornadic supercells capable of strong tornadoes. SPC went with MDT risk probabilities, which for some reason I have a horrible track record with.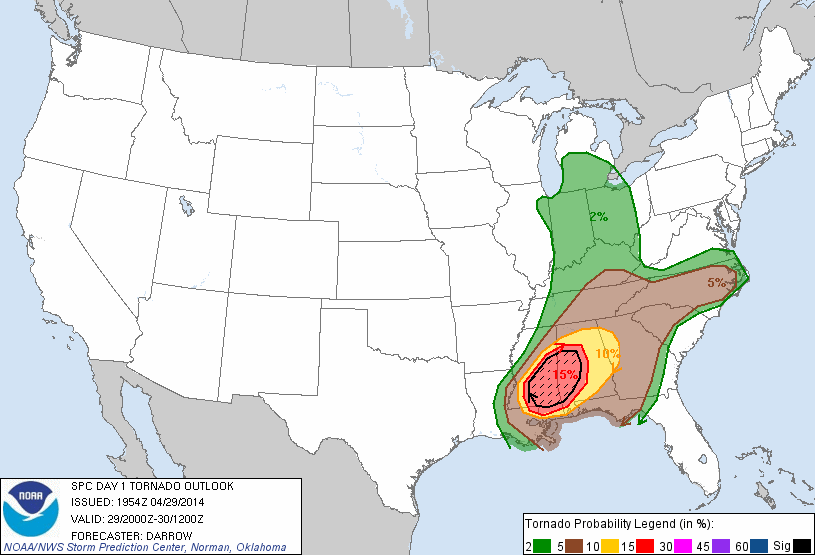 Detailed Account:
With the sting of the previous days targeting failure fresh in our minds, Alec and I decided to try dash down south in hopes of redeeming ourselves. Danny and Joe were not down for the adventure, and I dropped them off in Chicago. We quickly unloaded our gear from my truck and put it into Alec's. A smaller vehicle with better fuel economy would be ideal with only 2 of us going now, not to mention I had been driving the past 3 days on little sleep and there was no way I would make it down there driving my tank. It was nice to be in the passenger seat and catch some Z's on the way down.
Alec woke me up once we were in Mississippi. Much to my dismay I checked radar to see a large MCS hanging on the gulf coast. Right away I knew this would spell trouble for return flow. Sufficient moisture was already in place though, and the air felt sticky so there was hope. It turns out Ben Holcomb, David Drummond and Andrew Newcomb were staying close to our target city so we met up with them at their hotel briefly before parting ways once the tornado watch went up. We grabbed lunch at a Sonic with horrible service in the city of Starkville, and sat outside of town waiting for a good looking storm to go after. A pair of supercells went up, one coming right at us and one to the south that looked better on radar. We chose the one to the south since it would be moving into a better environment.
On the way down the storm coming for us displayed some great structure as it began lowering and attempting to become surface based. I couldnt snap a pic in between the hills though and it was quickly behind us. The storms rapid strengthening would be short lived though, as well as the storm we were going after. Instability was weaker than forecast, as well as the return flow. With such strong shear in place the storms were getting ripped apart and couldnt sustain themselves. By the time we arrived to our storm in Dekalb it was nothing more than a lumpy mess.
On our way down we crossed the damage path of the previous days storms near Louisville, MS where a significant tornado crossed.
We stopped in Dekalb, MS to ponder ending the chase as all storms in the area were falling apart. I shot this pano of one of the approaching dying storms that at least tried to have some structure with it. I figured I might as well get some practice in for hopefully better scenes later in the year. Overall I am pleased how it turned out. (click to get full res.)

After this, there was one last storm well to our south that stood a chance. Tired and demoralized we were reluctant to go even further away to go after it, but the only thing worse would have been to give up and have the storm do something so we went after it. It died too. We then turned around to drive home, switching drivers multiple times but arriving back safely. It was a pretty wasted trip, but better to try and fail than to miss something.
Conclusion:
Argh 2014, really?! At this point I don't even feel like I caught a tornado 2 days ago. This has not been my year so far. Granted there has been slim pickins from mother nature to choose from so I don't feel too bad, but I am getting anxious for some quality chasing! This desperate dashing around for less than par results is getting old, but thats the name of game, and I can't quit. Sooner or later I will nab the prize I seek. Persistence pays off.
Oh yea, there was a fully condensed tornado in Illinois too…which is what SHOULD have happened yesterday. You're a sneaky one, mother nature.
Previous Chase Log                                       Next Chase Log
Leave a Comment: