Summary:
Tracked tornado-warned HP supercell across north central Kentucky noting wall cloud and some half dollar size hail, but no tornado.
Stats:
Tornadoes: 0
Hail: 1.25″
Wind: n/a
The Forecast:
Slowly deepening surface low moving across the Ohio valley. Moisture forecast to return slowly beneath powerful mid and upper level jet. Warm front draped across the Ohio River area forecast to lift slowly north. Further south in the gulf region, deep moisture already in place along with strong deep layer shear (though somewhat unidirectional) was forecast to support a tornado outbreak in that region. SPC upgraded to HIGH risk tornado probabilities in that region, with lesser probabilities further north where moisture wasn't as adequate, but shear was equally impressive, if not better.

Detailed Account:
Today looked like it held big potential over a large section of the county. Unfortunately that section of that country nearly all was located in areas with unfavorable chase terrain. For that reason I was ignoring the "better" tornado parameters further south and instead focusing on the surface low/warm front draped across the Ohio valley. Though still not ideal, some parts of southeastern Illinois and southern Indiana have some workable areas. I chose to target southeast Indiana where a more conditional tornado threat existed but potentially in better terrain. If that target did not appear to verify in time I could easily adjust south into Kentucky, which again isn't ideal, but still not too far of a drive.
Nick Bartholemew met me at my house and we were off by 9am. Things were taking awhile to evolve like we were hoping. Models all indicated our target would initiate early – around 1 to 2pm – but this was not happening. Moisture was slow to return and instability was not developing. I decided to continue further south into Kentucky, which is a difficult state to chase in, but being only about 5 hours from home, not a bad drive at all, plus I have family in the area and a potential post-chase visit was also appealing to me.
We made it through Louisville, KY shortly after 2pm and pressed south towards Elizabethtown – just as storms began firing. Again, there were many to pick from, and a storm to our north caught our attention first so we turned around for it but it quickly died. Multiple storms to our south looked interesting and eventually I picked one heading towards the Summit – Leichtfield areas. Terrain down here is pretty tough, lots of hills and trees but you get occasional views. Our first look was the impressive anvil spread as the storm gained strength.

We had a pretty good route to the storm but it took us through an area with quite a few stoplights. Thankfully traffic was flowing. We got into position near Summit as planned and were greeted by an attempt at an organized wall cloud along with quite a few lightning strikes in the vault.

So far this year this is the best structure I have seen, so that was at least a win. I thought that pointy nub in the middle was an area trying to wrap up and get ready to produce, and maybe it was, but it did not last long. The storm was closing pretty fast so we moved to re-position. One MAJOR disadvantage to chasing down here is due to the hilly terrain, straight roads due not exist. They twist, wind, and deviate all sorts of directions. My choices were the main freeway or a frontage road, the frontage road would be slower, but had more potential exits should we need to dive north or south. I chose the frontage road. The hook of the storm overtook us and we were dealt a blinding blow with hail up to half dollar size and 70mph winds.

The storm went tornado warned and took on a good look on radar. The RFD was definitely feeding into a circulation, but we couldn't note anything in the blinding hook region of this HP supercell. We got ahead of it briefly and had a better view, but still nothing.

I had to detour south at Elizabethtown to get back to I-65 to again get to the freeway, and during that time the storm pulled away from us, but began gusting out. We were able to slice back through it, but it was now taking on an outflow dominant appearance both on radar and in person.

We stayed with it, and planned for an intercept to let it roll us with some hail. The hail core died down and the storm began transitioning into a bow echo with a predominant damaging wind threat. At this point it wasn't really worth pursuing in the last hour of daylight, and there were no other storms of interest to go after so we called the chase. We had tailed the storm to about 20 minutes outside of Frankfort where my brother and his family live. I decided to make the detour to say hi and have dinner. I don't get to see them often so it was a nice treat to end the chase day. We enjoyed some pizza, played a bit of pinball in their basement arcade, and after about 90 minutes we were back on our way home.

Conclusion:
Today wasn't a bad chase. The setup overall was a huge bust and there were no tornadoes to be had for any chasers, even the ones who made the trek further away for the other targets. We got on our storm at the right time, and that really is the best you can do on a day like today. I am pleased with how it all played out. Seeing some actual storm structure was nice, as that was something largely lacking in the previous 3 chases. Interestingly enough this is the 3rd high risk of the year that way under-performed ( I did not chase the other two because I myself thought the setups weren't worth it, but this one lured me out.) It's been a difficult chase season so far, and I'm ready for some easier setups.
SPC Reports: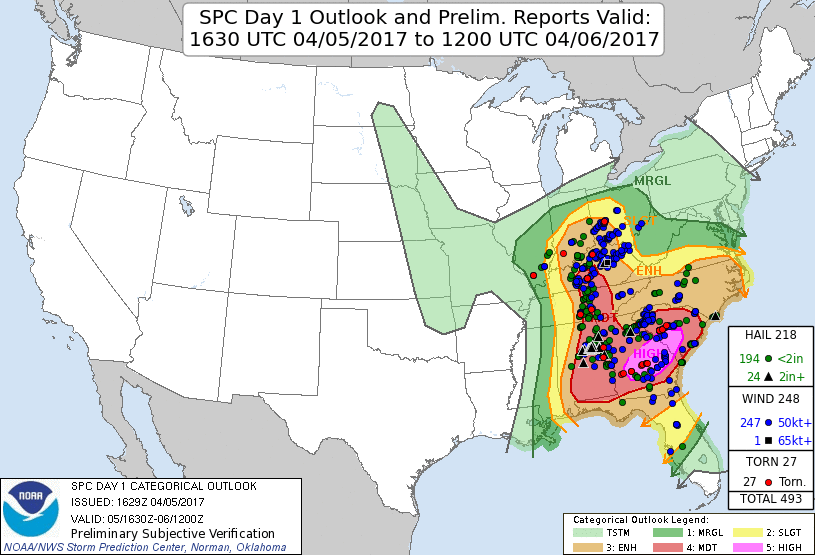 Leave a Comment: