IA redeems itself…
Summary:
Left St Joseph Missouri to target triple point area near Des Moines. Stopped a few times along the way to monitor conditions. Didn't get suckered north like most chasers for grungy storms firing on the warm front and then dying and held back to make great intercepts on the storms that fired along the dryline. Saw some great structure, got cored with some quarter size hail and documented some over-turned semis on I-80. My first decent chase in Iowa!
Stats:
Tornadoes: 0
Hail: 1.00-1.25″ [quarter – half dollar]
Wind: est 30mph thunderstorm gust.
Miles: 422
Detailed account:
We awoke in St Joseph, MO and agreed that heading up I-35 towards Des Moines would be the days play. A warm front/dryline setup was in the cards today. Unlike yesterday there wasn't a stout cap to deal with and we had ample clearing. The big fly in the ointment was veered flow [winds out of the southwest] from the surface up to 850 which meant the shear profile was largely unidirectional. The window for an isolated supercell would be narrow. The best chance for a tornado would be if a storm fired on the dryline and then crossed the warm front where sometimes helicity [the airs ability] to rotate can spike in just a few moments.
We ate brunch at a decent rib house, although I am no fan of stopping at sit down restaurants before the chase unless its early in the morning. I am the type that just likes to go and munch in the car, but it was a nice lunch, and we did have a relatively short drive to the target area [something I'm not used to.]
We stopped in Osceola, IA where we met up with a large chunk of chasers Including
Skip Talbot
. There we milled around for a bit. After about 30 minutes almost everyone left to head north but our group wasn't sold on that just yet so we hung back. Eventually we started to drift slowly north. Storms began to fire on the warm front but quickly crossed into stable air and died. Eventually the first blips went up along the dryline near the IA/MO border and we began to plot our intercept by heading east and then south.
One of the towers as we head south, with
Ben Holcomb
in front of me.
We made it to Oskaloose IA where bad traffic caused our caravan to get cut in half but Ben and I were able to meander through it and press on. The storms began to intensify and the structure from a distance started to look promising.
The roads began to get tricky at this point. Storms were moving at pretty high speeds which made for a difficult intercept and I have to give Ben props for his excellent navigation skills as he can find just about every dirt back road shortcut known to man using Streets and Trips. We made a good intercept on the storm and wound up getting briefly cored by quarter size hail. As we pressed north after the storm we stopped to measure some stones, most were quarter but a few were a little bit bigger.
The storm, moving at warp speed began slipping away and began to line out on radar. We hung back for some new storms forming, one of which looked nice and isolated.
We were able to find our way back to pavement and kept up with the storm nicely, which exhibited some great structure that allowed me to get my first decent pictures of the year.
Beautiful updraft, straight up!
Ben snapping a shot.
Moments like this make me wish I could afford to invest in a DSLR with wide angle lens.
The storms began to congeal quickly though, which is what we expected given the veered flow. Once they began to line out and move away we noticed a damage report of some overturned semis on I-80 really close to where we were at so we decided to go there and document it. The only tornado warned storms were out of range, storms which would never produce given they were north of the front and likely elevated.
One of the semis, the video shows the other.
Here is a video of the chase highlights:
Once we were done documenting damage we decided to head back home. En route we drove under this very suggestive feature that made me think to myself "huh, that could pass as a funnel" but I wrote it off as inflow scud and never bothered to take video or pictures. About 10 minutes after this the storm goes tornado warned for radar indicated rotation, so it will always make me wonder. Here is a radar capture of that storm and tornado warning.
We stopped at Iowa 80 which is a personal favorite stop of mine for some Wendys dinner. We made it back to Chicago around 1am where Ben crashed at my place for the night.
Conclusion:
Today was a great chase. Although there were no tornadoes the forecast verified quite well and we made perfect intercepts on the storms. Veered flow prevented this from being a huge day, but good structure and good hail always makes for a good chase. I've also begun to learn the ropes of documenting damage for ENG purposes. This is now my best chase in Iowa and I have no complaints on how the day turned out.
Map:
SPC storm reports: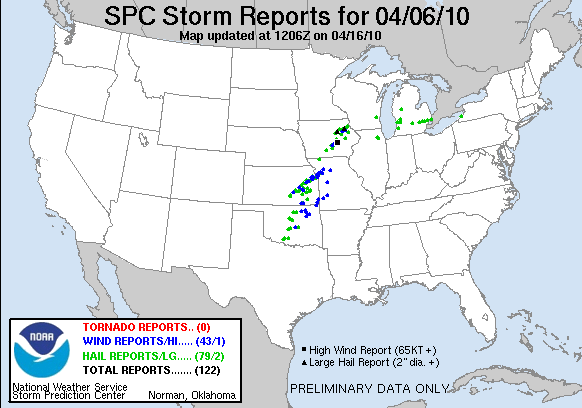 Leave a Comment: