Summary:
Day one driving the TIV. Got on persistent supercell near Burlington, CO noting good structure. Core punched storm once tornado warning was issued getting blasted with hail up to half dollar size.  Called chase once storm began weakening and roomed up for the night in nearby Colby, KS.
Stats:
Tornadoes: 0
Hail: 1.50″ (Half dollar)
Wind: n/a
The Forecast:
Strong instability was forecast again under a stout cap. 850 to 500mb jet energy was still lagging the main surface fronts, but was stronger than the day before. Directional shear was very favorable for supercells and even tornadoes. Moisture was forecast to be stronger as well and with this plus better speed shear, tornado potential looked like it would be higher.
Detailed Account:
The original forecast called for today being a potential localized tornado outbreak. It was one of the big lures on this setup. Awakening to the current forecast though it appeared a good tornado threat had withered away to a marginal risk depending on several key factors. First, the cap. It was strong and storms only looked to form on the outer edge of it, away from some of the better parameters. The area where it looked like storms were a certainly was plagued with lower dewpoints than originally forecast. Been there…done that.
It was my first day with the TIV though, and I was eager to get behind the wheel and see what I could do. We awoke in our hotel room bright and early to Sean (yes, Sean Casey) prepping Alec's vehicle with a radio so they could caravan. We geared up, Sean gave me a quick "Driving the TIV 101" course and we set sail for the target area, which looked to be near the NW KS/NE CO border, but not before a photo of course. Pictured is me with TIV navigator Brandon Ivey, and Sean Casey in back.

En route we passed another iconic vehicle. The Weinermobile, and my first critical assignment became to stay along-side it for a photo op.

We made it to Burlington, Colorado with small storms firing to our west. There we met up with other well known chaser Tim Samaras and his son. Both chasers I always enjoy running into in the field. The storms were slow to mature so we held our ground while they got organized and we were able to pick out one we thought would become dominant.
TIV with developing storm in the background.

Our storm near Burlington actually began to look the best on radar and from what we could see visually, so we began to move after it heading north out of town. Similar to the previous day the storm began to display nice structure as we approached.

The storm, while pretty, was suffering from a lack of deeper moisture, which had failed to advect into the area as advertised by the models. Getting a tornado was going to be tough. Similar to yesterday we let the storm pass us so Sean could get a time lapse of the backside structure, which again was a pretty sight to see.
I have been messing around with panoramas lately and am happy with the way this one came out. Click for full size.

Well, much to our dismay the storm went tornado warned at this point, and we jumped back into our vehicles to catch back up to it. Given the road network this meant another core punch was in store. It felt pretty cool to be punching the core in a giant metal tank, not worrying about hail damage. The hail got up to half dollar or maybe even golfball size, which in the TIV only sounded like pea size.

We pulled over once we got into the notch and had a hail fight. It was amusing until Jon got pegged in the face by a line drive shot from Alec. Its all fun and games until someone gets injured. It became apparent our storm was weakening. Darkness was setting in and there were no other storms in the area that were within play. Some storms to our west were producing tornadoes but they were out of reach in the daylight so we opted to head back and get into position for tomorrow.
Our storm did in fact produce a very weak landspout while we were observing the structure, but given the pics I saw it was nothing worth being upset over. The thing was condensed barely 10 feet off the ground and lasted less than 30 seconds. We arrived in Colby, KS where we decided to room up for the night, not knowing a raging arctic front was about to give us the coldest chase-morning of our lives.
Conclusion:
From a chase standpoint, the day fell a little short of expectations given the fact it was originally supposed to be a potential big tornado day. The storm we got on was nice and photogenic though, and the hail was fun as always. Driving the TIV also made this chase a memorable one, it is something I will never forget.
Map/radar unavailable.
SPC Storm Reports: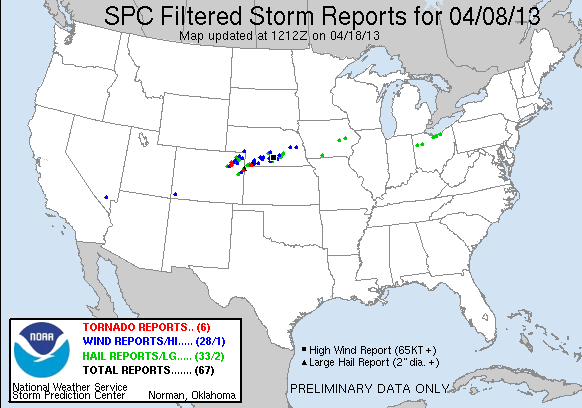 Leave a Comment: