Summary:
First chase of 2015 goes down a bust as a dumb decision was made to dump initial storms across KS that ended up producing a tornado for a dryline storm in Oklahoma that vanished as soon as we arrived.
Stats:
Tornadoes: 0
Hail: 0.00″
Wind: n/a
The Forecast:
Slow moving system finally entering the plains. A diffuse, SW to NE oriented dryline would be setting up across KS/OK with a warm front extending eastward from the developing low pressure system. Dyline forecast to retreat a bit as cold front overtakes it. Veered flow at 850 bringing in dry desert air was a concern. CAPE value forecast to be exceptionally high for early April due to cold air alot. Ample speed shear present. Storm initiation looked more probable along warm front, with more discrete development possible further down the dryline. Chose to target south of the triple point, preferring to get on a dryline storm over chaser-packed, HP blob on the more obvious triple point target. SPC went with MDT risk tornado probabilities, my least favorite.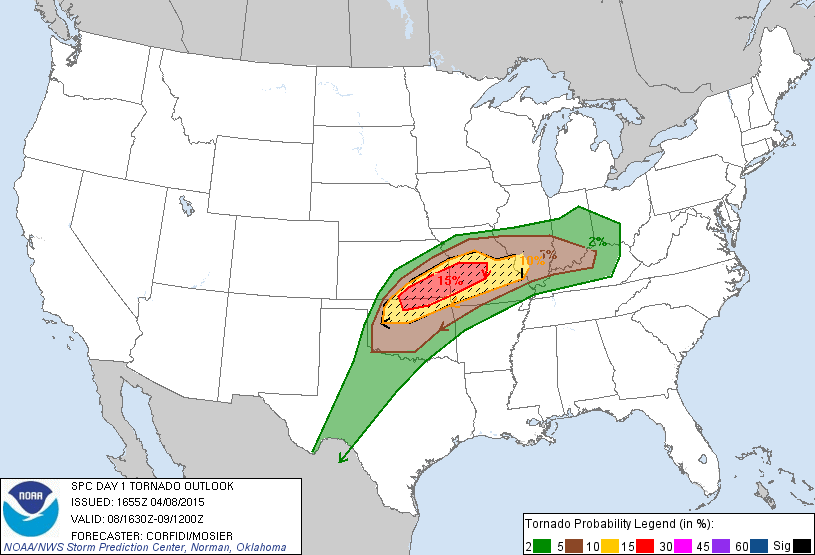 Detailed Account:
It's been a long, cruel winter. Chicago went 6 months without lightning (Oct 2nd – April 2nd) and the winter was snowier and colder than normal. I was dying to get out there, and finally this system presented itself with the first real potential of the season. A couple marginal setups before this went on to produce a couple low contrast tornadoes, and seeing other chasers get on the board really made that desire burn brighter. I wasn't going to let this one get by me. We decided to head down early in case the initial pieces of energy could muster up a good storm. They didn't, and instead we found ourselves with 2 leisure days in the Norman area and spent it with friends. My faithful truck, now over 230,000 miles lost a spark plug boot on the drive down, causing horrible misfiring and shaking that made it difficult to accelerate, especially up hills.  I thought the problem was worse, but a local mechanic in Norman quickly fixed it and the truck runs great. Now I have piece of mind, so perhaps the early drive was a good thing as the problem was nipped in the bud before a real setup.
Anyways, we decided to target near Blackwell, OK. A little south from the triple point. The TP looked to be the obvious target, but those storms can often be messy HPs. Also, with it being such an obvious target chaser crowds were likely worse up there so we wanted to keep a more southern dryline target in play. Afterall, Im always hearing about these amazing dryline storms with fewer chasers on days like that. May 19th 2013 comes to mind as a similar setup. Storms began firing further west near the OK/KS border and we made our move. North of Enid, the storms were struggling to move off the boundary on radar. A nice, isolated supercell was moving across Oklahoma to our south. Myself, along with dozens of other chasers ditched the triple point storms and began blasting for this isolated dryline storm as it finally went tornado warned.
We caught our first view south of Seiling, OK which is basically canyon country. Our first view was spectacular, we could see the entire updraft tower with big bowl meso below it along with a nicely defined wall cloud. FINALLY!!!! I only managed a blurry cell phone pic due to trying to position on the unfavorable roads.
We managed to get into position where the hypothetical bear's cage would be only there was one problem. The storm was rapidly falling apart. We managed to get close to a rapidly rotating wall cloud and perhaps a sad attempt at a funnel before the rotation fizzled and all the features vanished.

Well that was a waste, and to make matters worse, one of the storms to the north FINALLY moved off the boundary and produced a tornado. We drove back north after it but could only just gawk at the updraft tower from a distance.

This is not the way we were hoping to open up the season thats for sure. The triple point storm produced a couple tornadoes. The first a short lived but high contrast rope, the second being a briefly condensed low contrast fat cone. Perhaps I should have been a bit more patient with those storms, but we were nearing that critical now or never moment in terms of making a decision to bail and catch the more favorable looking storm (at the time) to the south. Turns out we made the wrong call.
To add insult to injury, the next days target was back near home, and choosing to make that call put us at least 2 hours further away. It was time to begin the long overnight drive to get into position for the next day, which held decent, yet conditional potential.
Conclusion:
I hate to open up the year this way. I normally target the triple point on setups like this but decided to do something a bit different and it didn't work out. I will probably attempt this again though, as Ive seen many similar setups spawn amazing tornadoes along this further south dryline target. I may need to save it for later in the year after I get a few tornadoes under my belt though. It did feel good to at least get on a supercell and see some of that awesome structure, despite its rapid death.
SPC Reports. For some reason I am not surprised there were no tornado reports in the MDT risk area.

Leave a Comment: