IA Wedgefest.
Summary:
Played day before the day setup intercepting tornadic supercell that formed along the IA/NE border. Observed first tornado then encountered lots of intense gustnadoes. Fell behind storm due to navigation blunder but was able to catch back up nothing several more tornadoes, some of which being very large wedge tornadoes unfortunately at night so visibility was minimal. Tracked storms until 11pm when storms finally moved out of area also encountering some large hail and impressive lightning/night time structure.
Stats:
Tornadoes: 6 [this number could be adjusted as video/pictures get further analyzed.]
Gustnadoes: Too many to count.
Hail: 1.25″ [half dollar] falling. Located 2.75″ [baseball] stones laying alongside road.
Wind: est 70mph winds from gustnado/RFD that ran over us.
Miles: 550
Detailed Account:
Really hyped and excited for what was supposed to be a huge day across IL, I decided to chase what I thought would be the "day before the day" setup across W IA. It was forecast to have a strong cap, but very high cape, basically the same story it has been all year so the question remained would the cap give way and would it do so before dark. I departed with Danny Neal and Matthew Cumberland once again Friday night with the intention of staying at Jesse Risleys house, however we decided to stay at a hotel in Monmouth as we felt it would be a shorter drive to the target area.
We awoke to temps in the lower 40s with thick fog. Needless to say it didn't feel like a chase day but a sharp warm front was lifting north and the visible satellite showed the fog would quickly give way once we got on the road.
We proceeded west to Avoca, IA and stopped at in a motel 6 parking lot just off I-80 that quite a good view of the western horizon.
We were joined by some other local chasers Matt Piechota, Sam Augustyn and Jim Rood. All knowledgeable individuals. We sat here for a few hours monitoring data and hoping the cap would break. The manager came out to chat with us and said the location is quite a popular stop with storm spotters.
Eventually a cu field started to develop in NE Nebraska and we decided to move north up I-29 to get into better position should any storm develop. En route low and behold a storm did develop. We watched it split and cycle a few times on radar as it struggled at first to get going. Visually we could see a nice updraft and anvil.
The exit we wanted to take was closed so we were forced to exit early near Whiting, IA. Once we found a good viewing area we positioned ourselves to let the storm come to us. A nice big rain free base came into view as the storm approached.
We began to notice some rotation and saw what we first thought was dust beggining to rise up from under the area of rotation. It turned out to be smoke from a fire that somehow got sparked after we pulled over. You can see a clear slot developing with the smoke rising under it. Then as the fire grew it became much more obvious.
We were still in good position so we didn't move. Plus the terrain gets horrid further east so we wanted to maximize our time in a good view. Hail began to fall with the largest reaching about half dollar size. Pictured below along with a Chaser TV golfball.
Eventually some legitimate dust began to get kicked up and was spinning along the ground. Our first thought was gustnado given the storms somewhat high base, but low and behold a funnel formed directly above the dust. Matt got a good photo of this.
I wondered if somehow it was pure irony and the two features were independent of each other, but after consulting with multiple sources and watching video over and over again I am convinced it is a legitimate [albeit very weak] tornado and unless proven otherwise I will label it as such. Rotation above with funnel and ground rotation below. Sometimes keeping it simple is the way to go.
After this it was time to move and keep up with the storm which was now tornado warned. As we drove to again catch it we noticed more pronounce rotation overhead. At this point we began observing several gustnadoes. Some of them grew pretty intense and there were even twins at one point. One formed just behind us embedded in some powerful RFD winds and rolled right over us. Matt had the doors open allowing the gustnado to make its presence known inside my truck by covering the interior with dirt and field debris.
Video of the gustnadoes/RFD.
After this we finally decided to move to keep up with the storm. Only now our favorable flat land gave way to terrible craggy, hilly terrain. Most of Iowa has favorable chase terrain however the part of the state we were in was one of those places where terrain and road network was unfavorable. Danny was adiment about taking a longer, southerly road that put us out of position for a bit but would allow us to get ahead of the storm. I should have known better…I hate taking long roundabout ways to get way ahead of the storm and this storm reminded me why. As we took the scenic route the storm decided to go into beast mode and drop the main tornado of the day which unfortunately took a direct hit on the town of Mapleton. I was unaware of this until we caught back up and ran into everyone who came running up to me asking if I saw it. Nope…no I did not. From now on I am sticking to hugging the bears cage on less favorable roads. So I was quite miffed about this but lucky for us the show was far from over.
Radar image showing the storms beastly hook you can see my exact position as we began to catch up but my actual spotter network icon still shows us way out of position.
As we were stopped a big cone funnel lowered nearly to the ground, most likely a tornado. A screenshot from Danny's video. My video then follows.
We stopped and chatted a little longer than we should have and then decided to finally move to keep up with the storm and by now a whole train of supercells had formed along the warm front. A night time tornado outbreak was getting started as the low level jet ramped up. We began to notice what appeared to be a large wedge tornado in between lightning flashes but given the hilly terrain we weren't sure if our eyes were just messing with us. However reports from chasers who were closer started coming in as we ourselves continued to observe this ghostly wedge. I attempted to shoot video while driving which was a lost cause because I could not salvage a decent shot. Luckily Matthew Cumberland was able to get a few though.
At one point while getting out to observe the tornadoes Danny lost his cell phone, so we had to backtrack and form a search party and find it. At this time other chasers were documenting multiple tornadoes with the storm so I was again feeling a mix of rage/happiness. Happy we got to see some tornadoes, mad I was missing more. During the search for the phone we were able to find some large hail laying on the ground, easily baseballs at some point. Would have been nice to be there when they were falling to test out the new guards but alas, I will get my chance.
Miraculously Matt was able to locate Dannys phone and the chase was quickly back on. As we desperately tried to catch back up we noted another large wedge in the lightning from a distance. We pulled over and noticed this one had a satellite tornado next to it. Then if that wasn't amazing enough a new storm to the left was producing another tornado. I could not believe it. Observing tornadoes at night is really a freaky thing, especially as far away as we were because there wasn't much thunder. As we lost sight of the nighttime beasts and continued our pursuit it was bound to happen. We came across damage at a house with debris strewn all around. I am not a fan of photographing damage at peoples homes so I only snapped a shot of a mangled street sign nearby with some debris wrapped around the post.
Danny who is a firefighter and has EMT training went to go check to make sure everyone is ok. Matthew followed and once it was deemed everyone was ok he snapped a couple shots of the house. NWS survey concluded a tornado of EF-2 strength moved through. Luckily the house did not sustain a direct hit as the damage was probably only EF-1 in this location. The tornado was 2-3 miles wide according to the NWS survey. In terms of size that is absolutely massive. Tornadoes do not get any bigger than that and I believe the record width is 2.7 miles so if it can be proven this tornado was 3 miles wide that is truly astounding.
After being held up yet again for a significant amount of time at the damage scene, the chase was pretty much over at this point. We decided to pursue the storm as best as we could but given it was nearing 1030, the storms were pulling away from us and apparently weakening on radar this became more of a general pursuit than anything. The lightning was absolutely incredible and we could see amazing storm structure illuminated. We stopped to watch it for awhile. I shot some video to attempt a time lapse but some dust and dirt blew on the lense and ruined the shot. Matthew again pulled through and got some decent ones, here is one of them.
We finally called the chase and decided to head back to Fort Dodge, IA. It appeared to be the largest town nearby and our best chance to find a celebratory dinner. Upon arrival though, everything was closed and the only thing we found was a bar and grill that only had one steak left which we let Ben Holcomb have. We roomed up there for the night. I was able to get some video to my broker and made a few sales for national news making this probably my first profitable storm chase. My stream views were a success as well and I had the most viewed stream for the entire day until Scott Bennet eclipsed me at the very end with his special cameras that were able to stream lightning. Recouping the costs added that extra sense of accomplishment on the day. It was a wild chase and I was ready for bed once we arrived at the hotel. I showered to remove all the gustnado dust from myself and was out in no time once I hit the pillow.
Conclusion:
Bagged several tornadoes on this chase but still don't have much to show for it and that irritates me. So far this year Murphy's Law seems to be throwing obstacles in my way that keep me from getting the shot of the day that everyone manages to get. Today it was a navigation blunder and having to look for Dannys phone. Hopefully this curse is now over with and the next chase will yield me a good daytime tornado shot. I am off to a record start as far as tornado numbers and media sales go, but I still have very little good video to show for it of good looking daytime tornadoes. Far away glimpses at night don't do it for me, record sized wedge or not. Time to step up the aggression and stop pussy footing around things. The mapleton tornado was a large dusty tornado with no real visible funnel, but some of the cone and stovepipe tornadoes after dark were truly amazing. If only these storms happened during the daytime the outcome would have been much much different.
Oh and what about Sundays awesome chase. It never happened…the setup ended up in the north woods of Wisconsin and was not worth the haul so we just drove straight home and made some long stops along the way to have dinner and chat it with fellow chasers. Luckily this chase ended up being a memorable one!
Map, arrow shows location of gustnado fun.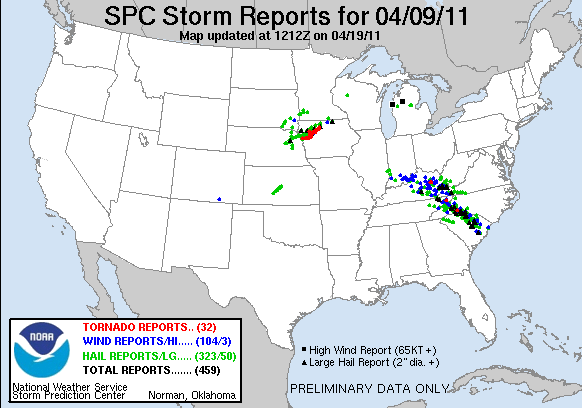 Leave a Comment: