Summary:
Left vacation spot to intercept storms moving into southern WI from IA. First intercept brought frequent lightning and some pea size hail but not much else. Waited around for second severe warned line which was a good call. Second round featured amazing shelf cloud. Followed line for a bit noting wind damage along the way before deciding to stop pursuit and head for home.
Stats:
Tornadoes: 0
Largest hail: Pea [.25″]
Highest wind: Est 50mph outflow gust.
Features: Amazing shelf cloud
Miles: 110 chase miles – 240 miles all around.
Detailed account:
With a summer pattern finally setting up in this part of the country I was keeping a close eye on chase opportunities for the weekend. I got a last minute call from a friend inviting me up to his summer home located in Wisconsin. Since this would put me a little closer to the action I decided to take him up on the offer. I passed up a couple setups due to a typical limiting factor in summer setups, a strong cap. This turned out to be a wise call for the most part. Sunday came and to my surprise SPC put out a Moderate risk for severe storms with me already in the bullseye. Once it was time to leave the summer home I decided rather than going home I would head west to intercept whatever storms developed.
A complex of severe storms was already moving into southwestern WI from IA. I decided to make a run for it. I planned a route from my buddies place and figured I would be able to intercept around Janesville, some advice I received told me storms would turn to the souteast by then so based on that I shifted my target south a bit to Beloit.
It was a pretty short drive to Beloit, I arrived in good timing but to my disappointment the storm complex was rapidly weakening and sure enough, never turned southeast and was heading right for Janesville. It lost its severe warning and large hail so I wasn't planning on going after it at first…rather I would sit and wait for new development behind it. Sure enough though, hail size increased again and a severe warning was re-issued. I quickly got back on the highway and darted north.
Traffic was heavy but moving, I caught a glimpse of the storm which was really nothing special.
I pulled off the highway shortly after and decided to ride out the storm and see what kind of hail there was. It wasn't much, just a few seconds of pea size hail. There was some intense lightning though as Gr3 would soon indicate by the lovely white bolt, which represents almost constant CG strikes, and right on top of me too.
Once that was over I pondered what to do next. Head home or wait for another round of storms which was a little over an hour behind it. I decided to give it a few radar scans to see what they would do. Visually on radar the storms did not look impressive at all. Some new convection was trying to go up to the south which had some interesting tower formations.
The complex gained a severe warning for straight line winds so I thought I would give it yet a few more scans to see if a nice bow would develop and perhaps give me a nice shelf cloud or to see if hail would increase in size. Earlier storms produced hail larger than golfballs which would have been quite a treat. The storms never seemed to organize on radar but looking to my west I began to notice something lurking.
It looked like a wicked shelf was forming on what otherwise looked like a pathetic batch of storms. I decided to head further west to find a better view and check it out. Wisconsin does not offer the best chase terrain, mostly hills and trees so I had to make use of it the best way I could. I would soon not regret this decision as only a short jog to the west revealed one of the most dramatic and intimidating shelf clouds I have ever encountered. I rank this second to the Murdo, SD storm from
6-6-07
I will let the pictures show it all here. Beginning with the amazing shelf in the distance and up to the point of it rolling overhead and passing us with the classic whales mouth on the back side. Winds were sub-severe with only leaves and small twigs being shredded off the trees around me. At one point a van full of locals pulled over near me and 3 young girls got out and started snapping pictures and screaming tornado…it never ceases to amaze me.
Anyways, here are the pics.
Here is video of the storm. It is my first ever attempt at making a time lapse along with real time footage. Im pleased with the results!
That was quite a treat and I was now satisfied with the chase. I was hoping for a nice shelf cloud and some hail, but I wasn't expecting one that dramatic. I sat there for awhile watching yet another batch of storms behind this complex. The newer warnings on this complex, however mentioned hurricane force winds over 75mph so I decided to follow from behind. I drove for about 15 miles noting some large sized branches down and some light debris scattered about from gas stations and homes.
Once I deemed I was too far behind to really catch up I turned around and headed back home, which was a long, miserable drive in slow moving traffic along I-90. As I got closer to home some convection tried to get going but could never last, the towers made for some nice shots though.
I was about 25 miles away from these storms, which were directly over my house at the time I took this picture.
Radar image at the time the above was taken showing my distance to the storm.
Another storm as I get even closer to home.
Also the radar Image at the time the above picture was taken.
Anvil [possibly an orphan anvil at that] over the metro area as I come within 15 minutes of home. Its not often you can see an anvil like that around here, too bad it was only associated with brief popcorn storms.
Conclusion:
I love good structure. Some chasers scoff at shelf clouds because they generally mean outflow and no tornado. I never went on this chase expecting a tornado and I am very happy and pleased with what I got. The shelf was very dramatic, gorgeous and it more than justified the trip. Without the traffic the chase only took me about an hour away from home. A win all around.
Google Map of the chase only.
SPC storm reports. Southern WI took a beating by the storm complex.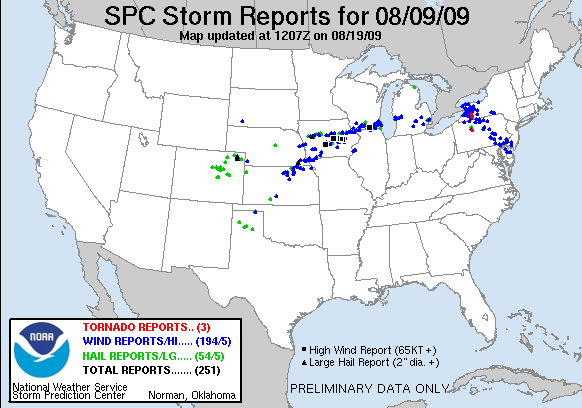 A good summer chase, helped curb my SDS in an otherwise storm-less summer around Chicago. Looking forward to the fall mini season!
Leave a Comment: