Summary:
Tracked mini supercells across western Illinois, missing photogenic tornado by minutes, but catching stunning back-side structure.
Stats:
Tornadoes: 0
Hail: 0.00″
Wind: n/a
The Forecast:
Record El Nino underway. Unseasonably, rare airmass in place across Illinois with surface temperatures and dewpoints exceeding 60 degrees. Deep surface low moving through western Illinois bringing strong speed shear with good directional shear. Clearing forecast to take place after morning round of storms with models indicating unusually high levels of CAPE developing for December allowing for good potential for surface low mini supercells. Larger outbreak of tornadoes forecast to take place in the lower Mississippi Valley where ingredients were further maximized.

Detailed Account:
Here it is 2 days before Christmas and I had a storm chasing decision to make. Target closer to home or down south in the more traditional play. Down south looked like a potent setup, but the play closer to home held real potential as well. After much deliberating I chose to stay close to home. Not only for cost, and the fact I had xmas eve dinner obligations, but the thought of an IL December tornado is too good to pass up. I teamed up with Danny Neal, who, like me, was feeling festive during the chase.

Initially forecast models pegged the I-39 corridor as the place a second, potentially stronger round of storms would form, but as the day evolved it became clear we needed to be much further west. We met up with Alec Scholten, Brett Wright and Tom Purdy near Princeton, IL – where we were all excited to be chasing 2 days before Christmas as Holiday music played in the Dennys parking lot. It felt weird, but we were chasing in Northern Illinois in December. To our dismay storms began initiating over eastern Missouri and tracking into western Illinois which meant we had to make our move.
South of Monmouth we had several storms to choose from, none looking particularly stronger than the next on radar. Visually they were all close together, but in really clear surface low air.

While communicating between the two vehicles we agreed to make a dash for the beefiest looking storm which was south of Macomb, generally heading our direction. Storm speeds were fast but we had an easy play on it if we kept pace. Near the town of Good Hope, Danny and I commented on a particular storm base that looked interesting, but we pressed on. We got caught by a train in town, and after detouring around it were on our way. We encountered our storm shortly after, noting some dramatic CG lightning, but not much else. Suddenly a tornado warning blares over the radio. The storm we had just commented on about 10 minutes prior was now warned with a reported tornado near Good Hope, where we just were.
Unbelievable. Our hearts sank as we quickly turned around, but the storm was hauling away. While trying to catch it, we were shown beautiful sunset structure from a different storm. On a day we were expecting lumpy mini sups, we were treated to some rock hard warm season structure. The sky looked amazing.

I should have stopped to get pictures with my real camera, but we were in desperate catch-the-tornado-warned-storm-mode. The storm was the most pathetic looking thing on radar I have ever pursued. I could not believe it produced a reported tornado.
There wasn't even any lightning. Sure enough, pictures appeared on social media of a skinny, but high contrast tornado from the tiny little storm. A slew of other chasers who happened to be diving south from a different storm, en route to the storm we were going after, happened to catch it along the way. Ugh….
We called the chase once darkness fell and parted ways. A follower of IllinoisStormChasers from Kewanee invited Danny and I for a free meal to say thanks for our forecast updates. We stopped in, met some cool people and had a good meal. It was a nice way to end the day. We arrived home, in the mood for spring, but oh wait, I had to finish preparations for Christmas!
Conclusion:
In a fitting way, my season ends how it began, missing a tornado in my home state despite being nearby. I was quite miffed by that, but overall we had a really good time on the chase. It felt good to be out so close to home in December, but damn….we were so close to getting an ultra rare prize and it might be awhile before the next chance. As far as the southern target went, a very large, long tracked tornado tracked across Mississippi. It was the only storm to do anything down there out of dozens of storms that went up.
Maps; First map shows chase overview, second map shows how close we missed the tornado:

SPC Reports: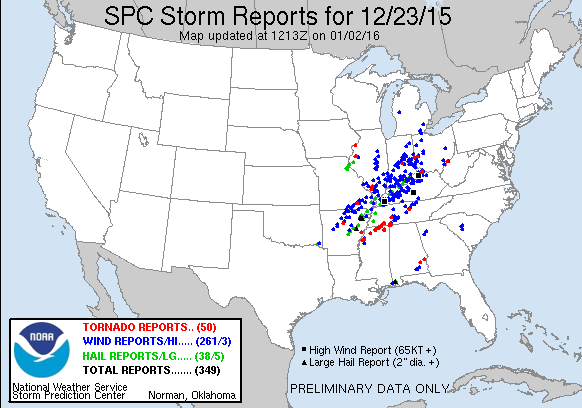 Leave a Comment: