Happy New Year's eve!
Summary:
Another rare off season local setup presents itself. Left home to intercept tornado warned storms moving out of MO and into IL. Never noted much and chase was quickly over on a day that featured a significant and unfortunately deadly outbreak.
Stats:
Tornadoes: 0
Hail: .00″
Wind: est 50mph thunderstorm gust.
First: December chase.
Stat that will never be broken: The latest in any year I have ever chased. This stat can never be broken!
Detailed Account:
I had been watching this setup for days, even taking the time to write out a detailed forecast/comparison write up
here
. I awoke that morning to loud thunderstorms crashing outside my home, a nice December treat. Being new years my target range was shorter than normal so I told myself I would only bolt out the door should tornado warnings make their way into Illinois and once noon rolled sure enough that is what happened. A line of storms with a history of producing tornadoes began marching into IL and a new tornado watch went up an hour south of me. Out the door I went. The rain had melted all the snow but that doesn't stop people in Chicago from using chairs to reserve their parking spots.
I began to head down I-55 with a plan to get infront of whatever tornado warned storm happened to be heading my way. I really wanted to be on the storms further to the south but they were out of reach so I decided to gamble with the closer storms. As I made my approach the storms appeared to weaken on radar and I started to debate turning around but thinking they might pulse up again and sure enough a new tornado warning was issued which I just barely snuck into.
Radar shot showing tornado warned storm and my GPS icon right on the edge.
Given storms were moving 60+ mph and having a view in the awesome IL terrain I decided to hold my ground and let the storm come to me. I never noticed much in the way of structure, this was about as good as it got with a really weak attempt at a lowering.
As it got closer the structure never got any better. The CG activity was decent though, and a few of the strikes were close and intense. I decided to just let it approach and run me over.
The wind picked up to sub severe limits for a brief moment and I was blasted by sideways rain for a whole 30 seconds and the storm was over. I called the chase at that moment and headed for home as the storms then weakened and lost their tornado warnings. Skip was nearby and I gave him a shout to share some amusing humor for the day.
Conclusion:
In hindsight I made a mistake in not attempting to actually chase the setup and go to the area that was better advertised for tornadoes. Being a holiday I kept my target zone close to home, a mistake I will probably never let myself do again. Chasing in the winter is a huge gamble to begin with, but why make it harder on myself by not allowing myself to go to the real target as opposed to hoping the lazy target will verify. Any chase this time of the year is welcome, and despite the overall bust, I still had that nervous feeling of excitement when I saw the base of the tornado warned grunge head my way. It beats snow and 20 degrees anyday!
Unfortunately though, the tornadoes that happened were killers and at least 6 people are confirmed dead at the time of this posting. My deepest wishes to the families, hopefully one day we will be able to better understand these off season events, which often times seem to be the most deadly as people are not used to tornadoes in December.
Map:
SPC Storm Reports: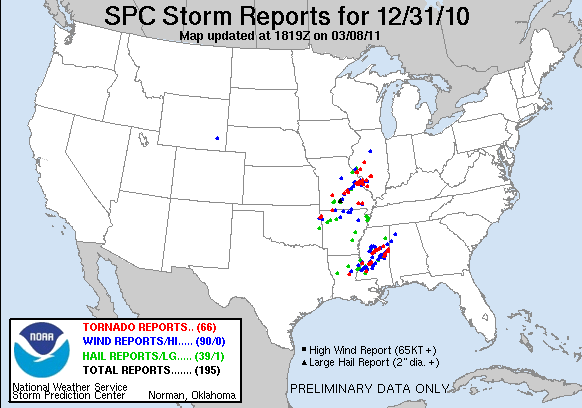 Leave a Comment: