Summary:
Caught a wedge tornado and then got munched by RFD containing hail perhaps larger than softballs and 70mph winds.
Stats:
Tornadoes: 2
Hail: 4.25+" (Softball and larger)
Wind: est 70mph RFD winds
Windshield lost this year: 2
The Forecast:
Similar setup as day before. The main piece of energy had arrived on the plains bringing strong speed shear atop a warm sector characterized by deep moisture. Like many other setups this year, some VBV profiles gave concern for storm mode in addition to, once again, lack of an EML potentially allowing too much early convection to go up and ruin warm sector. Still, with incredible speed shear in place and favorable directional shear in the low levels SPC outlooked a classic looking plains tornado outbreak with a large MDT risk spreading from southern Nebraska into northern Texas. This had the potential to be one of the bigger days of the year.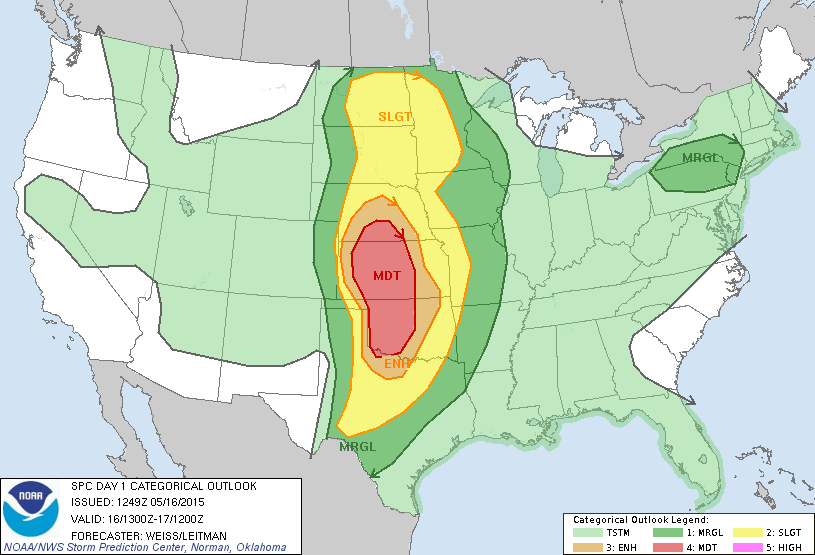 Detailed Account:
Given how my season has been going so far. I was nervous for this day, nervous I would screw it up. With such a large target area, you have to make your decisions wisely. I awoke in our hotel after 5 hours of much needed sleep. Before my body shut down into that 5 hour coma, what little data I did see painted southwest Kansas as potentially a great target, and I was hoping to wake up to the same thing. Nope. A large MCS was ongoing to my southeast, shoving an outflow boundary into the Texas panhandle. Current conditions at my location were temps in the low 60s with dewpoints in the mid to upper 50s. Ugh, time to blast back south. By this point I am very sick of the S plains and the TX panhandle, but alas…
Ben and crew took off a good 15 minutes before me, but I was soon on my way. I made it down to Shamrock, TX where I stopped for fuel and a snack. The first pair of tornado warned supercells for the day were ongoing well to my southwest, but moving up my direction so I decided to make a play. I moved south out of Shamrock and found some backroads to bring me in closer. One of the roads threw an unpleasant surprise at me as I was traveling down it at probably too high a rate of speed, but luckily the tank survived.


I finally found a view west of Dozier and decided to wait there. As the storm approached I was greeted by an evil HP monster.

Positive CG were crashing down one after another and I had to remain in the vehicle. It was the most intense lightning barrage of the season so far. A tornado was reported with this storm northeast of Hedley, TX which would place me in the right spot to view it. I thought I saw a potential cone buried in the rain but was unsure. I was able to later confirm the tornado thanks to the help of my camera. If you're having trouble spotting it don't feel bad. It was just as hard to see in person.


Due to the HP nature of the storm, and given the limited road network and the fact the storm was warned for 80mph winds and baseball size hail I decided to avoid the core. I heard a loud roar as the edge of the core approached, and stayed just ahead of it as trees began shredding. I decided to leave the storm at this point as it was not moving into a favorable environment. I needed to be further south, but at least I had gotten on a nice storm already.
A bunch of storms had now initiated as I made my way further south towards Childress. Storms were going up close together, and I jumped from storm to un-impressive storm. Each time ending up 20 miles further south. I was on a particular storm east of Childress now that was tracking near the Red River, yet another storm blew up further south and I debated making a move. I was already irritated with dropping further south again and decided to stick with the one I was on, despite its unimpressive appearance. While doing so I found a road called Butts Rd – which was well…impassable.

The storm was getting ready to cross the Red River now, and looking at my map I had 2 options, one was to dip way south towards Vernon and follow it northeast, the other being to go north and take a long approach through the back side. I chose the later as everyone else chose the former. I figured I had time as the storm was not impressive. During this execution though, the storms appearance on radar quickly took a dramatic turn and within 3 scans we went from a disorganized blob to a beautiful hooking supercell. A tornado warning was now out. No…no…NOOOoooooooooooooo. I was behind it and could only see rain. It wasn't supposed to ramp up that fast! I floored it into the core and prepared to dive south and come out in the notch/cage. Please please pleeeaaasssseeeee dont let me miss the show. There is no worse feeling in storm chasing than the feeling of being out of position for potentially something amazing, especially when there is a clump of 30 other chasers SN dots in better position while you're the only shmuck going a totally different way.
I emerged from the core to see I had made it…there was no tornado on the ground, but a nice beautiful rotating wall cloud. Road options were limited due to a nearby creek that cut off many of the eastbound roads. I overshot the road I wanted to take, and thats when the tornado first developed. It began as a nice multi vortex tornado, with multiple vortices spinning up just to my south.

I was content with my position, that was until baseball size hail started crashing down around me. In addition a farmer was driving north on the narrow road. I began backing in reverse to get back to my east option as he passed me by, large hail still falling. I made it to my east option (County Road E175) and paced the developing tornado. Once the hail stopped, so did I. I hoped out to see the tornado had now matured into a full blown wedge.

I reached highway 283 and turned north, but quickly pulled over to let the tornado cross to my south.

I was somewhat perplexed by the fact I was the only chaser standing out to film while everyone else bailed north. Turns out they were the smart ones. Not soon after the above frame grab, very large hail began crashing down. I heard an incredible roar and realized it was probably a hail roar. I darted to my vehicle and began blasting north, but got caught in some slow traffic half made of chasers and one scared local towing a horse trailer. I heard the first very loud thunks on the roof and knew I was in trouble. Soon after a hit took out my windshield. I pulled over and decided to ride it out. I could try to blast east but I didn't want to lose the rear glass either. The windshield was already toast and I have guards on the rest of the glass. It was time to hold on.
The RFD winds picked up to severe limits as limbs started being ripped off a nearby tree and flung infront of me. The hail size grew to easily softball size. One major hit nearly punctured through the windshield and I was now covered in glass. The hail began pouring down and the windshield began crumbling while enduring hit after hit. In all my years of chasing I had managed to avoid this situation, but it was now my time to ride it out and take the beating. It lasted about 90 seconds, but felt like an hour. The hail eased up and I breathed a sigh of relief that the damage wasn't worse than it was.

The tornado was still ongoing at this point, but my chase was over. I crawled north a bit, pulled over to clean the glass off myself and assess the rest of the damage. Other than a compromised windshield and countless new dents, the only other piece of damage was the mirror casing being broken off. The guards did their job and kept the other windows in tact. A tour van caught in the same assault was not so fortunate, and they lost all their windows. I sat there for awhile and worked on some video, a couple locals stopping by to check to see if I was ok. Once they learned I was they were curious to see the video, which they enjoyed.
I decided to make my way back towards Norman, with tornado warnings still ongoing. I could actually catch back up to the storm if I tried, and almost did. I made it to the back end of the tornado warning southwest of Norman, just as the whole storm complex went linear. I spent the remaining 30 minutes of the drive in an intense MCS that brought on blinding rains. The windshield being as bad as it was making it harder to see, but at least it didn't really leak other than he occasional drip.
I met up Stephen Jones and crew at a steak house in Norman where we celebrated the days awesome catch. I arrived back to Ben's in a great mood. Fortunately I already knew where to get the window fixed thanks to our encounter in Alec's vehicle earlier this year. I awoke the next morning to a bright and sunny day, which better revealed the damage.

After a nice off day in Norman featuring a tasty BBQ, I had the window fixed the following day before returning home. To my pleasant surprise I learned a front windshield for my truck is *only* $179 – which, so far, is the cheapest of everyones windshields that has needed replacing this year. A good thing since I was chasing solo and had to foot the bill myself.
Conclusion:
Finally. I got the chase I have been waiting for this year. A nice, big, menacing tornado I was able to capture on video for a solid DVD chapter. The encounter with the damaging hail just added to it. A day filled with intense severe weather, the kind that can make a season. I can stop worrying about not getting a nice bite of the pie this year. Today was one of those chases that makes me feel reborn. The vehicle damage? Absolutely worth it. The day ended up being a bust across much of the large MDT risk warm sector. Today was a near perfect execution of forecasting and positioning. The Elmer/Tipton tornado was actually very difficult to see for many.
Video:
Map:
SPC Storm Reports:

<—-Previous Chase             Next Chase—->
Leave a Comment: