Summary:
Chased storm of the day from birth to death, getting a brief view of heavily rain wrapped EF-4 tornado near the town of Esbon.  Caught a small rope funnel on the flanking line and also noted awesome HP structure and gorgeous backlit skies during sunset.
Stats:
Tornadoes: 2
Hail: 0.00″
Wind: n/a
Cool fact:  The Esbon tornado was only 5 miles east of the georgraphic center of the conterminous United States.
The Forecast:
Strong instability ahead of the first pieces of energy in what was to become a persistent troughing feature across the plains. Initial speed shear and jet maxes lagged a little behind. Attention was instead more focused along an outflow boundary near the KS/OK border where SPC issued their highest tornado probabilities. Weak cold front/triple point target further west was also another area for potential storm initiation, but there a stronger cap was of concern.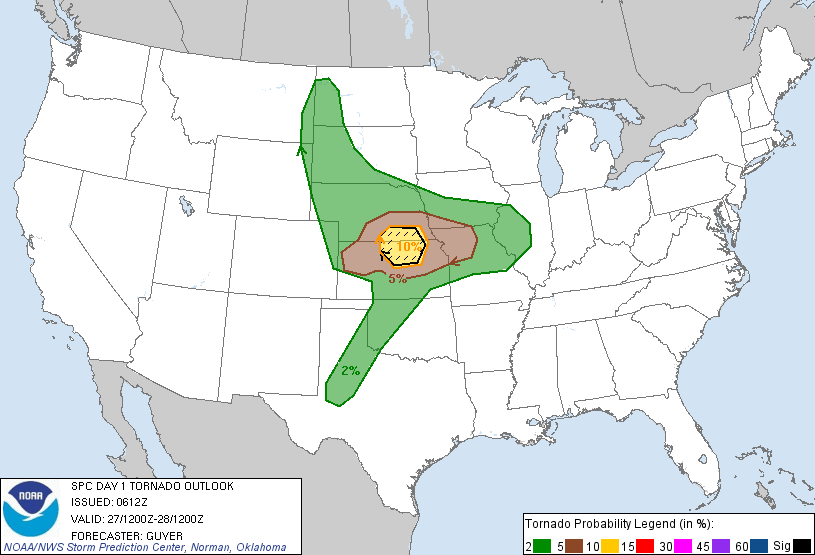 Detailed Account:
This was going to be the first day in a long string of chasing. The forecast had some concerns, but big potential. The more obvious play was in the SPC highlighted area of interest along the KS/NE border however, experience has taught me to always expect surprises further west on these types of slow moving, large target area setups. As we began to monitor the forecast we shifted course in that direction, arriving in Phillipsburg by early afternoon. We continued west out of town where we found a desolate road, which was probably the quietest spot I have ever visited. There was not a sound to be heard except a gentle breeze and some birds. Once in awhile the sound of a distant passing car would ruin the ambience, but Ill always remember that spot as one of the more peaceful places I have stopped.
After sitting there, almost to the point of falling asleep for an hour, towers began to rapidly develop, and soon the first blips on radar began to appear. It was now go time. This tower here ended up becoming the storm we would chase all day.

We didn't have to drive far to catch up with the storms base, which was rapidly organizing. There were only a couple other chasers around as well since most were still back east playing the more textbook target. The roads in this part of Kansas were like a roller coaster with very steep hills in between the flat plains we love to view storms on. The storm really began ramping up and showed some textbook structure. Pictured below is a large base with inflow tail feeding into it.

The rotation in the storm was very evident, and we were getting excited for the possibility of a tornado. The storm did appear to be going through multiple cycels rapidly however, and areas of rotation would soon gust out. As soon as it happened though a new area would form, so at least the storm was cyclic instead of outflow dominant. The storm, now the dominant one in the area, was attracting the attention of everyone within 100 miles and the convergence issues were beginning to increase. We tried to stick to the gravel roads to avoid most of it as the storm kept getting more and more organized and teased us with tornadic structure, minus a highly visible tornado.
Funnels would routinely dip down, but last for only 20 seconds and then quickly dissipate.
At some point we noted and filmed some dust being kicked up very nearby an area of rotation, but I suspected this was outflow dust or even a gustnado, as the rotation above was broad, not tigheted up, nor above the dust. A couple people reported this as a weak tornado, but I remain skepitcal. We kept east with the storm for another hour, routinely stopped to observe more of the same features. Some of these scud funnels came incredibly close to the ground, but all we could ever note was rising motion and no rotation, it was really bizarre. It LOOKED like a tornado, but the motions told us otherwise. We probably noted 4 or 5 of these features, and one of them did get confirmed by the NWS to be a short lived tornado, our first for the day.
Finally nearing the town of Esbon, the storm began getting really HP and it was harder to see into the area of rotation. I wanted to go north to attempt looking southwest into whatever notch there would be, but I was out-voted so we sat outside of the town as the storm skirted us to the north. As we sat there observing, cameras in hand, what appeared to be a large tornado came into view for only a few moments. The motion in the sky was obvsiouly rotating, but the visual we had was such low contrast none of us called out a definite tornado, just that it appeared there was one wrapped in the rain.
Chasers who had a better view (to the north of course) were able to confirm it as a large tornado. This is the best screen shot I can pull from video and is contrast enhanced a bit to make it easier to see.
We kept up with the storm a little while longer, but with loads of rain and hail falling, the roads became trecherous and slow going so following the storm on the back roads from behind was going to be a lost cause. The storm was now an HP beast that looked very threatening, but we could not see into the area of interest at all, just a big precip core underneath a wicked shelf cloud.
We joined the chaser circus on the main roads and followed a little while longer as new storms began to form on the flank, also with embedded areas of rotation. We decided to turn around and go to the back of the line for a clear view. There we saw some wild swirling motions in the clouds but the air was outflow and chilly. These were nothing more than eddies in the sky than true tornadic circulations. At one point a small rope funnel did emerge since there was good amounts of shear, but it never touched down and lasted less than a minute.
It was beginning to get late and we switched gears to our plans for the next chase day. We let the storm go and started slowly heading to where we could find a cheap motel. Hays was about an hour away and we were able to snag a room at the Motel 6 so that became the plan. On the way we stopped to shoot some of back-lit structure by the setting sun, which is always very visually appealing since the sun can highlight every little detail in the clouds.

We arrived in Hays, with surprisingly the Applebees still open where we had a nice dinner and then proceeded to our motel for the night, already in decent position for the next days setup.
Conclusion:
Day 1 of the trip was already a success with a wicked HP supercell and a tornado catch despite the view being horribly contrast. The Esbon tornado ended up being rated EF-4 due to a measured wind gust around 180mph. Perhaps a more agressive approach to get north would have allowed us a better view. The day was also a forecast and target win since we were on the storm as it was born with only a couple other chasers around. Its always hard to go against the more obvious target but its nice to see that sometimes it will pay off.
Map not available.
Spc Reports:

Leave a Comment: