Summary:
Played marginal setup catching pair of well structured supercells that produced brief funnel cloud but no tornado. Detoured west to have a night out in Omaha afterwards.
Stats:
Tornadoes: 0
Hail: .75″ (penny)
Wind: n/a
The Forecast:
Pretty standard summer setup. Slow moving cold front with plenty of instability ahead of it, but only marginal shear profiles to support a tornado threat. Linear/training mode expected to quickly take over transitioning into more of a wind/heavy rain threat. Still, storms were expected to remain discrete for a brief time, and anything can happen during that phase. Being it was fairly close to home and on a weekend, it seemed silly not to chase, especially after missing an extremely photogenic event in the same area the week before on a day with lesser probabilities. SPC laid out marginal tornado probs across the slowly sagging cold front.

Detailed Account:
I had foolishly sat out a similar setup the week before, and missed an incredibly photogenic tornado. That pretty much destroyed any leftover high from June 16th and now I was seeking redemption for myself. So I was perhaps a bit too optimistic for this day. Plus, Alec had some friends that were planning what sounded like a fun night out in Omaha, and being a weekend, theres no better way to spend it than storm chasing and then a good party afterwards, so all these factors helped lure me out the door. I left good and early and arrived at my waiting point near Iowa City. Surprisingly Ben Holcomb was out chasing too and he met me at the location as well. We were later joined by Alec, and then Ashley Poling and Gary Sharp. We would end up caravanning most of the chase.
After waiting a short time at a nearby McDonalds, the first blips went up and the chase was on. Storms were isolated at first, but a little close together, the developing structure looked pretty classic, and we got excited watching the storms come together. Here is a good action shot taken by Gary Sharp of Ben, Alec and I pointing out features in the developing storm. I love shots like this.


The storms bases had some concentrated lowerings at first, but they began to fan out a bit, suggesting outflow was taking over. Low level rotation could never really tighten up and they were starting to move away from us so it was time to regain the pursuitt. Alec and I lost Ben, Gary and Ashley at this point as we took different directions to stay with the storm. The lead storm in a parade  looked the best, so we stuck with it. Our only challenge was the storm moving into Iowa City, which is a dense metro area. Trying to get around it I missed the highway exit and we were forced to detour around it a bit further than I wanted to, but we eventually regained visual south of the city. To our surprise the storm was fair well structured, as rotation was very evident in the mid levels, and we were treated to a nicely tiered meso.

Again, as I have been learning the ropes of my new DSLR, this made me appreciate the fact I now have a wide angle lense so I can capture the entire storm in one image. This is what can salvage an otherwise sup-par chase. It was apparent there wasnt enough low level flow to sustain good rotation at that level. We kept with the storm as it moved east, eventually things tried to tighten up in the lowest level, and at one point we could easily note low level rotation, but it was slow and lazy at best. The structure was still pretty good, however.

After observing the storm a little while longer, along with radar trends, we decided to call the chase and begin our move towards Omaha for a night of fun. Naturally, about 2 minutes after we started driving back west, reports of a funnel cloud started pouring in. The storm did indeed produce a short lived funnel, but noone could confirm a touchdown. I should have known better…its never over till its over. So I can laugh about it now, but had it actually became a tornado, that would have been a painful mistake.
I dropped my truck off at a hotel near Iowa City and hopped in with Alec to head towards Omaha. This was purely to save on gas costs for both of us, since there was really no need to take 3 vehicles to Omaha. Ben followed us out there and we met Alec's friends at their hotel. It was a fun night indeed, and I made some new friends. All in all a great day.
Conclusion:
Overall the chase met expectations. These are the types of setups you get over and over in the summer. 1 in 20 will produce an awesome tornado, you just have to be fortunate to be out for the right one. Sadly, it was the week before and not today, but the structure was a nice treat, especially for a weekend chase not too far from home. Ending the day with festivities in Omaha was the icing on the cake. Theres nothing I would rather do on a weekend than chase storms and have good times with friends, and in the end thats what life is all about.
Map:
SPC Reports: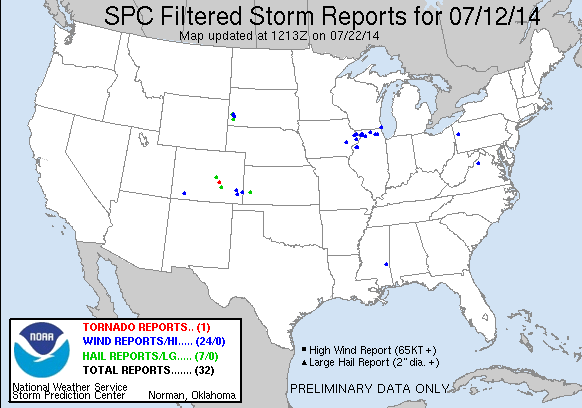 Leave a Comment: