Co Magic!
Drove all night to Big Springs, NE for day 1 of multi day chase trip. Targeted CO front range where upslope flow was forecast to break a stout cap. Sat near NE border waiting for storms to initiate. Blasted south once storms fired intercepting northern storm first noting good meso structure but storm quickly fell apart as new storms formed ahead of it. Dropped south to tail end charlie in time to witness incredible structure and 2 photogenic tornadoes. Stayed ahead of storm until nightfall with mothership structure, incredible lightning and small hail.
New believer in CO magic: me!
Not more than a day after returning from an IL bust, I was on the road again for what looked to be several chase days on the high plains. Conventional rules of weather do not apply in this region when easterly winds riding up the gently sloping terrain can help updrafts punch through an otherwise unbreakable cap. That plus the clear air of the higher elevation often leads to gorgeous structure.
I left Chicago around 5pm and drove all the way to Big Springs, NE where I arrived at 430am local time. Luckily I was able to get the room for 2 nights for the price of once since I arrived so early [not to self for future trips!] I took a quick power nap and woke up to meet Jesse Risley and crew for breakfast to discuss the day. The target area was pretty broad stretching from Central WY all the way through southern CO. Given the finicky nature of high terrain setups it was hard to narrow down a specific place where storms would initiate. I liked the area around Sterling thinking initiation would be further west. Jesse and crew opted for a more eastern target near Holyoke which was deeper into the warm sector and closer to the warm front in KS.
Driving to the target area. Beautiful CO:
I made it to Sterling, monitored some data and decided to jog a bit further west. I found a secluded spot on Highway 71 where I pulled off and sat there listening to the serenity of the high plains. The only noise came from passing vehicles, which were few and far between until the Vortex 2 armada along with all their leeches drove by heading south. I decided to hold my ground for another hour though.
I noticed the first towering cu going up to my south and upon checking the visible satellite it clearly showed things would initiate further south so I began to make my move. A couple storms went up and I went into chase mode. I dropped down to the northern-most storm of the bunch on some desolate Colorado back roads.
I watched this storm as it clearly showed rotation and tried several times to develop a wall cloud:
After watching several failed attempts some junk storms formed on its flank and began interacting with it in a bad way. The storm collapsed into an embedded mess and I made the call to drop towards tail end charlie. En route it went tornado warned and I picked up the pace. I finally found a spot to view the storm and was treated some jaw dropping structure. If only my junky pocket camera could have picked it up better.
The structure was indeed beautiful. The storm appeared like a birthday cake. A big, circular rotating, multi tiered supercell. The only way it could have gotten more amazing was to drop a tornado. It began to close in on me so I moved to stay ahead of it. Sure enough I look in my mirror to see the beginning of a funnel. I quickly pulled over and jumped out.
The funnel hung around for awhile and struggle to get to the ground at first. I was yelling at it while recording to drop down and stop teasing me. Eventually it id.
The site was amazing, to be able to see the entire storm like that. I had always heard about these kinds of storms on the front range but this was the first time I had seen it for myself, and it lived up to everything people have made it out to be.
I was able to set up my tripod to record the tornado, sit in the back of my truck and just watch. It was the most relaxing and serene tornado intercept I have had.
The first tornado lifted quickly and I let the storm approach:
Looking down the road I could see a parade of headlights heading my way. I knew the hoards of chasers were on their way so I moved to stay ahead of them and the storm. I prefer to not be involved in the chaser crowds. Part of what makes chasing so enjoyable is being able to enjoy natures show alone or with a select few individuals I call friends. Being involved in a Chicago style traffic jam just ruins it. I could care less if it means not being as close, I would rather be far and alone than up close in a traffic jam.
As I moved, sure enough, tornado #2 quickly touched down. At this point I had bumped into Jesse and crew. I moved a bit ahead of the pack and again setup my tripod, sat in the back of my truck and just watched.
Video shows a time lapse of tornado #2. It was on the ground for a solid 10 minutes, in this clip I took 3 minutes and condensed it down to about 30 seconds.
Once tornado #2 lifted I met up with Jesse and crew again. We were all pretty excited about the show we had witnessed. Now that I had captured some nice shots I decided to let the storm get on top of me to be up close and personal with the 3rd tornado should it decide to drop.
Storm approaching with mothership meso structure.
A massive RFD began surging in at the time of the above photo. I thought the storm was about ready to give an encore wedge performance but there was none to be had. We kept repositioning ahead of it for another hour until darkness fell. The storm began to become disorganized. I had drifted pretty far south from my hotel so I decided to core punch and make my way back to Big Springs. The core punch brought some torrential rains and hail that was probably no bigger than penny size.
I made my back to Big Springs and enjoyed an incredible lightning show along the way. I stopped for dinner at a truck diner in Julesburg, CO and was back in the hotel around 1am to sleep for the next days chase.
Radar Image showing my position when I first got on the tornado producing storm. All by my lonesome.
A great chase. Great structure and good clean tornado intercepts. They were a bit further than I normally prefer, but the serenity of such an intercept outweighs the money shot sometimes. It was a great feeling to just sit in the back of the truck, relax and enjoy a wonderful show of nature. If I could redo this chase I would do nothing different.
Map: A bit confusing since this map includes the next days chase as well. Red arrows showed where I filmed tornadoes. The green pin near the top of the screen is my hotel.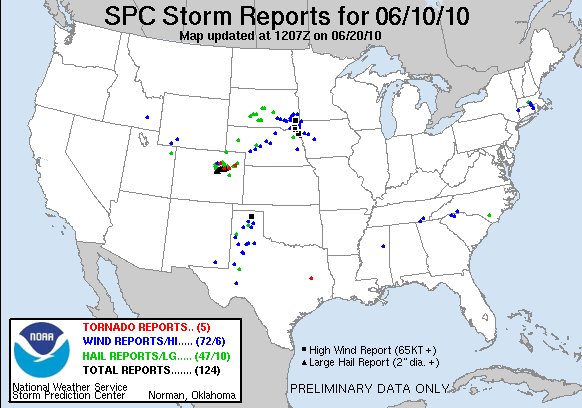 Leave a Comment: