Denver!?
Targeted closer to the front range to be on initiation. Had my location down but as usual my timing was off. Intercepted storm that formed over Denver noting mean green outflow HP storm. Troubleshot data issues and ditched storm for better looking storm to the south which became storm of the day near Limon. Stayed with storm until giving up on it and core punching north for another storm which collapsed upon interception. Blasted back south for another core punch before calling chase at dark and heading to Burlington for the night.
Something I never anticipated seeing on a chase: The Rocky Mountains.
I awoke in a great mood after yesterdays chase. Todays setup was similar only with weaker flow and slightly less cape. Still, it looked to be enough for another round of supercells in the same area. Starting to learn from experience and learning that storms in this area always like to go up further west I set my target further west, almost towards Denver. I left the room and began to make my way there.
Storms initiated en route, even further west than that! I continued west until my amazement I was able to see the storm along with the mountains. I never pictured this would be something I would see, but it was beautiful.
…
Not wanting to mess with metro area traffic, I setup and interception point around Brighton. The storm went tornado warned and began to turn right so I dropped south to stay in the notch. First glance told me that today, much opposite of yesterday belonged to the mean green HP machine.
It was becoming clear this storm was outflow dominant. I moved to stay ahead of it and inside what little inflow notch it had. At one point I got really excited when I saw what I thought for sure was a tornado. It appeared as a narrow white cone embedded in the HP mess. I quickly reached for a camera and by the time I got one it was gone. A tornado report came in at the time, but I have yet to hear confirmation and given the fact I was unable to document it for myself I will leave it in the category of uncertainty. At this point I had a data melt down with my spring mifi device and I stopped to fiddle with it as the storm approached.
I gave up trying to get it to work and kept up with the storm visually for about an hour. Eventually my ATT regained signal so I went back to using that. Upon glance at the radar a new storm was flaring up to my south. I decided to ditch my outflowy storm and make a run for the new storm to the south. As I got closer it showed some nice structure on the back side.
I made it down to I-70 and began to make my move to get ahead of it. Doing so meant a brief brush with the core that brought some heavy rain and small hail. I could see the storm I had left way in the northern horizon now.
I was able to get ahead of the new storm, also a major HP mess. I could see hoards of chasers hugging the storm and not wanting to deal with that mess I chose to put some distance in between me and the storm and went to Limon where I awaited its arrival. The storm was tornado warned in Limon but for some reason the sirens were not sounding.
It began to approach with a very turbulent lowering, some chasers are calling this a tornado. I am more skeptical.
Perhaps I should have just stayed closer and dealt with the hoards, it IS an HP beast and the only way to clearly see things is to be right there. I kept ahead of the storm by moving to the town of Genoa where I sat and watched it moved in as still a dramatic HP outflowy shelf cloud. New storms were going up north of there so I decided to ditch this storm and core punch my way north with some quarter hail on a muddy backroad this time. At this point I guess the storm finally produced a couple weak tornadoes which some chasers actually confused with a gustnado. No shame in missing that.
The new storm fell apart upon my arrival though, and I decided to dive south yet again for a core punch to make my way towards KS to be in position for the next days play. En route a beautifully electric tower went up in the darkness and I could see incredible structure from within. I shot some video of this which I will have to work on at a later date.
My goal was to make it Goodland, KS but chose to stay in Burlington which was just over the border. It was around 10pm local time and I wanted to make sure I had somewhere to get food.
Weaker surface flow as well as a weaker surface low and lesser defined frontal boundaries were the cause for the outflowy mess. Had there been just a little more today would have been another good tornado producer. I enjoy a mean green HP machine though, they are some of the most intimidating storms you can look at, and I was satisfied with the day. It also helped me keep my skills sharp in regards to being able to bounce from storm to storm and knowing when to ditch one storm for another.
A radar shot as I approach the first storm near Denver:
Map: Since it merges with the previous days chase I circled the route in red.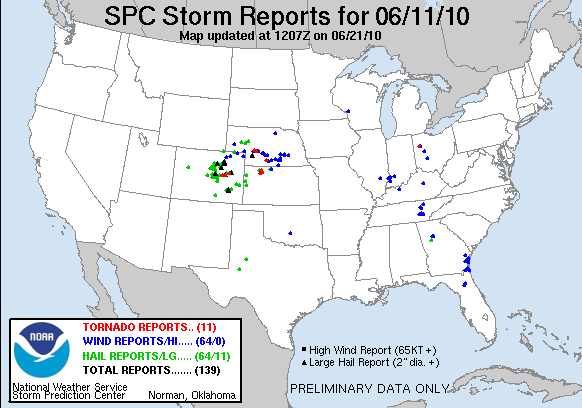 Leave a Comment: