Panhandle Fail
Late start caused me to be on the north side of the storms. Having zero data and hearing reports for hail 6 inches in diameter punching through windows kept me from core punching to get into view. Hung around north side of the storms before getting ahead as they lined out. After allowing the storm to core me I chose to end chase early and room up in Liberal, KS as opposed to dropping 3hrs south to new development in the TX panhandle.
Wind: est 65mph thunderstorm gust.
ATT data hole discovered: The west half of the OK panhandle.
McDonalds: Awesome for allowing me free wifi access.
Todays setup was a messy one. Outflow from previous convection had re-enforced the boundary well to the south. I left my funky hotel room, which had a bench and a mystery door with a chain on it. I am still curious as to what was behind there.
The boundary was a sharp one, it was a chilly 52 degrees with misty rain when I left the room. I knew I had to get into the panhandle region so I proceeded through Goodland and then south on route 27 which surprisingly is a very nice, fast drive with data connection the entire time. The data did not last though, I crossed into Oklahoma and all was lost. "Roaming not available on this network" is what it said. I hate that, I have signal but for some reason data is not allowed on my carrier. Jerks.
It was a muggy 84 degrees and I could see rapid development occurring to my south. Fair enough I can chase visually at this point. The storms were firing in the TX panhandle east of Amarillo and one showed an impressive anvil.
I texted Ben Holcomb for a nowcast and he informed me that chaser Bart Comstock had just reported hail around 6 inches in diamter! That is HUGE hail and it had gone completely through his windshield. Other reports of 4-5″ hail were coming in but no tornado. Normally I am an aggressive core puncher but knowing this and having zero data I opted not to do it this time. No way was I going to have all my windows smashed out and potentially drive into a tornado blind.
Still without data I attempted to move east of the storm so I could drop south ahead of it. I stopped in Guymon, OK which is a decent sized city thinking I would get data there but nope. Still roaming data hole of death. Luckily across the gas station I stopped at was a McDonalds which I was able to snag some free and very fast wifi. I got the updates I needed, which showed the storms had turned into a linear junkfest [not before producing a tornado though.] I decided to continue east towards Balko to take a look. I was finally ahead of them enough to where I could make out features.
Again I was greeted by an outflowy HP mess similar to yesterday.
I decided to hold my ground there and let the storms overtake me while snapping some pictures. The golden wheat cop in this area provides great foreground for storm photos. One shot I really want to get is a tornado on this type of terrain but I settled for the mean green core.
Eventually the storm overtook me with some sub severe hail around Nickel size driven by some pretty decent wind gusts which I estimated to be around 65pmh. Tumbleweeds began flying past me airborne and one of the gusts finally took the remaining rain guard off my front drivers side window. I let the storm munch me for a few minutes before moving ahead of it once again. I decided to move back into KS near Liberal because I knew I would at least get data there. I could see no other storms worth going after in my location.
Stopping in Liberal and regaining data showed new development further south into the TX panhandle. I decided it being 2-3 hours away with the storms likely suffering a similar outflowy fate I would just call the chase in Liberal early, grab some dinner and have a nice relaxing evening in my hotel room, and that is exactly what I did.
Again I let a late start keep me from the best action so I was a bit miffed at myself for doing that. Seeing the huge hail from a safe spot would have been awesome. The tornado of the day was a very low contrast HP cone only a couple of chasers out of the many down there were able to see. I would have rather seen the near record hail. The day was not lost though since I did get to experience a severe core and come away with some scenic shots.
Map, circle shows where I had zero data.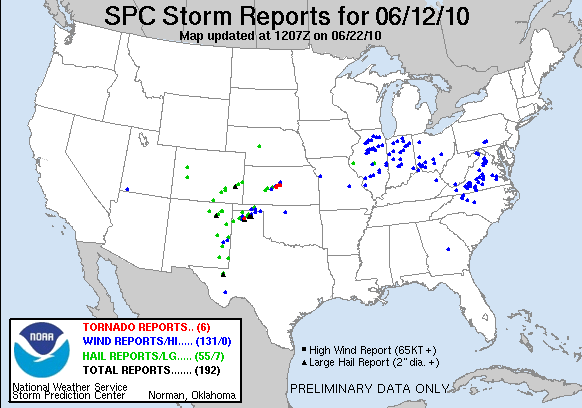 Leave a Comment: