Summary:
Ignored more obvious tornado target to gamble closer to home. Got on tornado warned supercell that quickly went outflow dominant noting dramatic storm structure. Core punched storm experiencing 70mph winds and hail up to nickel size. Called chase as storms congealed and moved on.
Stats:
Tornadoes: 0
Hail: .88″ (Nickel)
Wind: est 70mph
The Forecast:
A tropical airmass was in place with dewpoints surging into the mid 70s. Strong heating was to take place ahead of a cold front as an unusually strong low pressure system accompanied with strong speed shear moved east across the area. Directional shear was lacking further east from the low suggesting a short window for discrete storms before a derecho formed. Any storm that could remain discrete or interact with a boundary stood a chance at producing a strong tornado, otherwise a derecho was favored. Given the really strong parameters in place, SPC started the day with e MDT risk but then went with a HIGH risk for much of Northern Illinois, including my hometown of Chicago. Something rarely done around here. In fact, you have to go back to June 7th 2007 to find the last high risk in Northern Illinois (an event I also chased.)
Detailed Account:
Overall, despite several very significant events 2013 was a very slow tornado year. Local chasers were non existent and I was yearning for one. As this setup got closer it held big potential. Things were coming together nicely for a big event, but I was not a fan of where the best tornado paremeters were setting up. The NW corner of IL is an awful place to chase. Ironically during the last Nothern IL High Risk, thats where I was chasing. I vowed never again if there was another target. With today going high risk and the potential for something significant to happen so close to home, I blew off the obvious target and decided to stay close to home. If something big happened no way was I going to miss it. My usual chase partners either didn't want to chase, or they wanted to chase the obvious target so I wound up bringing Mike Mullenhoff, a film making friend of his and a buddy from the area.
I got off work at 1130am and headed home to monitor the weather. I was unclear just where to target near home. There were a couple boundaries laying around as well as a lake breeze oozing in off Lake Michigan. Part of me wanted to chance a big storm rampaging through my neighborhood, but part of me also knew if a storm blew up out west outside the metro it would stand its best chance for a tornado early on. Everyone met at my house and I kept my eyes glued to the satellite and the radar trends, waiting for a sign. Agitated cumulus started going up near the I-39 corridor and I decided those would be the storms so we set made our move. I was prepared for a very frustrating chase knowing I would not be far away from the metro area.
As expected storms started to rapidly fire, with some of them displaying classic supercellular characteristics on radar as we made our way down I-55. Amazingly traffic there was fine and we exited near Shorewood, which is where traffic started to become not fine. We were not out of the metro and just about every road is loaded with traffic and stoplights so it was slowgoing to our storm. Additionally this area is one of few in IL that has unfavorable road gridding due to lots of local river valleys. What roads we did find were also plauged with construction. Pretty much what I expected. The storm went tornado warned and actually displayed an intense couplet for a few scans. Fighting traffic and construction we finally started to get a view east of Plano.
A big, mean looking HP supercell loomed in the distance with multiple inflow streamers stretching overhead.

It was hard to find good road options to get where I wanted to be on the storm, but as we got closer it started to become more linear and when we got in close to view it we caught the last moments of a rotating wall cloud as a big shelf cloud started billowing out towards us. Tornado chances rapidly declined at this point.
As the storm began to overtake us there was no following it back east through all the traffic and construction. Instead new development to the south became the new target.  We let the storm roll us and were greeted by severe winds driving hail around nickel size. I stopped to shoot some B-roll of the wind before making an attempt to move on the next storm. While repositioning things were congealing and going linear, the derecho was beginning. We attempted to get into some of the bigger cores where golfball hail reports were coming from, but roads around the twisty river valleys were against us. The main route I picked had a bridge out and we were forced to turn around and take a less favorable option causing us to miss our chance to get into the bigger core. Around this time I got a call from WOODTV-8 in Michigan, a station I chase for. With the event expected to affect parts of lower Michigan they wanted to use my stream for broadcast to show their residents what was coming their way. I have been with them for a couple years without ever actually being able to contribute anything since I rarely chase in Michigan so it was nice to finally have something to offer. OF COURSE though, when the time came I lost internet for the one and only time on the entire chase but it was eventually able to go through as we made our way to the next embedded core.
Dropping south we came across a tree blocking route 52. I made the damage report via spotternetwork and shot some more B-roll. By now the storm complex was pushing off to the east and getting away from us. Another tornadic supercell was ongoing in NW IL that we had no play on, and another complex of storms that formed NW of Chicago was sliding southeast towards home so I decided to call the chase and head for home to see what would await me. Those storms ended up weakening as they entered chicago and encountered stable air behind a lake breeze that moved through around the time we left for the chase.
Conclusion:
All in all this was a good chase. The storm we got on was originally a tornadic supercell, it was mean looking, and produced severe winds. The event for Chicago itself was largely a bust as storms hit the stable air. The storm in NW IL produced a couple scuddy tornadoes, with one of them being rated EF-2, but most of the video I saw is exactly what I would have expected from that area, brief unimpressive views in between the hills and trees, so I dont feel I missed anything too exciting. I would much have rather caught something major near home should it have happened. Fortunately for the dense population, it did not. This time…
Not having to drive far on a chase was also nice for once, but as always dealing with traffic and construction around a large metro area is quite challenging.
Video:

Map. Arrow shows initial intercept location of tornado warned supercell. Click for Full size.
SPC Storm Reports.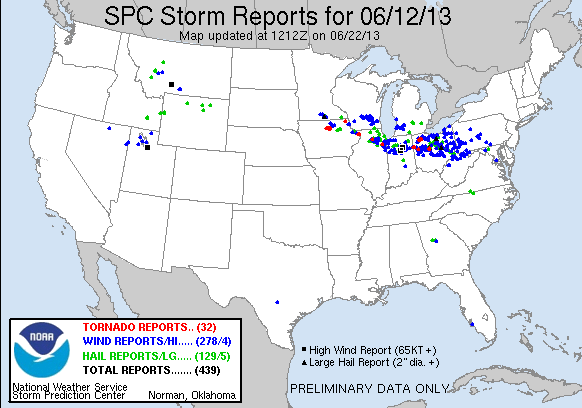 Leave a Comment: