Summary:
Caught a surprise, brief tornado on my way home from the previous days chase!
Stats:
Tornadoes: 1
Hail: 1.50″ (ping pong ball)
Wind: n/a
The Forecast:
Slow moving trough in place with NW flow overspreading warm sector across midwest. Seasonably weak speed shear and rich gulf moisture in place. Warm front draped across the corn belt with weak surface low occluding into the northern plains. Storms looked like they would fire near the SD/ND/MN border and grow upscale as they tracked southeast. SPC went ENHANCED for wind, with only SLGT tornado probabilities. Only marginal probabilities extended further east.

Detailed Account:
Today was another iffy setup for tornadoes, but I timed it so that it would be on my way home and I could detour if things began to look favorable. I departed my hotel in York, NE and as I made my way east it became apparent that things were not trending well for tornadoes, so I decided to abort the idea altogether and just head for home.
The drive was largely uneventful as I watched storms on radar to the north, none of them looking interesting and happy with my decision. As I entered Illinois storms began firing ahead of me and I thought "well, at least I can mess with these." The timing was near perfect. Suddenly the storm directly ahead of me began taking on an interesting shape. An outflow boundary was draped in the area and I saw a hook feature develop on radar. "No way…I don't ever get THAT lucky." Sure enough, it soon went tornado warned.

I floored it to get into position. I was behind it and needed to hook slice.


Fighting traffic I encountered a brief barrage of hail up to ping pong ball size. I certainly was not expecting that, and was happy with the little bonus, but I needed to get into position in case there was a tornado. I was just a couple minutes behind and likely missed the best chance. The storm crossed the boundary and fell apart. Local chasers in the area reported rapid rotation but ultimately no tornado. Ok good, it would have hurt to miss it by just a couple minutes even though I wasn't really trying until the storm went up.
A new storm to the south was heading for the same boundary, so I detoured towards it. I figured it would have the same chance. Getting into better position I found myself near a river valley in one of the few less than favorable terrain spots in Illinois. I decided to let the storm come to me where I had a view. The CG barrage was really intense in the vault, with bolt after bolt crashing down, keeping me in the vehicle.
The storm displayed decent structure, but there was no notable rotation.

I was talking with NWS mets on the NWS chat, reporting what I was seeing. Suddenly, an area of the clouds began to swirl, and a faint condensation trail appeared to rise up from the ground. "No way" I thought again and moved forward to try and get a better view from what I was almost sure was a developing weak tornado. By the time I cleared the trees it was gone. It only lasted about 20 seconds, but I did manage to capture video of it and was able to pull a screen shot.

Local chaser Kholby Martin had a view from the other side, and through his video was able to confirm ground contact. It was a brief, weak tornado that likely spun up the moment the storm encountered the boundary, but it was a tornado none-the-less. This meant I would not be skunked for the month of June, which is typically my favorite month.

I kept up with the storm as it moved on but it too gradually fell apart as it moved away from the boundary. It still displayed some rotation though.

I let the storm go and set course for home, checking out one more storm along the way that brought on more intense CG lightning, but nothing else.

I grabbed some dinner on my way home, and arrived around 11pm. Tomorrow presented another opportunity in the midwest, so I was ready for bed.
Conclusion:
A fraction of chasing is just pure luck. Often times I have to make my own, and things don't just conveniently happen for me. I was not planning to chase anything on my way home, so it was nice to get this little treat right when I happened to be driving through the area. The tornado itself is no major prize, and somewhat laughable, but it was an unexpected catch that only a couple people including myself saw. I'll certainly take it, especially since I can no longer say I am tornado-less in June 2016! Some tornado reports came out of the main target, but to this day I have not seen any evidence of them.
Map. Arrow show location tornado was witnessed.

SPC Reports: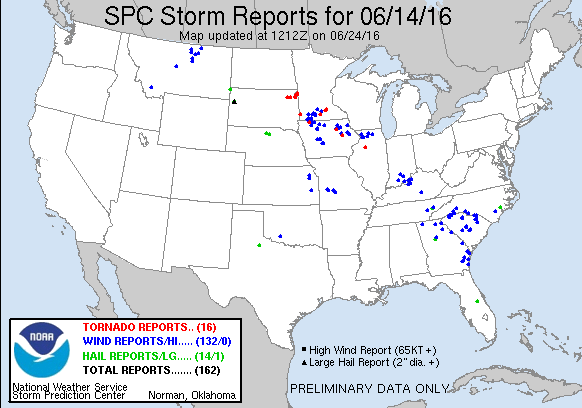 <—Previous Chase         Next Chase —>
Leave a Comment: