Holy…COW.
Had a major technology meltdown for the first half of the chase. Thought it would end on failure but some aggressive decision making let to a successful intercept on a tail end charlie storm that went nuts and put down many tornadoes of all shapes and sizes. Some of the tornadoes were violent and unfortunately hit towns.
Hail: 1.50″ [ping pong ball]
Wind: est 80mph from potential satellite vorticy.
How much I love it: Allot
Nasty data hole for ATT: Central WI
*tornado count may need adjusting at a later date.
After arranging a way for Danny to chase by teaming up with Skip, the 3 of us drove out to his cottage in Montello, WI where we spent the night. The cottage is an awesome place deep in the woods on a private lake. A great place to vacation at but horrible if your a chaser who needs to monitor data. I had zero. Not being able to monitor things I had to assume the previous forecast was still on track. I had been eyeing SW MN for several days but before leaving a new area further north near Fargo began to look just as good.
Danny and Skip liked the SW target so I agreed to caravan with them to maximize our data between the 3 of us. My ATT did not work in WI at all and the loaner Sprint mifi I had was also acting up. Skip had a complete meltdown and nothing was working. Dannys Verizon card was working well, but he could not power his laptop so once his laptop died that was no use either. We made it into MN where the data problems never got much better. I had data, but about as slow as slow gets. Skip was trying to find wifi to no luck and Danny was relying on his cell phone. There were big storms dropping large tornadoes to our north, but we agreed there was no way to catch them and we held our ground waiting for the southern target to light up.
We were sitting on a nice convergence zone with 3-4K cape in the area. Surface flow was 20kts out of the SE. The forecast called for quick transition to a line but given the parameters I just did not see it. Towering cumulus were going up all around and eventually blossomed into a broken line with embedded supercells off to our east. We raced after them in that direction and came up from behind as we went through Windom, MN
Starting to feel down I decided I would punch through this line to at least get some hail or maybe structure shots once ahead of it. I was merely trying to find some sort of consolation prize for missing the big show up north. What I didn't know is my radar had fallen behind and was showing me images that were 20 minutes old. I never lost data so I am not sure how that happened, but it turned out I punched through garbage storms behind the main line. We began to eye tail end charlie and made a new plan for that. The route I planned required an aggressive core punch on I-90 which brought on some 50mph gusts, intense CG lightning and penny size hail.
We emerged with tail end charlie right on our heels. Tornado reports came in and I was disheartened to think I had barely missed the show. We kept after it though hoping it would cycle. My data had gone out now so I had Danny and Skip take over the lead. Eventually we got into a position where we were able to view the base and wall cloud. The area we were in was pretty hilly and tree infested so finding a clear view was somewhat difficult.
We crested a hill to view the wall cloud.
We were still in an intense CG barrage and it began to wrap up so we began to re position when I noticed a funnel cloud in my side view mirror. Skip began driving erratically and Danny was now hanging out the window so I knew they saw it too. We gunned it south trying to find a better view. Eventually there was a clearing in the trees where I was able to see the distant tornado. I slammed on the brakes and they kept going. All I cared about was simply getting a shot of a tornado on this trip and I was now able to do so.
The tornado roped out as it became wrapped up in rain and I thought the show was now over. Happy I at least got a tornado I called Danny and Skip to see where they ended up. Danny exclaimed they were viewing more tornadoes and I quickly blasted south in time to get a pretty low contrast view of a cone and satellite for tornadoes #2 and 3 on the trip.
I was in a hilly forested area again and when I came into the next clearing my jaw dropped at what I saw:
I knew this was the beginning of a large and potentially violent tornado. Not looking at data in over an hour I did not want to move till I knew where the tornado was heading. I sat in this spot for a good 20 minutes filming and photographing it.
The motions were incredible. I was pretty far still but I could see it moving incredibly fast. I knew this was a strong or even violent tornado. Once I was able to gauge its path I began to move north for a closer view. As I did this the meso and associated tornado began to occlude and a new one was rapidly forming to its northeast. The new one formed so fast it was on the ground at the same time the old one was. Incredible! I was at a loss for words.
Video shows this better. The new tornado that formed became the main show for the day. It exhibited everything. It transitioned many times from multi vortex, large cone, stout stovepipe to a massive wedge. The entire time it exhibited violent motions under beautiful colors and structure. I wasn't sure what soaked me more, wind driven rain coming in the window or drool from my tongue hanging out of my mouth.
I was able to follow the tornado and film it for a good 40 minutes. The following photos and then video will show this incredible journey. At closest I was probably no more than 2 or 3 blocks from it. Attempts to get closer were hindered by cops or debris blocking the road, but I won't complain.
Here is some video, this is only a fraction of the incredible shots I was able to get. Many of the best I left out and will be made available on DVD this fall!
The top video ends when my route to keep up with the tornado was cut short by downed powerlines. At this point the tornado was nearing the city of Albert Lea and I thought a major disaster was about to happen. I meandered my way into town taking some hail up to about 1.50″ in size on my way in. I regained data and saw that a new supercell had formed south of the one I had been tracking for the past 2 hours. It was moving right into town and as I filled up with gas I noticed a rapidly rotating wall cloud with a possible funnel starting to come right at me.
I quickly moved out of harms way and further east into town where I stopped in a Walmart parking lot to watch the storm move out of the area. It slipped on by without incident and I thought the day was over so I began to re organize myself inside my truck when suddenly the power went out around me. After a quick glance I saw a new white trunk behind a row of trees. I quickly resumed the chase and got onto I-35 at which point I now noticed that the white trunk was a mere satellite tornado next to a new massive wedge. I tried to get a shot of it but was unable to given my position so I just pulled over to report the new tornadoes on spotter network and continue east.
A photo from I-90 as I tried to keep up. Incredible supercell! Wedge IS on the ground at this time obscured by trees.
I was planning a route to get ahead of the storm, but this one was moving away from me quicker than the other. I got a phone call from a media broker saying if I had video they could get me a sale. I called off the chase and pulled over near Austin, MN where I spent the next couple hours working on getting in video which was picked up by both FOX and CBS news. My first news media video sale. After the amazing chase I just had this was a new feeling of accomplishment for me. I know making a profitable dollar in chasing is a pipe dream, but it is my dream none-the-less. For that moment I felt like everything I want to do in life is indeed possible.
Eventually Danny and Skip got ahold of me, they had stopped at the Applebees on the other side of Austin so I met them there where we had a celebratory dinner. I was following them back to Skips cottage but decided to pull off in LaCrosse WI so I could have data and a cell signal in case media wanted interviews, and tell family and friends about the amazing day I had.
Unfortunately at this point I was beginning to learn about the damage and destruction the tornadoes caused as well as fatalities. It was a bitter sweet feeling now. Thoughts and prayers go out to the victims, but I feel better knowing that I reported at least 4 of the tornadoes to help the authorities with the most up to date information. I did my part as a chaser, the rest is up to people to heed the warnings for themselves.
Here are a couple radar Images of the storm and our position which is denoted by the tan circle/dot.
Amazing how fast things can turn around. I thought this chase was going to be a wasted trip and I ended up with the best footage I have ever shot. Just when I think I can't outdo myself this year I continue to be amazed at the things that can happen while out there. I am starting to get spoiled. I wish the tornadoes would not have caused the death and destruction, as it almost makes me feel guilty for enjoying them so much, but they will happen whether I am there or not. Other than the finicky ATT data, I am in love in chasing in MN! It ranks up there with SD!
Map; area circled is are where I was filming tornadoes. Arrow shows where I had to turn around due to damage.
Zoomed out view of entire chase: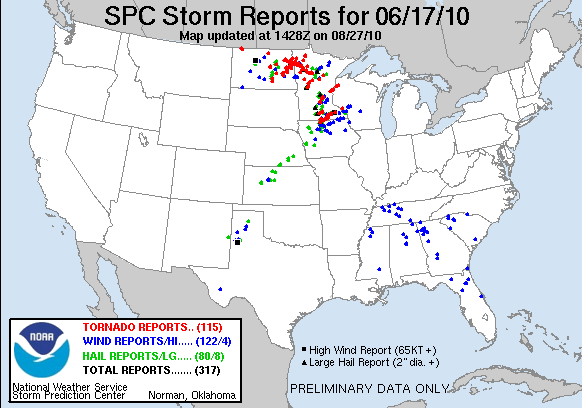 Leave a Comment: