IA….Bah.
Summary:
Drove out to Iowa for a cap bust. Converged with lots of familiar faces to share the pain. Called chase just before sunset and as thought storms blew up all over the place. Detoured through Wisconsin in hopes of at least getting some sort of storm action for the trip. Got into some marginally severe hail and later drove through tornado warned squall line moving south into Illinois with blinding rains and lots of good lightning.
Stats:
Tornadoes: 0
Largest hail: Penny [ .75″]
Highest wind: est 50mpg thunderstorm gust.
How much more I hate Iowa: Allot
Number of chasers that agree with me: Also allot
Detailed account:
I will forever, till the day I die or give up storm chasing [which will be the day I die] get suckered in by a strongly worded SPC outlook. I was never sold on this setup, and did not plan on chasing it. Low and behold, the day came and SPC spits out a moderate risk for tornadoes using words "Intense supercells likely, with strong long track tornadoes possible" so I find myself running around like a chicken with no head to find a way to chase.
Set off, a bit worried I wouldnt make the target area before initiation, not that it mattered. An isolated storm in western IL producing some big hail would be my only structure shot of the day.
So, lets fast forward about 5 hours. I am sitting north and east of where more chasers are because I think thats where initiation will be. Once about 530 rolled around and all I saw was an upper level startus deck along with some fail-cu I became concerned. I mentioned that I was beginning to think it was a cap bust, so I checked some recent data, inlcuding the RUC and meso analysis. In horror I gazed down at graphics that indicated a 15C temp at 700mb over all of IA…Son…of…a…turd.
Well I decided to head down to Webster City to meet up with everyone. Its easier to bust when your busting with your chase pals. So much like on June 6th, also in IA, I sat in a parking lot with Skip, Brandon, Mike, Jesse, Ben, Brian Barnes and several other chasers.
We called the chase around 815 and headed for home, sure enough the cap cooled and a bunch of storms went up…where I was originally sitting and into Wisconsin…oh well. I decided to make a detoured run home through the storms…just in case.
Ended up catching a tornado warned storm near Dodgeville, WI. I was having data issues so I texted Danny for a nowcast thankfully, otherwise I would have kept driving. I sat and waited for the storm to come to me. Got some penny size hail for my troubles…ok…at least it was a storm. Once that passed I continued the drive home. Once south of Madison a big nasty line had formed and was moving south into Illinois. I would drive straight through it, with lots of intense lightning and some blinding rains. The section I went through was tornado warned…it seemed MKX [Milwaukee NWS] put out a tor warn for every TVS marker that popped up on GR3.
Winds were never that intense, but the rain and crazy lightning was. So at least the chase wasnt storm-less. It did not justify the amount of time and money I put into the day though, but that is the gamble with chasing, especially in Iowa!
Radar shot after I emerge from the tornado warned part of the line.
Conclusion:
Not much to add. Chases like this are a downer, especially when theyre supposed to be big days. I must learn to not be so gullable to the SPC…but I dont think that will ever happen, theres always that big "what if" in chasing.
Google map:
SPC storm reports: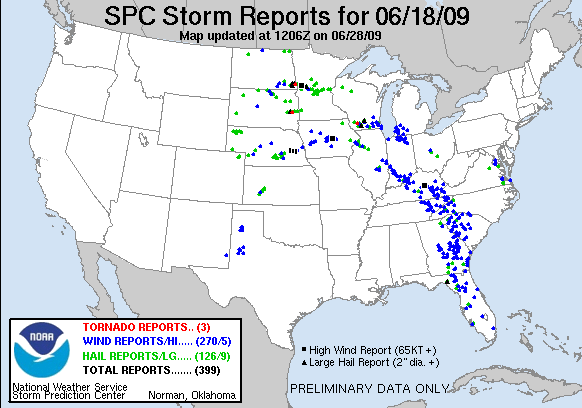 Leave a Comment: