BOW
Attempted to beat intense bow echo back home but failed but got caught up in it along the way. Could not get ahead of system due to traffic. Detoured off blocked interstate to take side streets home but was further hindered by extensive damage.
Wind: est 65-70mph thunderstorm gust.
I awoke from my room in Wisconsin to ongoing convection in IA that was forecast to strengthen on its way towards home. Given the downstream environment being very moist and unstable I saw no reason why it would weaken.
Some mammatus from other storms as I leave the room.
Try as I did it became apparent I was not going to beat it home. Several traffic snarls along the way hindered my efforts and I wound up being overtaken by it on I-88. I rode right in the thick of it due to traffic not allowing me to get ahead of it.
Here are some pictures as it approached.
As it overtook me with impressive gusts which I estimate topping 60mph leaves and sticks began to fly infront of me. The truck was pelted with wind driven hail no bigger than dime size. I ended up riding on the storm front for over an hour as I initially got into it around Rockford, IL and finally fell behind it when traffic came to a screeching halt just west of Chicago. The storm hit right at rush hour on a Friday. The absolute worst time.
I was getting impatient and wanted to get home. I exited I-55 thinking I could take side streets and state roads to get home quicker. The massive bow echo left its mark though, extensive damage was noted in Willowbrook with many full size trees down blocking roads. All traffic lights were out and it took me a long time to get home. I finally made it in around 6. What would normally have been a 4-5hr drive took about 7.
Radar shots as it slams Chicago, note the classic bow shape. This was a healthy, mature bow echo.
A closer view, note my position as I fell behind it due to the damage.
I was not planning on chasing this, rather I wanted to get home and enjoy it from there. Perhaps I should have left earlier. The damage was impressive, the storm even blew out windows at the Sears Tower, something I don't think has ever happened before.
Map, arrows show where I noted damage, the darker arrow shows where I noted the worst damage.
SPC Storm Reports. At the time of this posting, with 402 total reports, this day ranks as the #1 severe weather day for 2010 in terms of reports.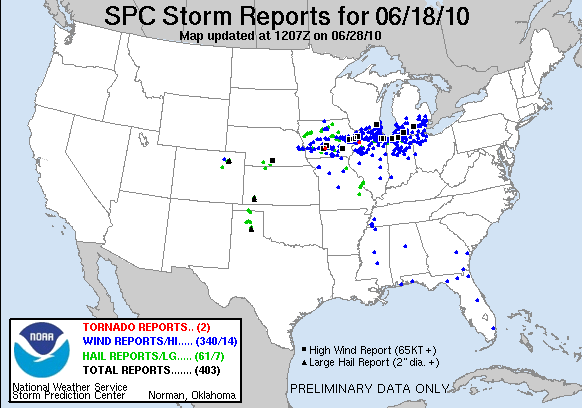 Leave a Comment: