2 in a row!
Summary:
Awoke in target area and played storms as they initiated, first a prolific tornado producer out of Kansas, then a storm to its north and finally another prolific tornado producer near York. When all was said and done we were able to nab 2 tornadoes, one of them being my closest encounter since the field incident near Bowdle, SD last year!
Stats:
Tornadoes: 2
Hail: 0.00″
Wind: est 50-55mph RFD.
How close the first tornado was: 30 yards.
Detailed Account:
We awoke at our hotel in Kearney after being blasted by golfball size hail from a storm over night. Already in the target area we decided to have a relaxing and easy going afternoon [which turned out to be a mistake] and got some brunch at a local diner. Today looked to be the last chance for significant tornadoes of traditional chase season 2011 so we needed to be on top of our game. I brought my laptop into the diner and as we were finishing our food noticed a storm going up in north central Kansas. The storm was a typical early day cold core storm that was moving northwest. These can produce tornadoes, and the storm was isolated. Still, it was a good 2 hours away and with the main target further east we were hesitant to move after it for awhile. We exited the restaurant and moved to a parking lot where we were joined by other chasers also pondering the same move.
Tornado reports started pouring in from the storm as we sat there, and it was generally moving in our direction so we deemed it possible to at least be able to drive an hour to check it out and it would not put us too far out of play for the main show that was supposed to happen later. I say "supposed" because there have been times where that early day storm ends up being the only storm of the day. We made our move as tornado reports continued to pour in. We were missing one hell of a show but there was nothing we could do about it. This is again why I am not a fan of sit down meals to start off the day.
The storm was still isolated and all on its own, as we began to get close we were greeted by a very intimidating updraft tower.
Unfortunately for us, had this been a more classic northeast moving storm we would have been able to see a distant tornado, but the storm was moving northwest and heavily wrapping its precipitation around, obscuring our view as we made our approach from the east.
We attempted to drop south and then blast west to get ahead of it. All was going well until the road we wanted to take to get west had a minimum maintenance sign. Our only options now were to backtrack a couple miles to the highway or continue south to the next west road. We ended up backtracking but it was too late and all we could ever get was a view of the rain shaft that continued to obscure our prize.
We let the storm's RFD approach us, and rotation began to develop overhead as the previous meso occluded and a new one began forming. We quickly jumped back in to stay in position. I should have been filming at this point but had my face glued to the map trying to navigate us into a good position when suddenly Jon starts screaming "LOOK OUT THE WINDOW ITS RIGHT NEXT TO US" I look out our window and sure enough a tornado has just touched down not more than 30 yards from us throwing all sorts of field debris in the air. Skip jammed the gas and I fumbled to get my video camera and film. By the time I turned the camera on I was only able to get about a second of video before we hit a tree line and my seat in the van made it difficult to turn around and capture it. I was instantly feeling terrible. It was a very clouse encounter that would have made awesome video and I blew it. I at least was able to salvage one video still from that second of video, which clearly shows the debris cloud right next to us.
To see a full size version of the photo click
here
You can make out the ground circulation as well as see lots of corn stalks and field debris. This is where the video posted below begins. It was a pretty intense moment that we quickly got out of. We stopped down the road and Jon was able to catch a shot of the tornado once we were safe. Due to the nature of the RFD and how tightly wrapped the tornado was we had to move yet again, once we finally got into an area of clearing we were able to film the end of the tornado and actually managed a good shot of the funnel.
It appears the funnel never fully condensed, but it was a tornado and the day was a success. Once this tornado dissipated the storm quickly died out. It was bittersweet for us, we missed the best show, but at least caught its last breath for our efforts. A new storm was quickly forming to its north so we switched gears and made that our new target. On the way I could see new towers going up to the east where the main show was supposed to take place.
Its always cool to see the updraft towers slamming into the cloud deck/anvils like this.
There were actually 3 storms ongoing now along a northward moving frontal boundary that were quickly congealing. The whole mess was very HP and it was difficult for us to get a view and pick out areas of rotation. As we continued to play the complex we ran into several more chase friends but kept moving to stay in the storms. This turned out to be a good call because as we were positioning a beautiful white stovepipe touched down in an area we were not expecting to see a tornado. There were no easy to pick out features in the messy complex and the tornado seemed to just…appear. Regardless it was a beautiful white stovepipe that we had a decent view of.
Once the tornado dissipated we attempted to keep up with the storm complex, which was an absolute mess on radar:
I consider ourselves extremely fortunate to be able to even see a tornado in all that mess to begin with. After getting frustrated with this mess we decided to ditch it and make our play towards the development to the east. An isolate, tail end charlie type supercell was ongoing near I-80 that was a good hour or more away, but we had a shot. Well, it wouldn't wait for us and this storm ended up being the storm of the day which produced 3 beautiful, significant and highly photogenic tornadoes that greatly awarded those chasers who stuck around. Much like the first storm, we got there just to maybe see 1 tornado and then the storm was done being amazing. We called the chase and went to get dinner at Applebees.
Video from the days events:
As we sat there at Applebees the TIV and Twistex crews [from the Discovery show] rolled in and invited us to join them in post chase celebration. They all had an incredible day, which just so happened to be the last of the season for them so they were ready to party it up, and party we did, till about 4am. It was a great way to end the chase day and made for one of the most memorable nights I've had in chasing. I even got to drive the TIV from Applebees a couple miles to the hotel. That alone made the trip worth it. Here are a couple shots courtesy of Jennifer Brindley.
Skip, Jen, Jon and I – after 2 awesome days of chasing in Nebraska!
Us plus Discovery crews, Twistex and TIV plus some of their friends. A great group of chasers!!
Sean Casey giving me the quick 101 on how to drive the TIV while I look for a rear view mirror that ended up not existing. I'm not going to lie, seeing the TIV in the field was never anything special to me, but when I got made the offer to drive it I turned into a 14 year old girl going to her first Justin Beiber concert. I loved every second of it and got a taste of what these guys have to work with on a daily basis.
Conclusion:
This will likely be the last chase for traditional chase season 2011 as year after year typically sees the last regular chase around this time. It could not have been any better. Perhaps being on the storm of the day and nabbing all the amazing tornadoes near York would have made it better, but I wouldn't take back this day, or the entire trip for anything. It will definitely remain one of my most memorable, the really close tornado, the after party, running into so many friends. Perfect.
Map not available at this time.
SPC Storm reports: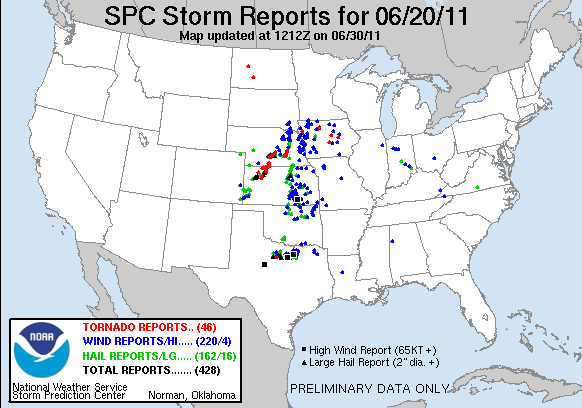 Leave a Comment: