Summary:
Intercepted multiple tornadoes during a potent setup across Illinois, 2 of them doing EF-2 damage.
Stats:
Tornadoes: 3
Hail: .50″ (dime)
Wind: est 75mph RFD
The Forecast:
Unseasonably deep surface low, and very strong shear in place across very unstable warm sector. Surface low forecast to slowly deepen, lifting a warm front into northern Illinois as a strong shortwave rounds the base of a powerful trough. Some concerns existed in regards to morning activity not clearing out in time, thus limiting instability. Shear and helicity values were near the tops of the charts for late June. Forecast instability was extreme, and it appeared a severe weather outbreak was likely. There was also concern how quickly storms would grow upscale, but SPC went full MDT risk, with ENH tornado probabilities.

Detailed Account:
June 22nd, 2015 featured a tornado outbreak across Illinois where 1 cyclic supercell dropped a dozen tornadoes as it moved across the state. Here we are exactly one year later and we found ourselves with nearly the exact same setup across the exact same areas. Models were showing some scary things for the Chicago area, including maxed out updraft helicity tracks going right over my neighborhood.



My gut told me to head west though, towards the Sterling area. Much like last year, clearing was taking its time, but the lifting warm front was slowly on the move. Mike Mullenhoff joined me for this one, since we both live in Chicago this would be a prime opportunity to gather more content for our project. Local chaser Nick Bartholemew also joined us once again and we were heading west by 2pm. I knew this was early, but when leaving Chicago for a local chase you have to beat the rush hour.
We stopped for lunch/fuel at the Dekalb oasis, and I decided to continue on a little more west where some shower activity was beginning. I've seen these setups before, and these showers linger and fester until the better dynamics arrive later in the day and they suddenly explode into supercells. Today appeared it was going to play out in a similar way. We moved towards Sterling/Rock Falls to get in position on the developing activity.

As expected several supercell storms began rapidly forming, the most interesting of which was back east near Amboy so after some debate we set course for that one. Structure looked really good on approach, but somewhat elongated and outflowy. Still, rotation was evident. Naturally the storm was in a nearby river valley so terrain/roads were a little more difficult than I would prefer. I found us a view and a nice rotating wall cloud was present.

This turned out to be fools bait though, and a cone tornado developed further west on a circulation embedded in the RFD. Chasers a couple miles west managed a brief view. A second, brief tornado spun up east of that and I noticed it out of the corner of my eye but was unable to capture it on video. Awesome.
We tracked the storm southeast towards Earlville where we got into some sort of circulation that sent trees falling nearby. This time, chasers further back managed to capture some brief condensation funnels from what appeared to be a very broad area of rotation. This storm spun up multiple tornadoes, tracking in different directions as they carousel-ed around the mesocyclone. Annoyed I somehow was missing everything, I decided to dump this storm for a better looking one further south.
Naturally, reports of a highly visible tornado came in while we were about 10 minutes out, so I stepped on it. Making our approach near Troy Grove, the storm had much better structure. The CG lightning in the vault was some of the most intense I have ever seen. A funnel descended about halfway down, but I could not confirm ground contact from our vantage point.

The funnel lifted back up after about a minute later, as we were getting into closer position. The storm was moving relatively fast off to the southeast as well so I pulled over at a favorable to road to keep pace. The sun was beginning to set and the storm took on a mean HP appearance with a black RFD gust front backlit by a green precip core. CG lightning was as frequent as it gets and that kept us inside the vehicle.

The base was rapidly rotating, but it seemed the storm was having trouble tightening up. While positioning we got overtaken by intense RFD easily pushing 80mph, sending sparks flying off nearby powerlines

and large chunks of trees crashing down around us.

We were never able to spot a tornado, mainly due to decreasing light, but given the strength of the RFD I dont doubt there was at least a brief one nearby. The supercell started to become embedded in a growing MCS and we continued tracking it southeast. To my dismay I discovered the road we were on did not have an on ramp to I-80 which meant a detour through Ottawa that cost us some time. On our way out of town we noted some powerflashes and the power went out. Suddenly winds picked up and a few pieces of debris slammed into the truck making a loud noise. Im not sure what they were but they sounded like bricks, even though they probably weren't
Making our east on I-80, now nightfall, we began to hook slice the storm. I was having serious dejavu as I was doing this exact same maneuver in nearly the exact same location at the exact time last year. Mike suddenly spotted a funnel to our south. The funnel quickly touched down and we had a stout cone tornado ongoing south of I-80. The storm was not tornado warned and I got onto a chat with local NWS employees telling them they needed a warning out now. I could see the tornado just to our south, but the camera only caught glimpses of it in between lightning flashes.

I went live on the Illinois Storm Chasers page to warn residents of the coming tornado. A warning quickly came out but we lost sight of thanks to the southeast movement of the storm and not having an exit to get off and pursue it. We made a brief attempt before pulling over and ready to call the day.
Looking at radar I noticed a new isolated supercell that looked favorable even further south heading for the Pontiac area. We could make it, but it was a good 30-40 minute detour and we had to go NOW. I decided to go for it, giving it our all especially with Mike filming.
We would not beat the storm into Pontiac so we had to jump east a bit to head it off. A strong tornado touched down and began doing damage in Pontiac, right at I-55. We were able see this from a distance as powerflashes lit up the funnel.

The tornado dissipated soon after leaving town and it appeared the parent storm was going to become embedded in the growing line of storms. I did not want to pursue it further east away from home and instead we decided to head into Pontiac, which had taken a hit to see if they needed help.
We encountered quite a bit of tree damage outside and had to navigate around a few blocked roads, eventually making it into town where the most significant damage we came across was right at the main intersection in town with I-55.


We spent a few minutes documenting the damage and making sure help was not needed, before heading for home.

Conclusion:
Today was certainly as active as I thought it would be, with three tornadoes witnessed. Unfortunately it seemed like my game was off and I had a couple dumb misses that other chasers close to me managed to see. It was a difficult chase with storms forming in the late evening, and its always harder to pursue them southeast as opposed to a more traditional northeast heading. Its quite interesting how this setup played out almost exactly the same as the setup a year ago. The main difference being on this setup we had multiple tornadic supercells as opposed to just one. The location, timing, and evolution of the day was eerily similar though. This appears to be the last chase for awhile, and it went out with a bang in my home state. Chicago was once again spared, but how long can that area keep dodging bullets?
The tornado we saw from I-80 did EF-2 damage near Seneca. The Pontiac tornado was also given an EF-2 rating. Given the parameters in place the day could have been much worse. I think morning and afternoon activity kept the lowest level instability from becoming too great. Storms were rotating hard but had a hard time tightening up. All the tornadoes were relatively short lived.
Video:
Map. Arrows show locations tornadoes were witnessed.
SPC Reports: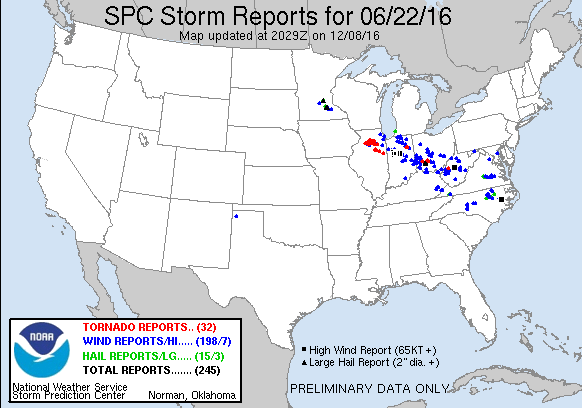 Leave a Comment: