The Ring Of Fire
Targeted west of Chicago on what was forecast to be a major severe weather day. Intercepted intense yet outflow dominant HP supercell near Dixon with blinding rains, strong winds, intense CG and small hail. Pretty satisfied with the chase until a tornado warned supercell tracked right over my neighborhood. Documented damage on the way home.
Wind: est 75mph thunderstorm gust
Tornado warnings in Chicago: 4
How mad I was I missed them: Very
Awesome thing not captured on camera: Lightning striking a telephone pole a few feet away, including green flash and shower of sparks.
Today was one of those days I was looking forward too. An intense, unseasonably strong jet stream was forecast to move into the area which had been cooking under a very hot and humid air mass for multiple days. The combination was to spark off intense thunderstorms. Although a derecho was the primary threat, there was a narrow window for supercells and tornadoes along an outflow boundary left over from morning thunderstorms. We chose to target west of Chicago where initiation was likely to occur.
I left to pick up Danny and Brett Wright who was someone knew who wanted to tag along with us. A tornado watch had just gone up for all of northern IL and the visible satellite showed agitated cu going up to the west. We chose to head down I-80 where we got caught up in a horrendous construction delay as storms began to go severe and tornado warned.
After 45 angry minutes barely moving we finally broke away from the traffic, a cluster of storms was going up north of us near Dixon. It had not gone warned but looked like it had the best shot to become an isolated supercell so we made that our target storm. Sure enough en route it went severe warned, and then tornado warned. We began to get excited as we approached in relatively good position.
The storm, however, greeted us with a large whales mouth and no base we could locate. There was a mean green core with some embedded rotation showing up on radar. We chose to punch through the "hook region" of the storm in an attempt to get ahead of it and see into what little notch it had.
The storm packed quite a punch. Attempting to get ahead of it was rather difficult due to some of the most intense rains I have driven through. Ive punched allot of cores and this time I was barely able to see and had to slow to a near crawl. The winds were gusting ferociously as CG lightning crashed all around. We chose to bail south to get out of the precip and hope to try and get ahead of it that way. At that point though the storm had begun to bow out and what little rotation there was on radar was now completely gone.
Video showing how it all went down:
At this point I had been watching a storm in Chicago close in on my neighborhood. I knew by looking at it on radar that it held the potential to go tornado warned. Sure enough, it did. The joyful day quickly took a negative turn as I was missing an intense supercell right in my own neighborhood. Reports coming in only a mile from my house of funnel clouds, intense rotation and large hail really stung. Our storm had now bowed out into an intense derecho that also went tornado warned as is approached Danny's house so at least I was not alone in my misery.
Again I was coming home behind a major severe event. We made it back to Danny's house and ordered some pizza. The storms were long gone now and left behind a beautiful mammatus filled sunset, a rare treat in this area.
After leaving Danny's I decided to detour myself around my neighborhood to search for damage, it was not hard to find.
I was home by 1030pm which felt nice.
Radar shots of the Chicago tornado warned supercell before it went warned…
…and after. Note my position is not even within the frame. Ugh.
A shot of our intial storm near Dixon.
Aside from the sting of missing another significant local event, today was a fun and intense chase. I was hoping the storms would be able to remain better organized initially than they did, and really thought there was a potential for at least an isolated tornado but it never panned out. The storms were very intense however, and made for intense white knuckle driving. I always enjoy experiencing the storm. This was the last hoorah of an active pattern that had been stuck over the area for a couple weeks. I will miss it. The bulk of chase season 2010 has come to end. More on that later.
Map, circle shows area video was taken.
SPC Storm Reports; Note the high number of black boxes [wind reports over 80mph!]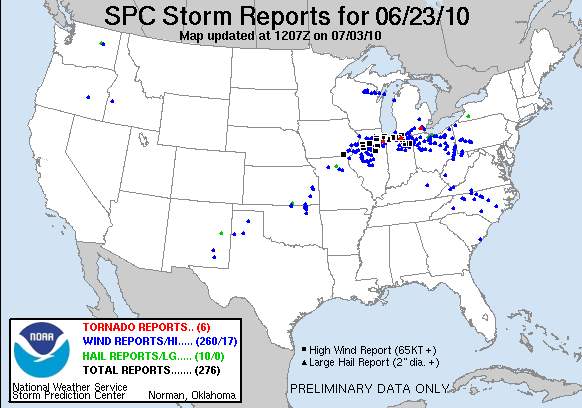 Leave a Comment: