Summary:
Intercepted several severe warned storms noting photogenic rain bands, several gustnadoes as well as possible tornado we could never get confirmation from. Called chase early to begin long drive home for work obligations the next day just as storm goes tornado warned, giving us all brief heart attacks.
Stats:
Tornadoes: 0
Hail: 0.50″
Wind: n/a
The forecast:
Similar setup to the day before with surface features not moving much. Previous days storms would shift primary outflow/warm frontal boundaries to the south, while diffuse dryline/coldfront boundaries would hang back west. Modest upslope flow provided a little extra lift in only moderatly unstable yet weakly capped airmass. Chose to target upslope for best chance for at least a landspout tornado given steep lapse rates.
Detailed Account:
Todays setup wasn't looking too much better than the day before, and I wasn't too thrilled about going even further from home for such marginal probabilities, knowing I had to be back at work the next day, and doing so would mean an agonizing 15hr drive back home where I would likely get little sleep. Still, this is what grinding is all about, and with today likely being the last chase of traditional chase season, we decided to go for it. Like the day before, uplose magic can sometimes overcome marginal parameters, and the clear air in Colorado often gives us pretty storms to look at. Initiation looked more probable today due to a weaker cap. So we awoke from our hotel and made our move.
We stopped about half an hour shy of the Denver area where we met up with several chasers for a brief convergence before storms began to fire. As feared due to a weak cap, they went up in clusters and it was hard to pick an isolated storm that stood a good chance at tornado production. We made our move south on an unfavorable road grid and intercepted several storms, attempting to at least get into the larger hail cores but with such rapid intensification and death of these cores, it was difficult. A core would spike for a couple scans, then quickly fade away as we would try to get into it. While repositioning we noted lots of suspicious looking scud/rainband features that resembled tornadoes. One particular one way off in the distance displayed tornado-like movements and had us all scratching our heads if it was in fact a tornado or not, but no reports ever came in, and I failed to capture the event on camera for further analysis.
Further to our south, one particular storm complex finally looked to be getting its act together as a dominant storm with large core and supercellular characteristics. We made our move on this slow moving storm. Noting some photogenic stormscapes as we got into position. The highlights provided great colors and contrast, something quite common in this part of the nation.
Our storm appeared pretty outflow dominant but we kept with it for awhile, though road grids were unfavorable at times, we managed to stay ahead of it for awhile. We played cat and mouse with it for awhile, moving east as the outflow would catch us. Along the way we noted a few gustnadoes in the adjacent fields which I also failed to capture video of. At least it was rotation. The time was now approaching 6pm and I decided to call the chase so we could begin the drive home. We had gotten all the storm had to offer at this point. Of course, shortly after we begin the drive home the storm goes tornado warned. Angst filled the vehicle and I was dealt some pessimistic comments by others in the vehicle for calling the chase so early, but I felt my decision was sound. Sure enough, the storm faded, the warnings were dropped and nothing ever came of it other than some more photogenic pictures.
I made it several hours into the drive home before handing over the wheel to Andrew Newcomb so I could attempt some sleep before having to get home and go straight to work.  I don't recall much of the drive home, but we arrived in Chicago much later than anticipated. I did make it into work, but only for about an hour as a derecho ended up roaring through Chicago causing widespread damage and ending my work day early ( I work outside.)
Unbelievable, I got more severe weather action at home than the past 2 days chasing in the plains. Weather is crazy like that.
Conclusion:
Well, this concludes tradional chase season 2013. The only hopes now are for random summer or fall setups, which are never a gaurantee.  This day was largely a bust too, but at least it involved more storms, had some photogenic opportunities as well as gustnadoes. Still, driving all the way from Chicago to Denver for less than par results will make you question your sanity, but thats the name of the game. Hopefully the rest of the year will throw a bone, but for now, thats all she wrote!
Map: 
SPC Reports: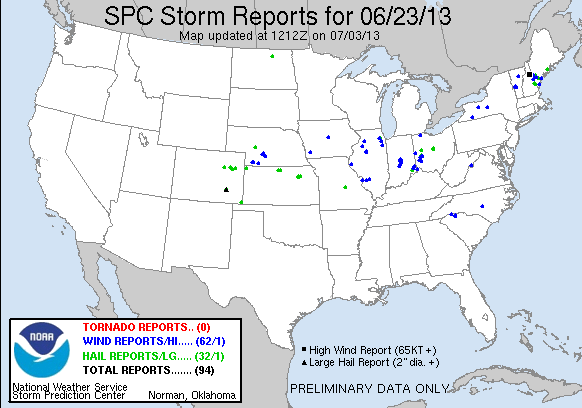 Leave a Comment: