Summary:
Intercepted several storms, including a pair of tornado warnings but storms were mostly outflow dominant.
Stats:
Tornadoes: 0
Hail: .75″ (Penny)
Wind: n/a
The Forecast:
Slow moving frontal boundary/surface low across Central Iowa. Seasonably strong instability values but relatively weak directional and speed shear. Supercells were possible with initial development but storms were expected to line out quickly, transitioning the threat to a more typical summer-like damaging wind event. SPC went with SLGT risk tornado probs to account for brief window for discrete development.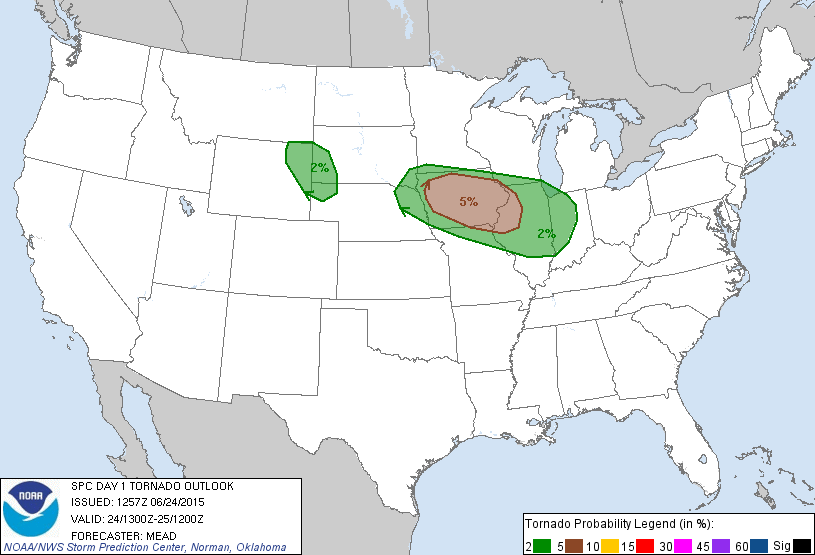 Detailed Account:
June 24th…
My last chase of traditional chase season always falls around this date. This year appeared to be no different, with the very active pattern that has been draped across the midwest the entire month finally showing signs of shifting north for the summer. This looked to be the last chance for the year, so why not? I made my way towards central Iowa, wanting to be near where storms would go up to get on that initial development. I made my way over towards Creston, where I sat by my lonesome on a quiet dirt road near the airport. The past few days being very busy with chasing and trying to cram in some work in between. I was quite tired and actually snoozed on the side of the road for maybe half an hour.
Initiation was taking its sweet time and it almost appeared the day was going to bust, but the warm front surged north, and so did I. A pair of storms finally initiated north of i-80. near the town of Redfield I got onto the first storm and noted a very dark, HP appearance similar to the one I was jut on 2 days ago. Road network was not ideal as a creek cut off many of the options so I had a very short window to stay in the notch before I would fall behind and have to try to get ahead of it. My stay was short, but I did note some rotation in the base, though nothing would come of it. I was happy I at least got in the right spot. The storm appeared to be outflow dominant, but at one point a feature emerged that appeared low enough, and condensed enough to capture my attention.

Tough to confirm with a tree line there, and the general outflow nature of the storm at the time, but its another one for the vault of uncertainty.
These storms congealed into a mess, and some new storms had fired further southwest so I made my way for those, they were in a somewhat linear mess but there appeared to be at least one dominant cell to go after. I core punched from the north, but was met with a big whales mouth and chilly outflow. Welp, this storm wasn't going to do it. I stayed with it for a little while longer, encountering some really crazy backroads designed for ATVs, I ignored an enter at your own risk sign, and bottomed out the truck in mud a couple times. Not a common thing to come across in IA, but I will remember that next time when I see those signs, they mean it.
The new storms were also very outflow dominant, chasers who were on scene were treated to a dramatic shelf cloud, but the time I arrived there was nothing more than a whales mouth, 40mph outflow and some sporadic hail up to quarter size. The sun was slowly beginning to set, and the cold, clearer air provided some nice contrast in the clouds. At one point, nearing Adair, IA there appeared to be a large wall cloud on the storm, but I think the appearance was more coincidence than anything.

A couple structure shots shortly later.

I knew the day was done by this point, and slowly started making my east. I sat for a moment to just watch the lightning and enjoy the scene. This could very well be the last chase so I just wanted to enjoy the storm. As it got further east and the sun began to set, the sky took on a nice pink/blue contrast.

When it all comes down to it, storms really are beautiful, and it was a nice end to a sub-par chase day. I stopped at a Perkins outside of Des Moines for a dinner. A new storm blew up nearby that brought on some more hail and lightning. Power flickered in the restaurant but I got my food quickly and was on my way home, arriving in the wee hours of the morning.
Conclusion:
A chase with fairly low expectations turned out as expected. Not bad, but not good. In my mind, chase season has now concluded, with the jet finally migrating north and the midwest looking to dry out for some time. Will the summer provide any random setups? With increased flexibility at work I told myself I would bite on more marginal summer days, so lets see if we can get some.
SPC Reports:

Leave a Comment: