Summary:
Raced after lone supercell near the ND/SD border only to have it collapse as soon as I arrive.
Stats:
Tornadoes: 0
Hail: 0.00″
Wind: n/a
The Forecast:
Near zonal flow with subtle ripple/piece of energy moving into the northern plains. Strong heating and good moisture would provide great instability for storms, but speed shear was forecast to remain weak. Directional shear would support supercells in early storm life if they could fire. High instability and good mid level lapse rates made large hail the primary threat early on. Tornadoes couldn't be ruled out either, but there were enough concerns that kept probs low.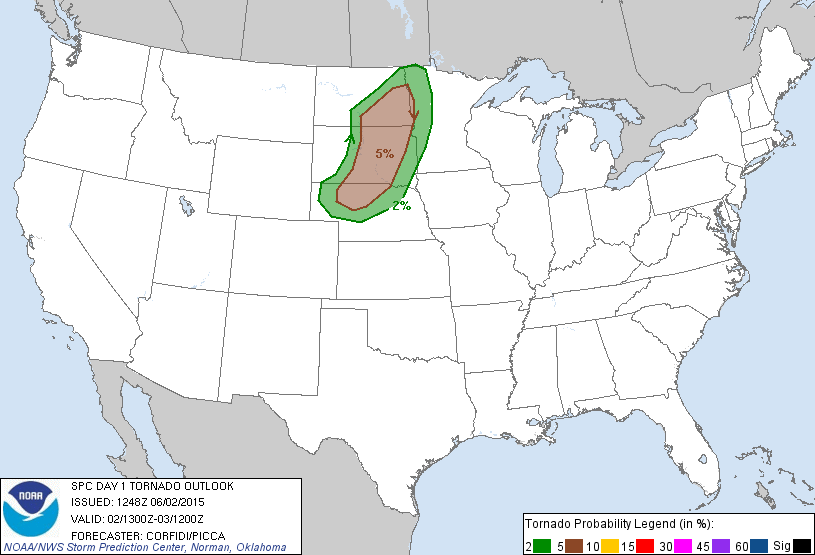 Detailed Account:
Shortly after my victorious chase near Elmer, OK – life came down on me hard. To put a long story short. I had to fire a crew at my day job and things got really messy, forcing me to stay home during an incredibly active week of southern plains chasing. Marginal setup after marginal setup produces numerous tornadoes and I had to watch it all from home while being extremely stressed over the work situation. It was one of the most agonizing 2 weeks of my life. Finally, things settled down enough for me to consider chasing again when a string of yet again marginal days presented themselves across the Northern/Central/High plains. I was going to hit this one as hard as I could. Originally I was going to sit this day out though, as the setup didn't appeal to me. However, the SPC day 2 outlook mentioned the possibility for strong tornadoes and I was baited out a day early. I will admit, that I will still let an SPC outlook influence me, despite how long I have been doing this.
I left Chicago around 230am after a short post-work nap. My plan was to drive near the SD/ND border and hopefully be on time for later initiation with a strong cap in place. Arriving near Aberdeen, SD in the afternoon I met up with Matthew Cumberland. It was nice to catch up with him. Much to our dismay a storm went up in southern ND about 2 hours further west than we were hoping, as well as 2-3 hours earlier than we were hoping. Afterall with such a strong cap forecast I wasn't thinking we would have initiation until 6pm…but naturally, when I am coming up from the east we get initiation at 2pm further west. Every…time.
So we both reluctantly blasted after the storm, which looked good on radar for a few scans. I was practically gnawing on my steering wheel to think I would miss a tornado. Fast forwarding about 90 minues and I got my first look at the storm. The structure appeared good but there was a problem. The updraft tower was skinny and clearly visible. It looked like LP structure of a dying storm.
I kept pushing to get closer, and literally when I arrived on the storm it rapidly fell apart in about 3 radar scans. By the time I got out of my car this was all that was left.

Ugh, that was the only storm in the area. Another storm was another 90 minutes away heading the general direction, but it would likely suffer the same fate. It appeared the storm formed on some sort of pre existing boundary or frontal trough, moved into the strongly capped air and rapidly died. The next days target looked like it would be in Southeastern Wyoming, which is a reeeaaalllyyyy long haul from the SD/ND border where I was. Alec Scholten was out on tours and offered to meet up and offer up a free hotel room for the night. This seemed appealing since I was out solo and any chance to save a buck is a good one. After a quick bite to eat in Pierre, SD  we made the long drive all the way to Ogalla, NE where we arrived around 3am. I had passed the 24 hour awake mark, after only getting 3 hours of sleep. I was exhausted and it was time for much needed sleep.
Conclusion:
What a ridiculous bust.  I guess I got lucky though, lucky that initial storm didn't produce. So it could have been worse. Still, this is one of those days that makes you question your sanity. Driving nearly 13 hours and spending well over 100 bucks to watch an updraft tower collapse. Should have just stuck to my original plan and not chased this day, but oh well. Nothing ventured is nothing gained and you can't win if you don't play. Especially with the clock beginning to tick on traditional chase season. I'll let the map speak for itself on this one…
SPC Reports:

<—-Previous Chase                         Next Chase—->
Leave a Comment: