Summary:
Chose wrong target and sat around in sunshine most of the day. Called chase just as storms went up west, managed to get on some supercells in the days last light as they weakened.
Stats:
Tornadoes: 0
Hail: .50″ (dime)
Wind: n/a
The Forecast:
Good moisture and strong instability in place, but forcing lacked as the main piece of energy moved off to the east leaving behind a typical early summer airmass. Outflow from previous convection could serve as a storm trigger, and severe parameters would further be enhanced along a re-enforced warmfront that was present in northern Kansas. A subtle shortwave forecast to arrive later in the day also served as a possible focus for storms. Good directional shear meant supercells possible if storms could initiate. Upslope target also existed due to low 60s dewpoints advecting across the DCVZ. SPC went with lower end tornado probs due to concern over whether or not supercells would form across both target areas.

Detailed Account:
I awoke in our Colorado motel with a difficult forecast choice. Potential upslope play was catching my attention, but those days seem so conditional and weird on paper I was having a hard time becoming fully convinced. Meanwhile forecast parameters for severe weather and tornadoes were showing a volatile environment across the KS/NE border along a warm front. Also a conditional setup, but one that could pay off huge. I weighed back and forth about the two targets, and ultimately chose Kansas.
I made my way there and drove through grey, drizzly skies through all of Nebraska, thinking the warm front would lift but it never did. Instead it was re-enforced and I had to detour south, ending up in Phillipsburg, KS under a warm, sticky airmass with cumulus bubbling all around. It felt like a chase day, and hopes were high. I was not the only down here though, in fact there was quite a large convergence of chasers. I joined the party and we sat around waiting for storms to fire. Things started going downhill here as the cu began thinning out.
One tower went up, and it caught all our attention.

It did not last though, the updraft tower collapsed as it fought the cap, leaving an orphin anvil and some virga. At one point a small shear funnel formed, this illustrated how much spin there was in the atmosphere.

We just could not get surface based storm development. The outflow boundary had washed out, the cu was thinning and the cap was strengthening. The day was ready to a bust and many people began abandoning the target and heading other directions. I was beyond frustrated at this point, given how bad the last few days chasing went, and the weight of all the issues I was having at work still lingering over my head. I even had to take a few phone calls from irate customers while waiting for the storms to fire. That is not what I want to do while chasing. Chasing is supposed to be my escape, my enjoyment in life.
I drifted south a bit, and then said forget it…and began driving east where there were some faint cu still remaining. It was towards home and I was ready to call it quits at this point. Oh, and did I mention that by this time a supercell was raging across eastern Colorado dropping numerous, extremely photogenic tornadoes. Yea, I was ready to throw in the towel on this trip. I drove about half an hour east, just as a blip appeared in Western Kansas. Great, storm initiation way back the other way. I gathered my nerves, thought about it, and turned around. Afterall, tomorrow held another potential setup in Colorado. As bad as things were going for me, they would only be worse if I simply gave up and missed a shot at redemption. THIS IS WHAT I LIVE FOR AFTERALL. Back west I went.
The storm was now tornado warned near Atwood, KS and I was quite a ways behind, nervous I would miss the show. Chasers on scene were reporting fantastic LP mothership structure. Ok good…LPs rarely produce tornadoes. I kept my approach and the storm slowly began to come into view, but instead of growing larger in appearance as I approached it seemed to shrink. It was dying…
Once again I arrived just as the storm shriveled up. I only managed this hazy shot through the windshield showing the silhouette of the storm.

Shortly after this I met back up with Alec and crew. The storms were producing a nice lightning show so we opted to shoot some of that. Naturally, I was having trouble with my camera settings and did not capture any. One of the storms went tornado warned again and picked up some rotation, we could see a really low hanging wall cloud but never noted anything on the ground. Once it began getting later we made our way back to Burlington, CO where we roomed up for the night.
Conclusion:
What a rough trip and stretch of life this has been so far. If there is one positive thing I can say, its that the storm action of the day ended up being better than the previous day's once again. Many chasers got amazing structure shots of the storms near Atwood, and I was mad at myself for cloudy judgement causing me to throw in the towel too soon. At least I didn't miss any good tornadoes on the KS storms. The ones in Colorado though provided career shots for those who were there. I almost stayed there too…I feel like I don't even know what I am doing out here at this point. Tomorrow is another day. Please let it produce.
SPC Reports: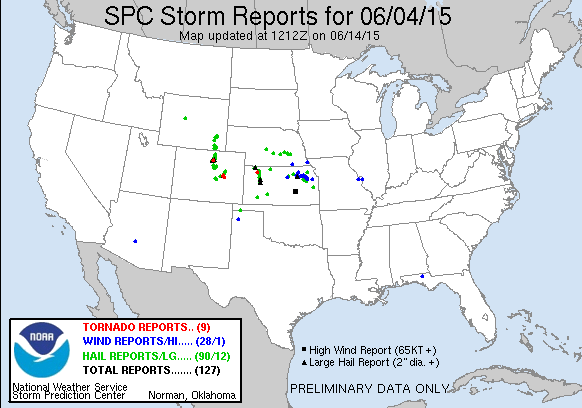 <— Previous Chase                                                 Next Chase —>
Leave a Comment: