IL has Awoken.
Dumped original target of El Paso for "more probable" area of tornadoes in southeast Iowa. Slowly drifted west into IA for a pathetic squall line while keeping an eye on IL. Made the decision to dart back into IL as numerous tornadic supercells began developing. Caught up to cyclic supercell west of Peoria noting incredible structure and at least 2 tornadoes from a greater distance than is preferred, but will take it considering the day almost went to complete waste in Iowa. Once Peoria storm weakened we detoured to the town of Dwight which had taken a serious blow from a significant tornado noting Impressive EF-2 level damage.
Wind: est 45-50mph thunderstorm gusts
Lesson Learned: Don't let people sucker you into IA. Always monitor original target for better decision making.
I was excited for today since Thursday. I had chose El Paso as my target and was for once excited I would get a good chase on local turf. I awoke that morning however to SPC outlooks, along with many chasers telling me to go to southeast Iowa. I glanced over obs and agreed this might be the best bet for initial discrete development. There is not much to say about the first 8 hours of the chase. We drove into IA, sat and waited. Local forecasts called for discrete initiation in the area and quick transition to a line.
As I sat there watching live conditions, I noticed IL was priming itself for something huge. Because of this I did not go as far west into IA as many. A weak line of storms formed NW of Des Moines and was struggling to get going. Not sure if this was the main show or if IL would pop I held my ground equal distance between them. Sure enough some cells started going up along the IA/IL border. We [Danny and I] made the call to dump the IA storms and blast back east.
The updraft towers on our developing storms, as seen in IA.
The storms blew up into massive supercells close to my original target area. I was getting that sinking feeling in my stomach of pure failure. I decided no way was I going to let this get away from me. I was not going to miss a major outbreak in my home state because I got suckered into freaking Iowa. I punched it.
Storms were moving a good 50mph but there was a decent road that would take me right to it. Eventually we began to gain some serious ground but we thought it might have been too late as reports started coming in of a tornado on the ground along with a serious radar Image of BWER [bounded weak echo region – generally only seen with significant tornadoes.] The tan circle shows our position as we desperately try to catch up. A tornado was approaching Elmwood at this time.
I continued east and began to notice the large lowering underneath. It was a classic bell wall cloud underneath a beautiful striated meso. Incredible to see. I knew if the storm would just cycle one more time we would be able to see a nice tornado.
I was pretty ecstatic that I was able to get us there in time. Of course though, terrain and towns had to show up to ruin our view just in the nick of time. I don't know how and why that always manages to happen, but I can drive forever with a perfect view UNTIL I get to the storm, it added a bit of frustration to the chase, but I was just happy to get a tornado in my home state again. The fact that it was getting dark made the tornadoes increasingly harder to see as well.
We pursued the storm around Peoria and witnessed another tornado about 10 minutes later, this one was wider and better captured on Danny's camera.
As we rounded Peoria the structure of the storm became insane. It showed the weirdest, slanted updraft tower on a storm I have ever seen. I could see the flying saucer meso and large wall cloud, and the tower looked like it didn't even belong on our storm.
Supercells were now raging across IL, with one particular storm heading closer to home and taking dead aim on the towns of Streator, Dwight and Kankakee, all about an hour away from Chicago. We watched in awe as massive couplets on radar moved right over the towns and then listened in disbelief as reports of heavy damage poured in. Our storm had weakened and we decided to stop in Dwight on the way home to view the damage. Arriving in town was pure chaos. Powerlines and trees down across the roads, people running all over the place. A mobile home park sustained heavy damage with reports of injuries but luckily no fatalities.
After driving through town we decided to leave and not get in the way of the cleanup and rescue efforts. Driving home brought us through the severe warned line of storms behind the supercells which brought some heavy rain, winds and lightning.
We arrived back in Romeoville around 1130 and had dinner at Applebees to celebrate.
Images of these incredible storms:
This image shows the strong couplet moving over Dwight.
Today was almost a MAJOR fail. I am disappointed in myself for abandoning my original target and being talked into something. Its hard not to though when so many people are saying one thing its hard to stick to your own judgment. Today illustrates the importance of monitoring live conditions while chasing and being read to make big changes. The signs were all pointing to IL since early afternoon and this should not have been a surprise to anyone. Thankfully I was able to make it back to the Peoria storm in time. The pair of tornadoes makes them the 2nd and 3rd in my home state as well as my second tornado day in IL with amazing structure. Move over Oklahoma, IL has come alive!
Map. arrow shows location of tornado video: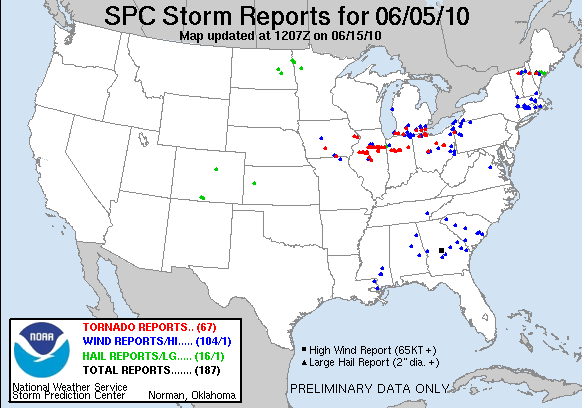 Leave a Comment: