Summary:
Intercepted multiple tornado warned, HP supercells in southwest Oklahoma. Encountered mean, classic HP structure, large hail and  brief tornado in the city of Lawton and another possible tornado near Elgin. Detoured for tornado-producing tail end charlie storm near the TX border before calling chase and heading east for next days target.
Stats:
Tornadoes: 1
Hail: 2.00″ (hen egg)
Wind: n/a
The Forecast:
Strong cold front/dryline setup. Good instability in large warm sector with only minor cap. Huge model differences especially between NAM and GFS painted a very different scenario. The GFS screamed tornado outbreak while the NAM said surging cold front likely meant undercut storms similar to the week before. Other models had solutions in the middle which was believed to be the likely scenario.
The cold front was forecast to stall or even retrograde a bit north. The main 850 and 500mb energy was already in place, unlike the week before where it lagged to the west. Early storm initiation looked likely with discrete supercells being the early mode. This looked to be the best setup of the year so far. SPC went MDT risk with good tornado probabilities.

Detailed Account:
This finally looked like a really solid tornado chase. With my vehicle still needing a repair before it can be road ready I teamed up with Alec Scholten and Mike Mullenhoff. We made arrangements to pick up Donovan Gruner who had been stranded in Norman, OK due to his car being nearly totaled after hitting a dear. That meant we had a full boat. The difference between the NAM and the GFS was scary and there was a choice to be made. Either hope the NAM was wrong, or stick back and play the lesser, but consistent warm front target in Illinois home turf. I decided it was go big or go home and we set sail for Oklahoma, making really good time.
We got down there a day early to be plenty rested, when the day came the forecast looked pretty solid and we were excited for our first big chase of the season. We departed Bens apartment with my preliminary target being Vernon, Texas. By the time we reached Lawton, storms had begun firing. There were 2 storms to choose from, one directly to our west near Snyder and one to the south. The one to the west looked better organized on radar but was behind the cold front, while the storm to the south was fully rooted in the warm sector.
The west storm was closer, and if it was able to cross and latch onto that boundary it stood a real chance at putting on an amazing show so we went for it. If the southern storm became dominant, it would be easy to drop south to as opposed to a vice versa scenario involving us trying to blast north as the storm moved away.
We got on the first storm north of Snyder just as my GPS began to malfunction causing us to lose our position, so while I fumbled to get that running again Donovan guided us from the back seat. The storm exhibited good structure, with a long inflow tail feeding into what looked like a wall cloud, but it was still behind the front.

Temperatures at our location would dramatically shift back and forth between warm and moist to downright cold and chilly. We just needed the storm to cross that boundary and it would be showtime. We kept up with it for awhile, eventually reaching the Wichita Mountains, where I began to remember better times from November 7th 2011
The base of the storm actually hit the top of one of the mountains. I thought it would be cool if I was standing on top of it to experience that. I may have to add that to the bucket list.

We kept ahead of the storm a little while longer, on radar the boundary was pulling away and it became clear the storm wouldn't cross it. The southern storm was still looking good so we let this one go and dropped to the southern one. We picked a spot to let it core us. Our plan was to let that happen then follow it once we were in the inflow region, but the storm began to turn right and take on a more tornadic appearance on radar. I decided it was time to core punch to get into position sooner which meant it was time to tangle on some dirt roads. Radar Image at the time.

We meandered our way down the dirt roads, which Alec did not seem to enjoy very much and was getting quite concerned about the path I had chosed but I insisted we press on or we would miss a show. Eventually we found pavement again just outside the core and we had a view into the storms base, which was great and classic looking. The storm had a large base with a tail cloud feeding into a wall cloud that was showing obvious low level rotation. We were really excited at this point.

The wall cloud would eventually become elongated, appear to gust out, and begin cycling again. This process went on a few times and we had to cat and mouse the storm. having to avoid dirt roads meant we were stuck on pavement and had to battle the chaser hoards. Everytime we saw a parade of headlights coming down the road we made our move to stay ahead. I don't like playing storms that way but we weren't left with any other option.
The storm was approaching Lawton, and we stopped just outside of town to take a peak at it. A new rotating wall cloud was ongoing, and a brief white funnel seemed to dip down but would soon dissipate.

Soon after this we spotted a gustnado on the leading edge of the outflow. It was neat, but not the rotation we wanted to see. We pursued the storm into Lawton before deciding to let it go for yet another storm right on its heels. Basically driving in a big circle and getting on the second storm on the same road we were on earlier. First, we decided to sample the hail core and got some hail up to 2″ in size.

The second storm displayed similar characteristics, though darker and more menacing looking. With multiple storms to choose from the chaser crowds thinned out a bit and we were able to get closer to this one without being stuck in a traffic jam.
We decided to stay right under the base, which would transition from rotating wall cloud to outflowy gust front in rapid cycles.

The motions in the clouds were chaotic and very low. The storm being incredible HP made it hard to identify features that would get us a tornado. I did the best I could to keep us tightly packed in the inflow notch/hook so we could at least see. The storm was again approaching Lawton and was now tornado warned. From inside the hook we had a decent view of some pretty good tornadic structure. A big, rotating bow shaped lowering with a clear slot behind it. Some more tease funnels also would rapidly form and dissipate.

Shortly after this I noted a powerflash south of our location, but I could never confirm any ground touchdowns. Other chasers have reported them though. We were now entering Lawton with this area of rotation nearly on top of us. Suddenly 2 more powerflashes happened at close range. The first about a block up, and the second a few seconds later right next to our vehicle that sent sparks raining down outside the window. I was not filming, but Mike Mullenhoff was. This prompted me to turn on my camera and start filming as we entered town.
Shortly after this, Alec spots some funky movement right infront of us and calls it out. I turn to see what appears to be condensed vortices like you would see in a multi vortex tornado. I thought NAH, couldn't be. I was confused for a moment, but upon studying the area more I noticed there was definite rotation. A weak tornado was ongoing probably less than a block infront of us, and thankfully it was weak because we were on a main street through Lawton in pretty thick traffic. The tornado soon moved to our north and we lost sight of it, or it weakened.  Video:

We chose to pursue the storm east of town and up I-44 and were now caught in the wrap around precip which was downright blinding. White out conditions with zero visibility slammed the vehicle and slowed us down quite a bit, but eventually we were able to clear it and exit the highway to stay in the hook. First we needed to get gas in the town of Elgin.  As we fueled up the wrap around caught us again with an assault of blinding rain and hail. We now had to repeat the move of getting out of this precip, which was more difficult being not on the highway.
We were successful though and as we approached Sterling Springs, Donovan spotted an "edge" of something interesting in the rain. Light was now fading and it was difficult to see, but there was indeed something embedded in the rain. Other chasers got what looks to be a cone tornado on their camera, and I believe that is the same thing we saw, however there is that 1% doubt in my mind due to lack of concrete proof and the fact it was near dark and hard to tell for sure, but here is a radar image at the time I saved because of the good velocity signature.

We were in good position to view the tornado at the time, its a shame it was now dusk and the storm was extremely HP. Could have been a really nice tornado. Here is the LSR:
| | | | | | | | |
| --- | --- | --- | --- | --- | --- | --- | --- |
| 0037 | | 4 WNW STERLING | COMANCHE | OK | 3477 | 9824 | NUMEROUS REPORTS OF A TORNADO CROSSING HIGHWAY 17 BETWEEN STERLING AND ELGIN. (OUN) |
That was only a couple minutes after the above radar image, and we are on highway 17 at the time. We pursued the storm a little while longer, just to see if we could get a clearer view or see something in the lightning. Meanwhile, a tail end charlie storm blew up in Texas just south of the Red River. We began discussing going after it, but hesitated thinking it would be a similar scenario as we encountered all day, only in the dark. Sure enough, about a minute later tornado icons start popping up along the storm and the decision was made to blast down there. We made good time and met the storm, but it was done producing tornadoes. We met up with Ben Holcomb and David Drummond, who had captured the tornadoes. They all shot lightning while I sat and monitored the radar and plotted any potential intercept courses. The storm began weakening shorlty after and we called the chase. We had intended to chase in Illinois the next day and began the long drive home, tired as ever, but very satisfied with the day.
Conclusion:
Today fell only a little short of expectations because we were hoping for a better daytime, fully condensed tornado. Instead in 2012 like fashion we were dealt a weak bird fart and some at dusk encounters. The tornadoes on the tail end charlie storm were a little better, about half condensed with little debris clouds under them, but again they were at dusk or after dark and I have yet to see any really wowing video of them.
It was nice to get the skunk off my back though, and while not the ideal catch I at least know the year wont go tornado-less. I believe the tornado we caught in Lawton was a weak multi-vortex style tornado that had been ongoing for several minutes and lasting a few miles, but I have not read the official survey yet. It was also great to be on an all day, active storm chase with storms going up at 3pm and chasing till after dark, intercepting multiple storms. The structure was mean and classic for HP supercells. We got into some large hail, caught a tornado from very close range, saw great structure. All in all it was a great, solid chase. Best of the year so far and it felt damn good. The technology glitches were a bit frustrating, but I am used to that by now. The trip was worth it.
Map: Green arrow represents approximate powerflash location, red arrow is where we encountered our tornado. If Mike Mullenhoff ever stops being lazy and gets me the powerflash video I will update this log.

SPC Storm Reports and outlook verification"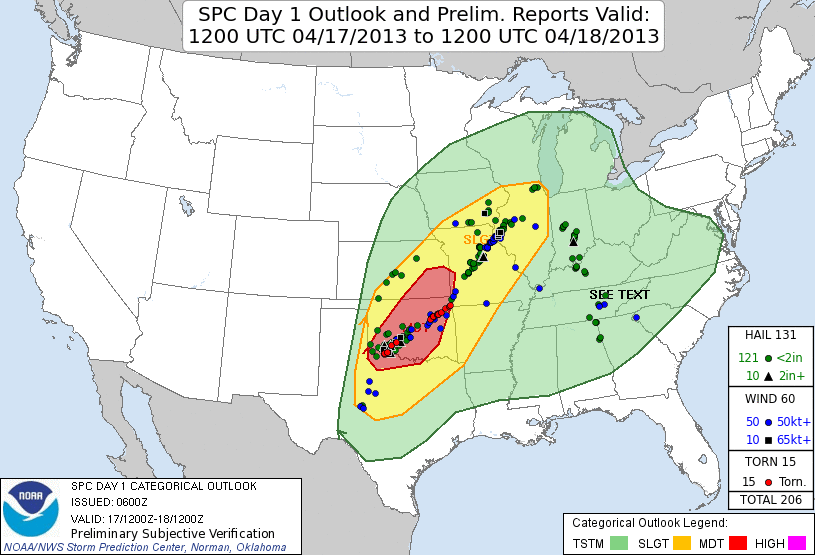 Leave a Comment: