Game on!
Summary:
Marathon chase to OK and MO didn't quite live up to expectations. Tornadic storms were intercepted though, along with a really intense barrage of quarter size hail. Interesting features were spotted and the night was spent at a hotel that was damaged by overnight storms. All these things put together led to an overall successful chase. It was my latest start to a season since 2005, but also my most rewarding.
Stats:
Tornadoes: 0
Hail: 1.00″ [quarter]
Wind: 35mph est thunderstorm gust.
States: MO/OK
Miles: 778
Detailed Account:
2009 offered no fall chasing and winter was boring with no early season warmup events. I was itching for action. The season roared in like a lion with amazing tornadoes just 2 days prior to this chase, tornadoes I was not there for. I told myself I wouldn't let any more opportunities get away from me. I jumped on this setup solo and left Chicago at 5am without a real target city, I figured by the time I got down there storms would be underway.
I drove all morning through IL and MO, it became clear that surface heating would not be the issue today.
Too much of a good thing can sometimes be bad though. Moisture return was the main limiting factor in this chase with dewpoints never expected to get higher than the mid 50's and with the temps sky rocketing, this meant larger spreads and higher based storms. It was going to be tough to get a tornado, but I pressed on.
The first signs of destabilization appeared before my eyes in south central MO. Baby cumulus. Awwww
They begin to grow.
This convinced me to hang around for a bit. I checked some surface conditions and realized the dewpoints were falling. The air was mixing out. I chose to continue west. The storms were trying to get going but there wasn't enough destabilization yet as evident by the abundance of "turkey towers."
I was near where I wanted to be at this point though, and sure enough an isolated cell blew up in northeast OK and began heading my way, it began to look impressive on radar and I got excited. I made the right moves to intercept it but it fell apart. I decided I would head back and hang out near Joplin, MO spotting a rain shaft along the way. I can now cross that off 2010's "features to spot" list.
Fellow IL chaser Mike Brady was also in the area so he joined me in my location and we began to share thoughts on the day. We began to think the day would bust and we made a mistake to make the venture. General storms were going up all around us but the air was feeling cold and non-severe so we just let them by. One of them spit out this interesting feature, which appeared as if it was rotating.
After a few more minutes I noticed something interesting.
The base of this storm resembled some of the most violently rotating wall clouds I have seen but was merely a blip on radar. I joked to Mike and said this is the beginning of a tornado producer, but we let it go. Sure enough about 20 minutes later it was now severe warned for quarter size hail. I was a bit mad at myself for just letting it get away from me like that. Mike eventually gave up on the day and went to go rendezvous with another chaser. I told him I wanted to stay put in case the crapvection moving in from OK would strengthen. Sure enough this is what happened and finally some real chasing began.
I darted into OK and stopped in the city of Miami [yes there is a Miami in Oklahoma] for the intercept. The storms were generally a sloppy line, but they were the strongest of anything I've seen all day. The leading edge took on a shelf like appearance, though I wouldn't call it a true shelf cloud.
I decided to head back to my original location near Joplin. Since the storms were a line with no real hail, I figured it might be neat to get a shot of the strong winds [if there were any] with all those flags I was by so I made that my plan. En route though one of the storms really intensified and I found myself continuing south for the intercept. Light was fading and the quality of my cameras pictures deteriorated. The storm was showing 1.50″ hail on radar and my location in relation to it meant a core punch was in order.
The fun begins here. As if someone flipped a switch conditions went from light drizzle to absolute monsoon of hail in a second. I have never experienced such a rapid onslaught of hail. It was so fast I didn't even have time to get the camera out and record the start. I was in the town of Seneca when I finally began filming. The largest stones made it to quarter size though most were probably smaller.
I have been through countless hail onslaughts, and while far from the biggest. I can honestly say I've never seen one come on that fast before. The hail accumulated on the ground in about a minute. Once it stopped I was able to get a picture.
At this point my attention was turned to the tornado warning on this storm. I was already in the right spot but given the high based, messy nature of the storm there wasn't a whole lot to see. I was surprised it was warned, but some rotation was showing up on radar to prompt the warning.
Radar capture as the tornado warning comes out.
The image is actually a bit behind, the storm was already just to my north and I was only getting drizzled on at this point. I followed this storm as best as I could only now traffic on the one lane road slowed to a crawl because driving on all that hail is like driving on snow. Eventually it lost the warning and I let it go. A few more similar storms fired with similar warnings but I was not convinced anything would produce. By now storms were going up everywhere. Nothing was isolated, everything was linear and high based and no storms were showing truly big hail so I began to head back home.
I had been awake for nearly 36 hours now, and on 2 hours of sleep. Fatigue hit me really hard and I made a judgment call to pull over in Lebanon for the night. I had planned to chase a meager setup in IL the next day on my way home, and this wasn't terribly far. I could get a full nights rest, wake up early and chase whatever there was on the way home.
I checked into my room and got settled. A strong line of storms was about to hit so I decided to just sit back and watch the show. Within minutes the power is now out in my room and a gust of wind sends sheet metal flying out from the ceiling. It was a pretty powerful line but now I had to spend the night in a dark room and unable to power or charge any of my gear. I was so tired I didn't care though, and I was asleep within minutes of face planting the pillow.
Here is a damage shot I took the next morning. The power came back on at 5:14am.
A local storm report explains why the power was out:
0305
UNK
6 W LEBANON
LACLEDE
MO
3768
9277
POWER LINES DOWN ALONG
HIGHWAY 64. TIME OF EVENT ESTIMATED.

(SGF)
So that was definitely the most interesting night I've spent in a room after a chase. It served as a reminder that the chase really isn't over till the storms are done.
Well I checked out of the room and hit the road for home planning to intercept whatever developed on the way home. Nothing happened and the day was a bust.
Conclusion:
I thought the potential for tornadoes was pretty decent today and at the very least some really big hail [golfball or larger.] Neither occurred in this area so the day did not live up to expectations. The only real tornado and monster hail came from a supercell that hit Little Rock, AR. Despite the chase not living up to expectations [most of them don't] it was a good chase, as a matter of fact, it is now my best first chase of any season, combining many elements and a few intense moments. The hail barrage, tornado warnings, motel room damage and interesting feature photos justified the trip. The season has begun!
Google Map:
SPC Storm Reports: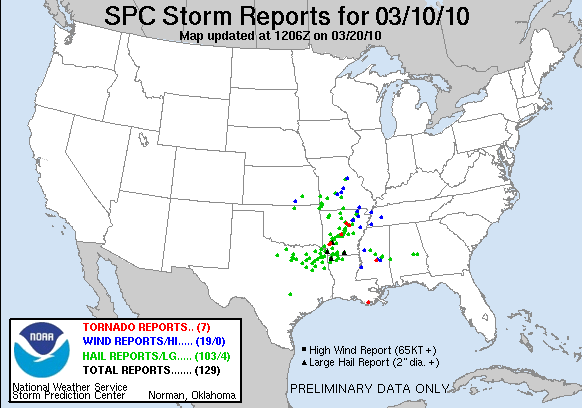 Leave a Comment: