Summary:
Chased marginal setup close to home with no real severe weather to be had, ending streak of chases with tornadoes.
Stats:
Tornadoes: 0
Hail: 0.00″
Wind: non-severe.
First chase in the following state: MI
Detailed Account:
I was never quite sold in this setup which featured a closed low churning its way into Norhern Wisconsin. This was to swing a pocket of colder air aloft above abnormally warm spring temperatures across the area. This would allow for sufficient surface based instability to develop and with an impulse timed to rotate around the low as a potential kick for storm development it meant some of the storms could be severe. I awoke early to monitor the situation as it unfolded. A weak line of thunderstorms was moving through northern Illinois, shunting the good clearing and instability further east. Any hope for a local porch chase was gone, and I was not sold on the potential further east given veered surface flow and lack of good convergence where the instability setup.
Still, some of my local chase pals were eager to get out there. It really was too close not to try, and I let them convince me to head out. We geared up and off we went. As soon as we left my house we spotted a horseshoe vortex being inhaled into a cumulus base.
By the time we rounded up everyone for the day storms had fired well east of us. Already things were going downhill as we would be playing catch up in metro traffic, but we decided to go for it anyways. We made good time catching up to the storms, which struggled to get going. We punched through one developing sad little storm.
Noting nothing more than a rain free base, and then a brief downpour.
We crossed into Michigan, making this my first chase in the state. We managed to get ahead of the developing line of storms and would have had a decent intercept had the storms materialized into anything worthwhile. Instead they pulsed up for a couple scans to get us excited and then quickly died. We pulled over in a parking lot north of South Bend, Indiana to wait and see if anything would happen. Nothing did, and I called the chase. We turned around and headed for home, stopping for a few pictures of bubbling convection in the setting sun.
The storms began to restrengthen after we left, and briefly made us regret our decision. They even went severe warned at one point, but nothing ever happened. The best storms of the were well north of us in an area of better shear as the low pressure system was still moving to the north. Our storms struggled in an environment with weaker shear, but more cape. Pretty much what I expected for the day.
Conclusion:
As I just mentioned, the day turned out how I expected. In reality it was too close not to try though, and I would have felt worse had I not gone and something happened. I would rather try and bust due to nothing happening than miss something because I was at home sitting on my rump. This also ended my tornado streak, which is probably a good thing since I won't have to worry about the law of averages coming back to haunt me on a better setup that actually produces tornadoes and severe weather.
Map:
SPC Storm Reports: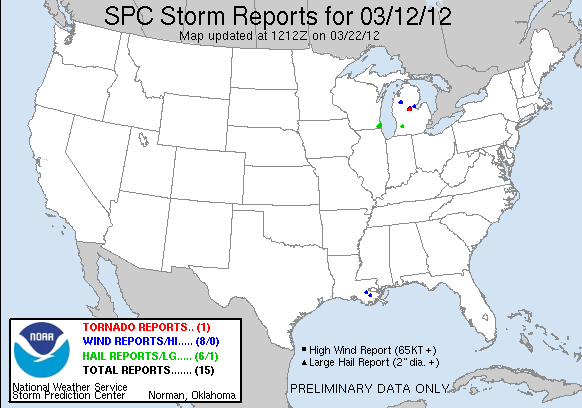 Leave a Comment: