Summary:
Tracked several supercells across Central Arkansas encountering intense hail core, a possible tornado and some decent structure. Caught a night time tornado as well.
Stats:
Tornadoes: 1
Hail: 1.50″ (Ping pong ball)
Wind: est 50mph inflow
First: Arkansas tornado
Years with tornadoes on first chase: 3 (2011, 2012, 2016)
The Forecast:
Compact yet very potent vort max moving out of the southern plains into the middle MS valley. Borderline moisture return ahead of this feature, but impressive speed shear values would promote supercell development. Straight line hodos were of some concern, but cap was forecast to be breakable and it appeared an arcing line of storms was likely. Another big question, unique to Arkansas is would the storms reach the more preferred terrain in the eastern part of the state before dark? SPC began the day with a 5% – but upgraded to 10-hatched in later outlooks.

Detailed Account:
Another winter come and gone, and it was a pretty easy winter across Chicago. It had only been since 2 days before Christmas since my last chase, a relatively short period  compared to other years but that didn't lessen my eagerness to get back out there. This setup sort of came out of nowhere. I knew of the risk, but it was marginal and in Arkansas so I never gave it much thought. Saturday, the day before, my phone began blowing up with messages wondering if I was chasing, and a quick check of social media suddenly showed a lot of buzz. Upon further investigating the forecast was improving quickly with the aforementioned vort max. That was certainly a game changer, and Arkansas being *only* 7 hours away I decided to bite and make this the first chase of the year. I passed up a few Dixie alley setups in February that provided some tornado catches for those brave/foolish enough to make the venture. It was time to go out and grab my share of the pie.

Alec wanted to team up and we departed Chicago around 4am, arriving in our target area of Pine Bluff, AR around 1. Other  chasers quickly showed up and it wasn't long before a mini convergence was underway. The sun was warm, the sky was bubbling with cumulus, and nerds were lumbering about a Taco Bell parking lot playing with expensive gadgets while locals look at us cross eyed wondering what we were doing there. I've missed this.

Apparently Pine Bluff is ranked #3 in terms of most dangerous cities in America with population under 50,000 – this fact became evident by a near brawl that almost broke out in the parking lot between some rather….classy looking individuals. Another chaser and I decided to film it and when they turned around and saw us with the cameras they quickly fled the scene. Storms began developing to the west but we were hesitant to move right away. Afterall, going west means going into some of the worst chase terrain in the country, going east means going into some of the best. Arkansas is literally a two face state when it comes to terrain.
As you may be able to tell from the above image, our patience got to us and we decided to make a jog west towards a favorable looking storm. At least, given the time, we would end up following it to better areas so it wouldn't hurt to take an early look. We got into the storms precip core while navigating some tricky road network taking on a bombardment of hail approaching ping pong ball size that ended up covering the road. This, along with slow moving locals on 2 lane roads slowed our pursuit a bit but we found ourselves where needed to be, north of hook, with inflow winds screaming from the north. Something was going on. The Arkansas river cut off our roads and we had to make a costly jog to the north, but not before stopping to let the feature pass to our south on a main highway. Normally this provides the best view of a tornado, but the circulation was extremely wrapped up and we couldn't make anything out. The inflow wind was screaming though. Photo by Aaron Rigsby.

A local NWS met noticed my position on spotter network and called me asking for a report, but I couldnt provide much other than wind direction and that the storm was extremely HP. I did laugh at his comment when he said "I see you are only ones brave enough to be in the hook, what do you see?" We made our detour to the north, praying the storm wouldn't produce for other chasers who chose to wait further downstream while we were re-positioning (always a nervous moment when youre forced out of position.) We eventually got where we needed to be near Carlisle as the storm began a new cycle and displayed some beautiful, classic structure. A large alligator mouth inflow feature feeding into a rapidly rotating wall cloud. It reminded me of the Edina storm from May 13th 2009. I thought for sure a tornado was about to form.


Alas though, the RFD gust front quickly overtook and the structure bowed out. Dewpoint's hadn't quite reached their forecast levels, and CAPE values were suffering as a result. This in turn lead to struggling storms, but we kept with it. The storm teased us with a couple funnel clouds, but nothing we could see make ground contact. A new storm went up to our south and quickly dropped a visible tornado for the handful of chasers down there. We decided to make a play for it since it had unimpeded inflow. A couple last looks at our storm as light begins to fade.

We got to the storm in the days last night, noting a couple funnel clouds. We kept with it and suddenly near Crocketts Bluff I began to notice what I thought was a pointy funnel and debris cloud. Not wanting to jump to conclusions I was hesitant to call out a tornado. Alec and Aaron noticed it too. Eventually the feature fully condensed and it was an obvious tornado, but as soon as that happened we came upon a bluff filled with trees and I don't think anyone got a shot. I know I didn't. Luckily fellow storm chaser and friend Max Olson, who was nearby, got a shot.

While nothing to write home about, it was my first Arkansas tornado, and at least ensures 2016 won't go down with me seeing zero. Always nice to get the skunk off your back on the year's first chase. Nearing the town of Marvell we noted another stout funnel cloud and while re-positioning some strong RFD winds overtook us and we noted some powerflashes. A tornado was reported by others in the area. We encountered a downed powerline in a bush infront of someones house that was beginning to start a fire. Luckily it was already called in and EMS was on their way.

We followed the storm for a little while longer before it began nearing the Mississippi river. We decided to let it go and begin the process of figuring out where to eat and heading home. We came upon a flooded viaduct and decided not to drive through it. I re-routed us around it, coming out on a side street just on the other side. In those few minutes a car managed to stall out while attempting to cross. We decided to check to see if they needed help and it turned out to be fellow chasers Connor McCrorey and Mike Scantlin. Aaron and I helped Mike push the car out of the water (well, they did the pushing, I provided moral support by cheering them on.) Mike said it best "only in storm chasing can you stall your car out in a flooded viaduct in the middle of nowhere Arkansas and have your friends stumble upon you 2 minutes later." I suppose thats just one of those little things that makes storm chasing extra awesome.
Eventually we made our way to dinner in Memphis, and then home to Chicago. A gas station slot machine awarded me enough money to cover my share of the gas bill as well as my dinner bill, essentially making this a free chase. Arriving home in the early morning, it was instant coma.
Conclusion:
Overall the day met expectations. You can never expect too much when chasing in Arkansas. We did let our impatience get the better of us and lure us away from our forecast target, thereby missing a more visible tornado to the south. Ignoring ongoing tornadic supercells in hopes more will form later is tough. We played our storms well in difficult conditions. Any first chase of the year where you can get into severe hail, see some supercells, and claim a tornado is a good one. The season has begun, and the next setup is just 48 hours away!
Map. Arrow shows approximate location of tornado:

SPC Reports: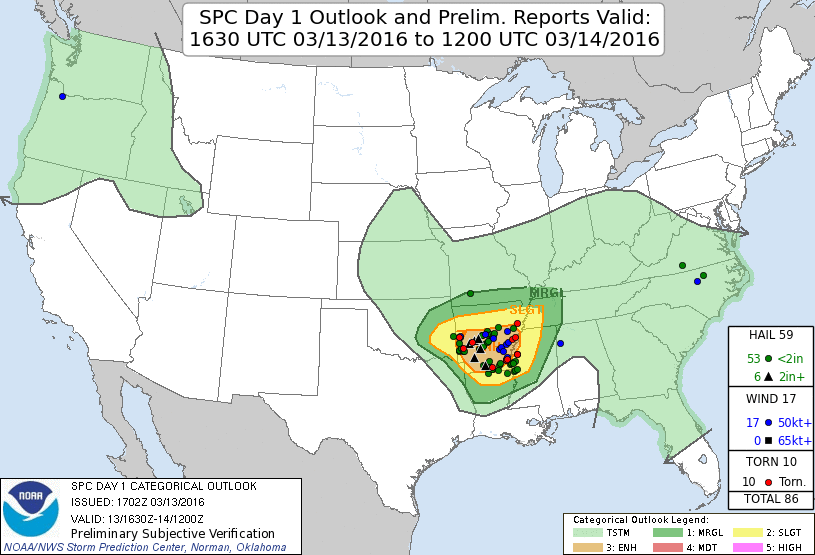 <—-Previous Chase                        Next Chase —>
Leave a Comment: