Fail.
Summary:
Big setup in multi day plains run turned into a meager cold core mess. Abandoned dryline target as dewpoints mixed out well below good tornado parameters to play surface low over the KS/CO border in hopes of cold core magic. Storms formed on cold side of the boundary though and had plenty of hail but nothing truly tornadic. At the very least it was nice to see daytime storms again.
Stats:
Tornadoes: 0
Hail: .88″ [nickel]
Wind: n/a
Detailed Account:
This day was supposed to be the big day in our trip. All bets were riding on this being the one decent shot at a tornado with a dryline finally setting up west of I-35 in the central and southern plains. We began in Salina, KS in a decent starting position but when we awoke we saw a large are of ongoing precip which was already contaminating the setup. SPC even dropped the categorical MDT risk and lowered the tornado chances down from 10 hatched to 5. Still though we were out and had to play the setup as it was handed to us. We first left our hotel to mess with some of the elevated hailers moving through, not much to look at structure wise.
The storm didn't pack much of a punch either, some brief gusty winds and some small hail maybe around penny size. We continued on to our target along the dryline. An area of clearing was moving in and some faith was restored in the day that the atmosphere would recover and we could get the heating we would need to spark off storms later. There was another unseen problem though, the surface low had stalled instead of ejecting as the models had shown, this caused dry air from the desert southwest to be pumped into our target area which in turn caused a serious mixing out of the quality low level moisture needed for tornadoes. We watched in horror as the dewpoints plummeted from sufficient mid 60s all the way down to low 50s and even upper 40s in some spots. Game over.
The only hope was a narrow area of higher moisture being wrapped into the surface low which was cold core in nature so we shifted focus to that area instead. It was a long shot but the only real play we had. As we made our way towards NW KS a tornado watch finally went up and so did storms, but unfortunately they were on the cold side of a very sharp boundary that stretched across I-70 near Goodland. Despite that we made our intercept north of Burlington, CO and got into a pretty nice barrage of hail.
The hail was never really large, but came down in a fury so Phil was able to at least get some hail shots. Radar showed a mess of these hail storms so we just bounced from storm to storm sampling the hail cores and looking for any signs of rotation, which were weak and short lived. The storms inflow was made up of 50 degree rain cooled air and I was not convinced, so I basically remained in my vehicle since it was actually cold outside while John, Phil and Matt shot video and took photos.
This was about as much rotation as we saw, it looked pretty fast for a brief moment but quickly dissipated.
Here is Jons video which highlights the day well.
Once they were done with their shots we called it a chase and headed back to Salina for the night. We stopped in Hays to drop Matt off so he could be back home for work and to have some dinner first, it was sad to see him go!
Conclusion:
Today was a let down due to the fact we were counting on it being the big day in the trip, but we made the most out of it and got just about as good of stuff as we could have gotten from the storms that did form. It was a win as far as forecasting and nowcasting goes as we were able to make good judgement calls on where we needed to be based on live conditions. Still though, it always stings when a day falls well short of expectations but at least we didn't miss anything spectacular.
Map, are circled is where storms were intercepted:
SPC Storm reports: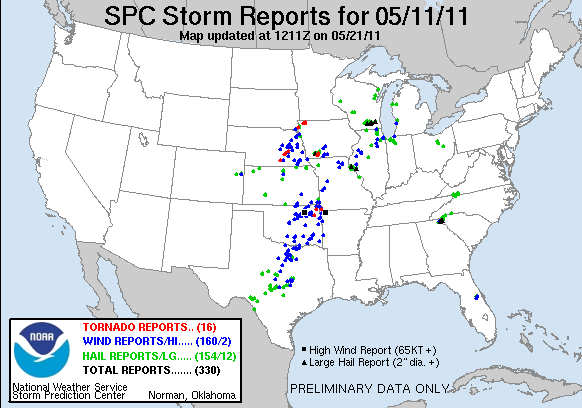 Leave a Comment: