Summary:
What a chase this turned out to be! Before we set out I told Danny I was 2/2 when I chased a setup that SPC put out a moderate risk on the day 3. I said I wanted to keep that streak going and sure enough, I am 3/3! Targeted WC Illinois where models were showing a nice bullseye but once there it became clear that morning crapvection had ruined the potential for tornadic sups. Decided to head west into Missouri a little later than we should have. Thought the day was going to bust but tornadic storms quickly erupted well off to our west, some good driving and navigation got us there in time for a great show! Witnessed two tornadoes and documented lots of damage north of Edina. Missed earlier wedges reported by other chasers due to not heading west soon enough, but catching our own tornadoes made up for this.
Stats:
Tornadoes: 2
Highest wind: Est 55mph RFD or outer circulation of rain wrapped tornado.
Detailed account:
With the long range models showing a death ridge on the horizon, and me without a 2009 tornado, desperation was kicking in. I analyzed the hell out of the models looking for a chaseable setup. Sure enough I began to notice this one about a week out, it held some hope! I kept a close eye on it for days and when SPC put out a Moderate risk for Illinois my excitement was through the roof. Finally a setup had good potential to produce long track supercells and it wouldnt require me taking 2 days off and driving 12 hours to the target area.
However the day finally arrived and it became apparent that the best action had shifted west. I wasnt happy about the thought of going into Missouri, afterall its the land of the hill and the trees. So we set out for the Illinois target of Springfield where we would keep an eye on the setup and how it evolved. There was typical Illinois crapvection all around which right away told me instability was going to be an issue. We made it to Springfield where we met up with chasers Ben Holcomb and crew, I have been chatting with Ben for a couple months now and it was nice to meet him. My buddy Matt also joined the caravan, soon David Draun would arrive and then Benjamin Rock would soon crash the party.
After milling around for over an hour the caravan decided to head west into Missouri, we rolled through 4 cars deep and pulled over just shy of Hannibal. There we milled around some more while we waited and hoped for initiation. Scott Bennet then joined the party and we had a pretty large group of chasers goin which was nice to meet so many faces.
It was around 430pm and the day was starting to look like it would bust. Then some blips on radar showed up but did not look impressive so we continued to mill about. Not soon after a radio sounds…tornado warning. That did not take long at all, Ben and I went over the best possible route to the storms, which were a good hour away at least and the driver he was with took over the lead. Up till this point I had been leading the large caravan. En route reports of wedge tornadoes began pouring in, some from fellow chasers of mine. My stomach began to sink thinking I was missing yet another show because I went against my original plans. I stepped harder on the gas and broke away from the caravan. If the storms were going to continue to produce no way was I going to miss it.
The whole way there tornado reports were pouring in, now from Kirksville with heavy damage. We were getting closer as we were under the massive anvil and could see distant lightning. My hopes were going up but I was still worried we would miss the show. Well good roads are sparse around this part of the state and the best option we had was route 15 north out of Edina, the supercell was heading right for us so we would find a good spot to pull over and wait. Once we went north out of town and we got a view we gasped at what lurked in the distance.
We kept north looking for a good spot to pull over. As luck would have it we came across a farm field with excellent view for Missouri standards. We pulled over behind some silos and observed the most impressive wall cloud I have ever seen. This thing was really cranking. What made it the most impressive was the amazing inflow feature it had. It looked like an alligators mouth, something Ive only seen in a photo by Mike Hollingshead of a tornado producer in Nebraska. Here are some pics.
No alligators head yet, but you can see the precip getting drawn towards the storm by its strong inflow. I was worried the storm would ingest this and weaken at first, but it did not happen right away.
What a beautiful wall cloud. One that was rapidly rotating.
Gator head begins to form with a nice view of the vault. Just incredible storm structure!!
I began recording at this point, in the video tornado one makes its appearance. It was a bit hard to tell when there was just rain under the massive rotation wall cloud or if it was true funnel condensation. The one I have marked in the video is without a doubt tornado number 1 of the day. It occurs at 2:25 in the video.
I stopped the video and began to shoot more photos. After a few minutes it happens, a nice elephant trunk emerges! This would allow me to snap my best tornado picture to date.
Yea, by comparison its nothing too impressive, but it was a new milestone for me personally. Ive never been able to get a good picture of a fully condensed tornado because I was either recording in a hurry or it was at night. For once I was able to get both pictures and video of a nice daytime tornado. It would soon become wrapped in rain as I began to record.
Video shows the tornado after it tried to hide from me behind the rain and then the incredible gators mouth inflow!
Now you wont hear me saying very often that we need to leave in a hurry, but the storm was closer than it looks in the video and rapidly closing in on us. We decided to bail south on 15 before we could get munched by the RFD or the rain wrapped tornado. This turned out to be a wise call.Dannys video will take over from here, as we begin to flee the RFD begins to overtake us. It got pretty intense for a few moments as we decided to head east out of Edina with sirens blaring.
We would then turn back around to stay on the storm when all of a sudden we heard things striking the van. It didnt sound like hail nor did we see any evidence. It was debris raining down from the sky. We decided to wait out the storm at the main intersection for a few minutes. Emergency vehicles began to pour in. We knew there was damage not far and that we had just barely escaped a rain wrapped tornado or a very powerful RFD.
We went back north on route 15 to the same areas we were just in and it was a different scene. Power lines were down, trees were thrown across the road and the houses in the area had sustained damage. The police had the road blocked off and a cranky old fat woman who seemed to have a beef with storm spotters turned us around. We turned back east on the first road we could and began to notice the debris scattered around.
More video From Dannys camera.
Well after this it was pretty much game over. The storms had trekked to the east and began to congeal into a massive squall line as forecasted. We decided to head for home which took quite awhile on the long Missouri Amish backroads. The setting sun illuminated the back side of the line some interesting colors so I snapped a couple pics.
We managed to randomly bump into David Draun at a gas station in Kahoka. He seemed a bit shaken up as he had a similar experience as us with the rain wrapped tornado/intense RFD. The rest of our caravan eventually made it to our storm but had a poor vantage point and didnt get to see the tornadoes…which sucks because it would have been a nice thing for us all to see. I spent the drive chatting with some fellow chasers including Skip, who caught a multi vortex tornado near Memphis and Chad Cowan who caught one of the beastly wedges that were reported early on. Its always nice when my chase pals score too.
We hoped to catch up to the line on our way home and maybe get some straight line wind action along with some hail, which was the only thing lacking from this awesome chase day. It never happened though and we arrived home at 2am.
Conclusion:
Sticking to my original plan probably would have gotten us the nice wedges that occurred early on and it was a bit of a let down, but we managed to redeem ourselves with skillful driving and good navigating and it paid off. I would have like to have been closer to the tornadoes for pictures and video, but given the terrain, and the fact I didnt want to miss the show while navigating hills and roads I settled for simply being able to have a good view. The damage was a typical sobering reminder as to the power of the storms and early estimates are indicating EF-2 level damage with unfortunately 3 fatalities out of Kirksville. When I look at other chaser photos of the same storms at the same time we saw our tornadoes it really opened my eyes as to the importance of being able to position yourself the right way, its makes a huge difference.
Im glad I have two tornadoes under the belt for 2009. The season cant end with being skunked now and the upcoming death ridge will sting a little less knowing I got my piece of the prize for the year, but still, I want more and am eager to get out there again! The original forecast didnt verify as far as tornadoes, which also illustrates the importance of being able to adjust to live conditions. The weather does what it wants, not what our forecast models say it will do.
Google map:
SPC Storm reports for the day. The big red streak in Missouri was from our storms.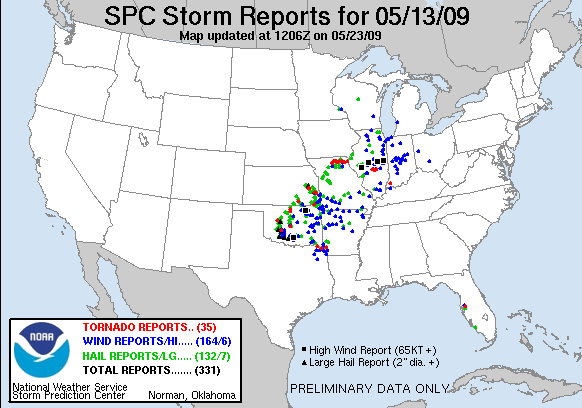 UPDATE: NWS survey of our tornado…it appears we got caught up in the outer circulation! These damage paths go over exactly where we were at.
Leave a Comment: