Summary:
Decided to go for this one at the last minute. Ended up getting on tornado warned storm NW of Jacksonville, storm was moving NE so rather than dipping south 15-20 miles out of my way to get back to main roads I decided to pursue it on county backroads which did not work out in my favor. Severe flooding also became a major hinderance as I tried to keep up with the storm. Followed it all the way across central IL before finally catching it in Champaign with some nickel size hail and more severe flooding. Called chase there and ate dinner at a Pizza Hut which was occupied by a dozen or so motorists whos cars had stalled out infront due to attempting to drive through flood waters.
Stats:
Tornadoes: 0
Largest hail: .88″ [nickel]
Highest wind: est 45mph thunderstorm gust.
Miles: 520
Valuable chase lesson learned: Sometimes it is better to go out of your way to get back to main roads rather than gamble with county backroads.
Detailed Account:
I was not too confident in the setup potential, despite the fact there was a chance for tornadoes and supercells. I had not been watching the models or forecasting at all since the chase on Wednesday though. However I decided to go for it at the last minute and left work a little early, I came home, glanced at SPC and out the door I went. I had no target area but decided to head towards Springfield and then probably head west. This turned out to be a good call.
Once heading west out of Springfield storms began to fire east of the MO border, one went tornado warned as it neared Jacksonville, since I was already en route I decided that would be the days play. We began to get closer once we were well north of Jacksonville, the storm itself on radar looked somewhat linear, but it seemed to began to break apart from the main group of storms. Darkening skies on the horizon:
Shelf type feature on the leading edge as I get closer.
One thing I began to notice was some very intense lightning. The most intense I have seen so far amazingly enough. The sky the whole time was a dull grey typical of an overcast afternoon, within moments of spotting the intense lightning it quickly turned to a very intimidating black in a matter of seconds.
So dark that the auto flash now went off which is why you see all the reflections on the windshield. It was a very threatening sky and I began to think that perhaps the tornado warning could produce. Upon closer arrival though there was a lack of features but there was a bit of a base to the storm. I saw allot of chasers bailing south at this point.
I hung around for a few moments to see what the storm had to offer. Lightning was really intense and I caught some close strikes with loud thunder on video. The the rains fell with some scattered hailstones that was no bigger than penny size. Now it was time to start to stay with it however the road network in this part of Illinois is terrible, where as most of the state has very favorable roads.
To get back to the main highways or the interstate would mean going back south the way I came, the storm was moving northeast and I didnt want to do that. However all the main roads to the north of me went southeast…there were no good north of east options anywhere so I decided to gamble with the county roads that zig zagged their way northeast with the storm.
Well, that did not pay off, some of what showed up as roads on the GPS ended up being "roads" more suitable for tracors…very narrow, muddy and rocky roads that at some point had foot deep divets in them, probably from large tracors. I had to put half of my truck into the surrounding brush to not slide off these roads and down a hill. I was a bit nervous several times and I am very thankfull for the truck I drive. Its all terrain tires handled them like a champ without the 4WD. It did bottom out once though and that says something about how terrible these roads were.
I fell behind the storm because of this, but not by far. The back areas had some really neat colors to the sky though with awesome areas of contrast.
Well once I made it to the area where IL's awesome road network took over a new problem emerged. Severe flooding. Ive never dealt with flooding like this on any chase. These flatland mile grid roads come with a price…the flat farmland terrain was severely flooded and earthen dams around the roads broke away at many locations sending streams of mud and running water across the roads. I had to constantly slow down to crawl through these areas which cost me from getting ahead of the storm still.
Looking around there really were not any better storms. This storm had a decent supercellular shape to it, constant tornado warnings and at times GR3 showed hail up to 3″ in size. All of that kept me wanting to pursue it. Eventually I would catch it as it bowed out over Champaign, IL
Punched through it on I-72 a few miles west of town with torrential rain and some more penny size hail. Once in town I observed some more flooding and once the storm caught up with us again it dropped another round of torrential rain along with some hail that was a bit bigger, around nickel size.
Radar capture of me finally on the bowing storms heals. As usual I was cursed with laptop malfunctions and at this point none of the spotter network icons are showing up.
The tornado warning dropped, daylight was over and I really didnt believe the 2″ hail icon that was showing up on GR3, so I called the chase there. I decided to have dinner at a local Pizza Hut nearby, the street infront of it was flooded with about a foot of water and numerous stalled vehicles. While eating dinner more and more people came inside due to their vehicles stalling out in the water, emphasizing the importance of not driving through flooded roads, especially with a car thats low to the ground. My truck is higher up so I never had to worry.
Stalled out car infront of the resteraunt.
On the way home I witnessed an incredible display of anvil crawler lightning. The lighting would start in the far east horizon and travel the entire sky for about 6 seconds and then finish in the far north horizon, to see constant lightning for that long is incredible. Most strikes are over in less than a second.
Conclusion:
There were no tornadoes with this storm at all. Just a big long string of hail reports mostly under quarter size and a few random wind damage reports. I learned a pretty good lesson about gambling with the backroads. Sometimes It is better to just go out of your way to get to the better roads and hope the storm stays tornadic when you can make a better interception later. If the storm dropped a tornado I would have missed it while navigating the messy, flooded roads. Its better to learn these lessons on a day like this. The intense lightning, run ins with hail and severe flooding all added the severe elements to the chase to make it worth while.
The only reason I came out for this one is because the pattern is about to take a turn for the worst. So it was a good last run that provided some insight to new challenges that can come up during the chase. They're not all easy and can be very challenging at times.
My attempt at Google Mapping this chase. I took so many different roads I cannot remember them all, but you get the idea.
SPC storm reports for the day: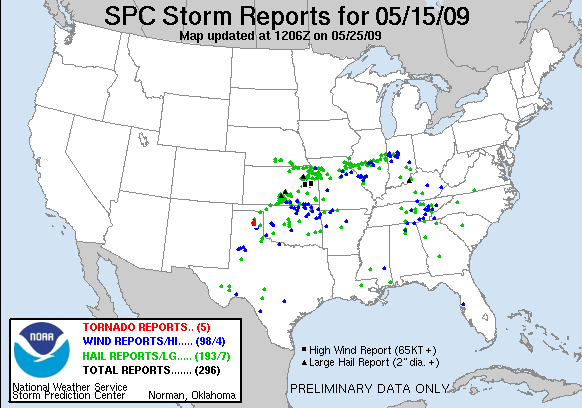 Leave a Comment: