Summary:
Tracked multiple supercells across the Nebraska panhandle catching a couple funnel clouds and some golf ball size hail!
Stats:
Tornadoes: 0
Hail: 1.75″ (Golf Ball)
Wind: n/a
The Forecast:
Highly anticipated trough. Similar issues to the previous system with VBV profiles, and lack of an EML which meant morning storms could lay the day to waste. Unlike the previous system, deeper moisture had spread further north towards a surface low. This put the high plains in play where terrain can compensate for lack of other ingredients. Very steep lapse rates due to cold air aloft near a surface low meant northward moving storms had a chance at tornado potential. SPC went enhanced for hail, but kept tornado probabilities low due to storm mode concerns,

Detailed Account:
This was the next system that offered a chance to head out to the plains. None of my usual chase partners were down for the chase so I was heading out solo (to the plains) for the first time since 2011. After working a full day the drive was long and tiring, the target area far (almost the WY border!) but I made it to Sidney, NE in good time to wait for things to fire. I was soon joined by many others and we had quite a convergence going at a local Perkins.

This was a good target choice as the first storms of the day would initiate nearly overhead. We broke away from one another and took our chosen routes to get under the storm. I made good time and got into the vault region after a short 1o minute drive. The storm was rapidly organizing with swirling motions nearly overhead, but surface temperature/inflow felt cold. This was an immediate concern as Ive rarely had a good tornado day with chilly inflow. Some quarter size hail began falling as the updraft area approached. I moved to keep with the storm and could easily see visual rotation.  While positioning some tumbleweeds began swirling around me and for a brief second I thought a tornado was developing over me.
I pulled over to see a tornado attempting to develop in the field next to me. I seemed to be the only chaser around as most everyone else went a different route. I was hoping for a front row seat to something awesome. The clouds churned overhead and in the field right next to me.

Alas though…nothing. It was the stupid cold surface temps, I just knew it. They were only in the upper 60s/low 70s and the low level instability was not all that great. The storm was spinning like a top, but with a nearly stable ground layer it was going to be extremely difficult to get anything on the ground. I kept up with the storm on some muddy backroads and finally bumped into some other storm chasers….Reed Timmer's Dominator and the ETT tour vans. They were taking the same route I planned so I briefly was apart of their caravan and quickly learned the Dominator is one of the worst vehicles to be behind on backroads. The vehicle being so heavy and low to the ground would cause huge ruts I would then have to fight my way through.
I let them get ahead of me and chose a different route since it was apparent this storm would not produce. I bumped into a couple local spotters who mentioned how much they liked they Twistex memorial sticker. I had a couple extra ones with me and gave them one, to which they were very grateful.
Storms had begun developing all over the target area now, each with similar characteristics. Spinning like tops, producing lots of hail and good base rotation, but those bases were too high thanks to the meager surface temps. At one point a pretty stout funnel cloud developed and made a serious attempt to stretch towards the ground, I thought once again for a brief moment I might actually get a tornado here.

The funnel soon dissipated though. It was not going to happen today. I kept with the storms though. There was still quite a bit of daylight left. Following them north Through Bridgeport I encountered some flash flooding and road closures. Meandering through town was a bit of a challenge to get around the closed roads but I made it through and pursued a new cell further north towards Alliance. This cell brought more hail and areas of great low level rotation, but again nothing was able to make it to the ground. The cell eventually began to weaken as it moved away from the better instability axis.

I was getting ready to call the chase at this point as it was now 7pm and I had a potentially long drive to the next days target. I decided to meet up with Alec Scholten and his tour guests for dinner in Ogallala at a Dennys . On the way down I decided to sample one more storm that was on the way. It was more of the same, a vicious hail core and some good low level rotation, but this time the hail got larger, up to golfball size. I took a shot in the arm while filming out my window and it left a painful welt.
The truck took quite a few hard impacts as well and received some new dents. Once I was done with this core I pressed on towards our meeting spot. Despite slow service and the staff completely forgetting about my order, dinner was nice. A severe warned bow echo was about to slam the down as we finished. We departed the restaurant in a barrage of lightning with a ground scrubbing shelf cloud at our backs. I was tempted to stop and shoot some lightning, but a very long drive was ahead of me and I was already tired. I pressed on all the way to Garden City, KS where I arrived around 3am. Ben Holcomb was rooming there for the night and graciously ordered me a cot for his room to spare me a hotel expense just so I could catch a nap for 5 hours. On the way I got pulled over in Scott City for running a flashing stop light. the officer was friendly, understanding and fascinated by my hail guards. He let me go with a warning, so at least there are some cops still left in KS with a positive attitude toward chasers.
Conclusion:
Today did not live up to expectations, but was far from a bust. Lack of good low level heating and instability prevented these storms from being absolute tornado machines. They were spinning like tops otherwise and produced a great deal of severe weather. One random storm produced a wedge in Wyoming, but no chasers were on it. I felt good knowing I played the storms well and would have been in perfect position numerous times if the storms were going to put down a tornado. At the end of the day thats all you can do. The funnels were nice, and getting into golfball size hail is always fun. A solid chase. The next days setup looks even bigger, so spirits and hopes are still high!
SPC Storm Reports: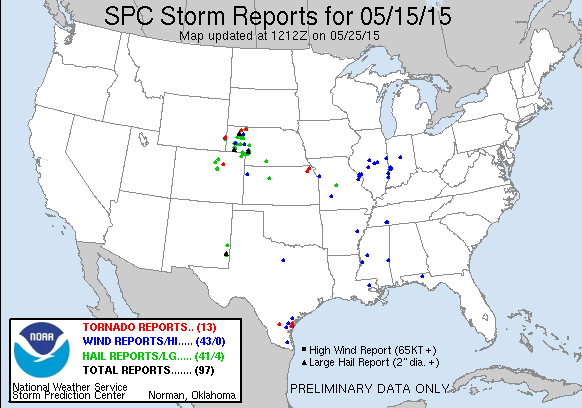 <—-Previous Chase              Next Chase——>
Leave a Comment: