Blue Box!
Summary:
Chased very marginal setup for second day in a row but was reworded with better supercellular development. Got into hail up to golfball size and even an HP tornado before calling off chase and getting in position for the next days setup.
Stats:
Tornadoes: 1
Hail: 1.75″ [golf ball]
Wind: n/a
Detailed Account:
Today was yet another marginal setup in our string of chases for this trip. The only plus was it was yet again in Kansas and we already woke up close to the target area so at least we weren't driving well out of way. We sat around waiting for storms to develop, again joined by Scott Bennett, whos vehicle was repaired in Wichita in timely fashion. A blue box was issued [severe thunderstorm watch] for our area as the setup called for the potential for mostly severe hail. Storms began to light up along a cold front from the KS/NE border to around Topeka. We debated on which storms to go after for awhile and decided on the north storms since they looked a little better on radar and would put us close to tomorrows target.
The Topeka storm going up.
Something was telling me not to let this storm go, as surface dewpoints were better down there but what the hey, its a blue box marginal setup right? We stuck with the plan and moved on our storms, which we watched blossom from towering cu into impressive severe thunderstorms.
The structure really began to organize as we were on them and tornado warnings were soon issued. We were in great position initially but given our location a common and very annoying problem now presented itself. The Missouri river. Time and time again this river and its limited options for crossing have ruined chases, and it looked like we would once again have to make a choice to either chase it to the rivers edge where there is no crossing and hope it produces then, or go out of our way to cross the river and re intercept on the other side. We chose the latter but not before letting the hail core approach.
We made our move to cross the river and sure enough while repositioning, fellow Convective Addiction chaser Skip Talbot reported a stovepipe tornado. He chose to gamble and won out as he was nearly at the rivers edge just as the storm produced. Quite livid Brad put the petal to the metal and we regained our view. We were able to catch glimpses of what we believe to be the tornado in between the trees and hills on the MO side, but video offers nothing more than a couple brief glimpses. We found a highway exit and quickly moved into position and sure enough, a very low contrast, HP tornado appeared to be in progress.
Normally I am not one to conclude a definitive tornado based on such a view, but it matches up with other chaser reports, was under an obvious wall cloud with the right rotation, and Jon got some better shots. Video shows it come and go quite nicely though.
So while not the ideal catch video and photo wise, it got the skunk off our backs. We found a better view and let the storm come closer but by now the wall cloud became extremely wrapped in rain as it encountered several other cells and began to merge.
We moved to keep up with the storm but by now seeing a good tornado was futile. Brad was still looking to christen his car with hail dents we sought out the hail core which gave quite a barrage of quarters for several minutes. I shut off the camera and golfballs started crashing down, only for me to resume filming and have the onslaught transition back to hail slightly smaller.
Its always nice to chase with people who enjoy hail like me!
We till decided to follow the storm, though the best option to do so was cut off by a bridge out.
We had to let the storm go at this point. Some new intense storms were moving into the KC metro area and we debated briefly on pursuing them but decided to get an early jump on positioning for the next days chase, which looked like it could be the best one in the bunch. We had dinner at a Wendys in Bethany, MO along with Nathan Truninger where it was storming quite heavily and watched in amusement as people tried to open the door only to have it fly open and them nearly slip and fall. Once dinner was complete we set course for Des Moines where we roomed up for the night.
Conclusion:
Another marginal, low expectation chase turned out much better than anticipated. The Topeka storm was the storm to be on, however as its structure was extremely photogenic and then developed into a complex that went on to produce some significant tornadoes in Kansas near dusk. Still though, our catches on this trip were the best so far severe weather wise and we were pretty satisfied. The tornado could have been more photogenic, but I must remind myself that most tornadoes are in fact, non photogenic such as the one witnessed today. Catching a bluebox tornado is one of those silly "Ive done it" type things on any chasers bucket list, so it was pretty cool regardless.
Map not available.
SPC Storm Reports: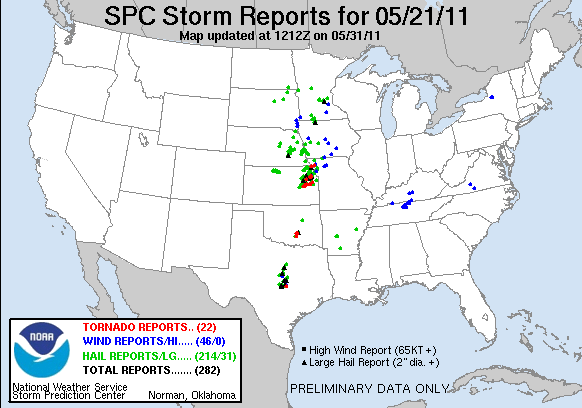 Leave a Comment: