Summary:
Kicked off an active chase week with close encounters of two tornadoes, followed by some serious flash flooding.
Stats:
Tornadoes: 3
Hail" .75″ (Penny)
Wind: est 65-70mph inflow/RFD
The Forecast:
Initial pieces of soon to be persistent trough arriving in the TX panhandle region. Great directional shear, but somewhat lacking in the speed shear. Moisture on the increase, forecast to get better during the day in weakly capped environment. Large scale forcing also lacking as major surface features have not developed yet. Forecast called for numerous storms to develop late in the day, but lack of shear favored clusters and embedded HP mess storms. Shear forecast to increase late in the day could help promote tornadoes closer to dark. SPC broad brushed tornado probs across the entire boundary, but highlighted the main target area where better moisture and better shear was forecast to arrive later in the day with a 5%

Detailed Account:
This was to be the first day in what promised to be an active week of chasing. The pattern that was about to establish itself looked about as good as any for frequent, peak season tornado production in the plains and I was excited. Additionally, Mike Mullenhoff, a film maker from the Chicago area was lucky enough to contact me a few days before this trip. We worked on a failed project back in 2012 and he was wanting to get back out there for a re-boot. Something new, something different. Something bigger and better. He chased with me several times in late 2011 through 2013, but our luck was terrible on all the days he came out. The pressure was now on for me to execute my A-game and get him some good shots.
We departed Chicago about an hour late, cause he overslept, but still with plenty of time. Once again the target area was the Texas panhandle and another 14-15 hour drive was ahead of us. The drive went quick though, as we began filming for the new project. Arriving at the usual waiting spot in Shamrock, it appeared we still had some time so we milled around a bit with other chasers in the area. Storms had begun to fire about an additional 90 minutes to our southwest, but were stuggling to take off since the better dynamics had not arrived.
We moved into position on these storms west of Memphis, towards the town of Brice. Storms were indeed sloppy and HP looking at this time, but showed signs of slow organization in the low levels.

Storms were also messy and merging into large complexes. I decided to punch through the first couple cells to get to the southernmost one. Shortly after punching through the middle storm it went tornado warned with a confirmed tornado some of my peers saw. Shocked, I wondered HOW given the sloppy radar presentation. After a moment of rage I continued on to our storm, which also was now tornado warned west of Memphis, and moving slowly. We got into position to watch a slowly rotating wall cloud. It was nice to see the rotation, but indeed it was slow. The low level flow was just not there yet. We kept with the storm for about an hour as it maintained its warning.

Storm organization improved greatly, and a nice inflow tail developed feeding into a wall cloud that was rotating faster. NOW I was starting to get excited, and also annoyed that nothing was happened yet. This particular area has iffy terrain, and many times the actual base was obscured. I moved us in and when I cleared a row of trees there it was, a trunk tornado that had just touched down.

Since the tornado was moving our general direction, I stopped there and jumped out to film the tornado. It displayed multi vortex characteristics for the first couple minutes, but briefly condensed into a fat cone.

CG lightning began striking really close, which chased me back inside the vehicle. Once those calmed down I stepped back out with the tornado getting closer. The inflow tail reached our location and winds approaching 70mph began screaming at my back. I keep my wallet in the door compartment of my truck, and suddenly I see dollar bills being sucked into the tornado. Son of a….I hop back inside and shut the door to discover $60 had been sucked out of my wallet and hurled into the tornado. I decided to move in a bit closer for a crossing the road shot. I stopped after some powerflashes occurred 4 or 5 poles ahead of us and got ready, but the tornado, again in a multi vortex phase began quickly occluding and made an abrupt turn to the north over our road.
A new funnel began forming almost overhead and was moving our direction so I flipped a U-turn to bail back north a bit.

The funnel crossed the road and I did another U-turn to go back to our original spot. Just as I stopped I noticed howling winds from the west, and looked out my window to see a new fat cone tornado in the field just to our east.

The contrast wasn't the greatest as rain quickly overtook us and I lost sight of it. Going south we were cut off  by downed powerlines so I made yet another U-turn north, only now we were being hammered with RFD winds hurling tumbleweeds and chunks of trees at us in whiteout conditions. I saw fellow chaser Stephen Jones heading south, so I made my 4th (or maybe 39483984th) U-turn at this point to caravan briefly, but it was apparent we had no easy way to get back ahead of the storm and quickly went separate ways. The slow moving storm began creating flash flooding issues, and many roads were washing out. Back on highway 256, water was flowing slowly across the road and I decided to cross, as we did the water began flowing quicker with large chunks of trees and other debris embedded in it. Worried I made a stupid decision I pressed forward and we were soon out of there.
Reaching Memphis we encountered numerous road closures, and had no apparent way to get back in position with the storm, at least one that wouldn't involve stupidly driving through another flooded road. Reports of stranded chasers were coming in, and I decided to call the chase and wait things out in a (relatively) dry parking lot in town. We sat there for about 30 minutes once the rain eased up and began slowly wiggling our way towards where we wanted to stay the night, somewhere in West Oklahoma. New storms began forming and I spent the next 3 hours driving what felt like under water, with a constant barrage of CG lightning so bright it made my eyes hurt. I was actually getting sick of storms at this point, and was elated when we finally cleared them around Shamrock. We ended up staying in Elk City, which is a surprisingly nice town with good accommodations I've somehow managed to overlook all these years on the plains.
Conclusion:
Day 1 of this trip was already a wild success, nabbing two tornadoes at decently close range and documenting some serious flash flooding. Our film making is off to a good shot, and after probably a dozen failed chase trips I was glad to finally show Mike some real storm chasing action. I wont ever attempt driving through a flash flooded road like that again though….that was pretty stupid. The day overall ended up producing quite a few tornadoes from Kansas all the way through the Texas panhandle, awarding numerous chasers with a variety of catches. Definitely an over-performer given the forecast. The outlook for this week is already verifying. Need to rest though, we have at least 3 more days of chasing, and each of them look like they could be just as wild.
Video:
Map. Arrow shows location we filmed tornadoes.

SPC Reports: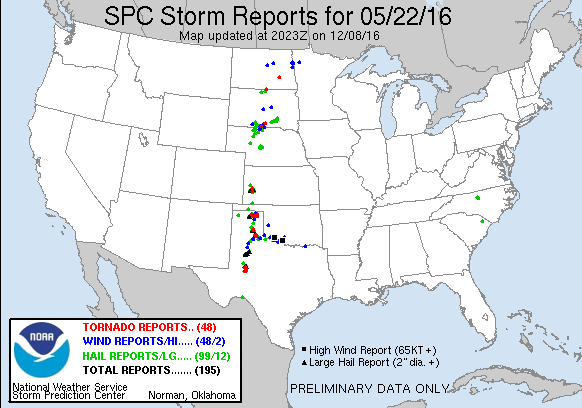 Leave a Comment: