After how awesome day 1 was, the adrenaline was in full swing for day two.
Summary:
By definition of not seeing any true severe weather the day was a bust. However, the storms we did get into were gorgeous and provided amazing photo ops. Lots of storms fired, but bounced off the cap and then got sheared off by the powerful jets aloft. The forcing and instability wasn't enough to maintain the updrafts, and all the storms rained and hailed themselves out. At one point we had a massive wall cloud that produced the most convincing tornado-lookalike I've ever seen. Got cored by blinding rains and dinky hail. Called it a day and had some dinner.
Stats:
Tornadoes: 0
Largest hail: .25″ [pea]
Highest wind: non-severe gusts probably around 35mph
Other features: Large wall cloud, amazing towering Cu, rainbows.
Detailed account:
I awoke to hear one of the most random things Ive ever heard. Matt comes in and says "this hotel has monkeys" After I slapped myself in the face to figure out if I was awake or dreaming I realized he wasn't kidding. The hotel had a bunch of monkeys in the back but u weren't allowed to take pictures of them.
Chad and crew awoke shortly after, we looked at video from the previous day and discussed where we wanted to target. Having poor internet connection and not really monitoring models all day yesterday we basically based our decision off what SPCs convective outlooks said and chose to head north to Nebraska.
Getting ready to leave.
Chasers love to eat, so it was agreed that we could't go anywhere till we stopped for some lunch. Once our bellies were full we drove up to York, NE and played the waiting game there. About an hour after that storms started firing to the west so west on I-80 we go. We start to see them.
The fact there are so many so close together is already a bad sign. Either the cap is too weak and a cluster of storms will go up or we've got elevated crap. So we stop near a KOA campsite and watch them for a bit. We realized these storms weren't doing anything so we let them go and die.
Some more promising stuff blew up further south and was moving a mean NNE direction so we went back east on 80 and then north to intercept. We ran into Al Pietrycha [probably spelled his name wrong] from the NWS in Dodge City KS. We met him last year In South Dakota and its always nice to see a familiar face. We observed more storms, though not severe they were awesome to look at.
The van is still dirty, but the heavy rains helped wash it a bit.
We let these storms go on and went after some new stuff forming. This seemed to be the name of the game today, so further north, east, west and everywhere we went to catch them. From a distance they looked promising…
We caught up with the tail end charlie that had a very nice inflow tail and what looks like a weak wall cloud trying to form. Tail end charlies are often the best bet for a tube in a line of storms.
It wasnt to be for this one. The rain shaft was very impressive though. The white you see in the following pics isn't sunlight, its a wall of water!
We can see it pouring rain in the field yet barely a drop fell on us.
We let it pass and sure enough a rainbow emerges.
We decided to keep with it just in case it got its act together. The whole time the scenic shots were pretty amazing.
Suddenly a beefy looking wall cloud drops out of nowhere and we start to get excited.
It would never produce, all it did was get wrapped in rain which then resembled a tornado pretty damn well.
We end up getting cored by this with some monsoon rains and dinky hail. It was pretty blinding at one point and skips van totally vanished infront of me. I wasnt surprised given the sharp precip shafts pictured above. More rainbows.
At this point we call it a day and then head back to a bigger town with more food opportunities. The storms werent done with looking amazing though.
We stopped a few times to snap pictures, the setting sun backlit these towers nicely.
We stopped in Columbus, NE for some food. First we tried what looked like an awesome sports bar-n-grill but a damn wedding party had it all rented out so we opted for the pizza joint across the street. I had to laugh at how they did cheesy garlic bread.
So we ate and shared more pics. At this point we parted ways with Chad and Skip, they had to do a marathon drive to get their friend home because his fiance was complaining at him for being gone so long. They weren't happy about it because they wanted to chase tomorrow but they managed to pull off getting him home. Storm chasing and girlfriends dont mix. Adam will forever remain single.
So Matt, Deb and I headed back to Omaha for the night. It was a good place to sleep because we weren't sure if we wanted to target IA or KS the next day and we could easily get to both from there.
All in all it wasn't bad. We busted this chase and missed the tornado fest in Oklahoma but busting to a bunch of beautiful photogenic storms is probably the best way to bust.
SPC storm reports for the day. One hail report from our storm in Nebraska.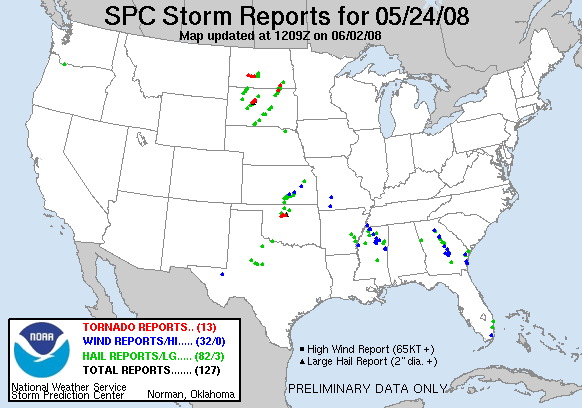 Leave a Comment: