Lazy…
Summary:
Got a late start on the day and missed another round of large tornadoes close by. Un upset due to the previous chases events we chose to play the new development screaming north out of NE. Made perfect intercept but storms fell apart. Called chase as isolated storms fell apart and decided not to make a run for squall line out west. Drove home ending week long plains marathon and arrived back in Chicago at 8am.
Stats:
Tornadoes: 0
Hail: .00″
Wind: 40mph sustained surface flow.
Lesson Learned: Don't be lazy, wake up to at least check conditions to see if earlier departure is needed.
Detailed account:
We awoke to ongoing storms out west and slowly prepared to leave. We decided going west would be the best option today and set out in that direction. Where we failed today was anticipating such early storm initiation. Storm speed was also an issue today with storms moving north at speeds greater than 50mph.
Storms also formed a little farther west than we had thought, and given their insane speeds we could not make a play on those. There was a batch of storms to our south in NE screaming up towards us, given the forecast environment to be favorable for tornadoes we dropped south to intercept.
En route the initial storms to our west dropped several large, photogenic tornadoes. We were a bit miffed by this, but another chaser near us who chose to go after them failed to catch them as well. Our late start was what messed it up this time.
We drove south towards Murdo again and positioned to intercept the cluster of storms heading that way. A short job down the interstate from there put us in perfect view. The storms had been tornado warned and showing impressive rotation on radar, but were now withering away to electric rain showers.
It was our only real play, so we setup on a hill where a friendly farmer lived who let us utilize his driveway that had an optimum view.
Ben and Danny watching.
The storm visually looked like it was really trying to organize, and at one time made an attempt at a wall cloud but it soon dissipated and the storm completely collapsed into nothing more than a decaying updraft tower. The following photos will show this de-evolution.
If you were following along on the site, you were able to watch it live!
Nearly completely collapsed at this point.
All that remained.
There were no more storms to go after and a big raging squall line out west. The only tornadic storms were still clustered in the original batch that was now way into North Dakota. Could we have been able to catch up to them given lack of roads and fast speeds? It is hard to say, but not likely is the answer I am telling myself.
Conclusion:
Our lazy approach to the day cost us another major score. Luckily 2 days ago we had the chase of our lives so that greatly eased the pain. The forecast itself also didn't verify with our storms falling apart as opposed to doing what they were supposed to do, had it not been for that, our day could have easily been a great one. The squall line did quite a bit of damage and next time I will probably wait for it just to get a consolation prize.
Map unavailable for this chase.
SPC Storm Reports: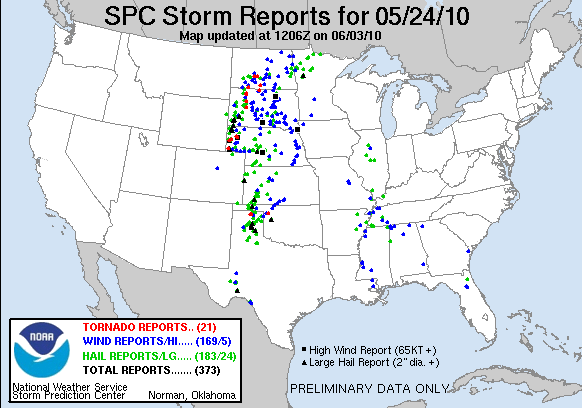 Leave a Comment: