Wow..
Summary:
Another significant high risk with enhanced probabilities for tornadoes. Targeted north central Oklahoma and intercepted strong to violent cone/wedge tornado near Canton from birth till we lost it in the rain. Dropped south to next storm producing violent wedge near Piedmont. Came across complete devastation and called off chase to help with search and rescue, once EMS took control all storms were out of play and was back on the way home by 7pm.
Stats:
Tornadoes: 2
Hail: 0/75″ [penny]
Wind: est 55mph tornado inflow near Piedmont.
Something freaky: Sitting at an intersection and having tree branches falling out of the sky.
Something freakier: Finding a laptop on a counter inside a demolished building we were searching with the power still on.
Detailed Account:
This was supposed to be the big day in the setup, but noone knew just how big it was going to be until 24hrs before. This system had everything going for it to be a classic plains tornado outbreak. For the second time this year SPC even went with enhanced tornado probabilities by issuing a 45% tornado risk. The first and last time I had ever seen that was with the Alabama outbreak back on April 27th. We left Mikes house in Wichita that morning expecting a long and chaotic chase day ahead. On the way down some dry air at 850mb drove us crazy as to whether or not we made the right call, this dry air looked to cut the target areas in half and it was either play the KS target where we were already sitting or blast farther south into Oklahoma. We checked more data and decided to stick with the Oklahoma target, only slightly behind schedule.
On the way down the dryline quickly lit up around 2pm and the chase was active. A nice isolated supercell had rapidly formed and we made that our target storm.
We made good time getting into position on the storm. I was less than pleased with the terrain we had to work with, it was quite hilly and forested with the occasional view. I drove around trying to find a spot with a view and eventually settled for an area where we could at least see into the base, which looked quite ragged and disorganized when we first arrived.




The storm, however, began to rapidly organize as it approached and I watched in amazement as the very first pieces of scud began to wrap around as the rotation developed.
I had been video taping the whole time with my tripod so this should make good time lapse. Finally an inflow tail began to develop and rotation really picked up right before our eyes.
A nub funnel started to develop.
Shortly after the above photo a vortex on the ground condensed, it was a tornado. This shows up well in the video. Unfortunately our timing/positioning wasn't perfect and we had to move to reposition if we wanted a continued view of the show. I experienced a complete technology meltdown at somepoint while I was standing outside so I went back the way I came, found a really nice view on a hill and enjoyed a spectacular, unobstructed view of the Canton tornado as it first formed until we lost it in the rain. All year I had been searching for such a tornado, what started off as a thin multi vortex morphed into a stout, black, violent cone. Perfect. Photos will show the evolution followed by the video.
Video
While attempting to reposition without GPS we made several wrong turns in town and deemed the storm to be too far north to catch back up to. By now the entire dryline had blossomed into tornadic supercells and we decided to drop south to the next one, which was heading towards the Peidmont area. Doing so meant a pretty harrowing core punch, but that has never stopped me before, even though I was quite nervous given the reports coming in. The storm was absolute monster on radar.
As we made our approach we were stopped at an intersection Hennessy and tree branches began raining down from the sky. It amazes me debris can be lofted for so long in the tornado, it was an early sign there was a serious tornado in this storm and that I had better hurry to get into position or dont attempt it at all. We blasted through the core down route 74 with only small hail and eventually noticed the right side of what was a reported wedge tornado. It was incredibly rain wrapped and we could barely make it out. Here is a shot from Jon's video.
I was too busy driving to film. We parked once we felt we were far enough south as the tornado passed just to our north, the entire time we experienced warm, moist and intense inflow that took leaves off the trees around us. We used wind direction to indicated when the tornado was gone and moved north again on 74 to see what had happened. Unfortunately it was bad. Major damage with some structures being completely destroyed. I wiggled through the downed wires and barbed wire fencing laying across the road until I came upon a group of chasers also in the same area whos names I never got. We called off the chase and spent the next hour or so searching damaged structures for victims, calling out for any response. We never heard anything and never found anyone. A couple locals also joined in our search and we could only hope the lack of responses we got meant people got out of there in time. Unfortunately as I write this there have been at 4 deaths in this area.
The following images are screen shots from my video of the damage we encountered.
Im not sure what exactly this was, a home or an airport hanger but inside we found a laptop resting on a counter with the power still on, noone to be found. It added an incredible amount of eeriness to the whole situation.
More homes with noone to be found in and around them.
These horses were just standing there in shock starring at the damage, also eery.
I do not enjoy damage at all, and I typically do my best to avoid it. The images are hard to get out of my mind however as being first on the scene I feel it is necessary to stop and try and help when possible. Once EMS arrived they took control and we weren't immediately needed so we pressed on. By now the only storms ongoing were moving over the south side of OKC and we had no possible intercept on them. The chase was over and we made our way back home, driving through more damaged areas as more and more roads began being closed off. We stopped in Guthrie where we met up with Scott Bennett, Steve Polley, Fred Plowman as well as Stephen Locke and Eric B'hymer. We shared stories of the day for an hour until I decided to hit the road to Wichita so I could drop Mike off and set course for the next days setup which looked to be on the way home.
Conclusion:
This was a classic plains tornado outbreak and chase. From start to finish this was what storm chasing is all about. Unfortunately it comes with a dark side. The Canton tornado is my best catch of the year, and unfortunately the devastation we encountered was just as bad as Alabama back in April. If I could do one thing different I may have moved to reposition on the Canton tornado sooner as to not fall behind the storm and miss the nice rope it produced afterwards, but its quite hard to give up such an amazing view once you have it. I really enjoy the video, an unobstructed continuous view of the entire tornado as opposed to herky jerky glimpses between trees and buildings at ground level. This has been an exceptionally deadly year for tornadoes, and I wish that aspect of it would just end already.
Maps, first the Canton intercept.
The whole chase, legend is as follows. Red Circle = Canton intercept. Green Arrow = where we watched tornado cross north of Peidmont. Green circle = area of devestation. Pink circle = debris falling from the sky. The map had some tracks from the previous days chase, since I like to use a continuous map when I am out for multiple days.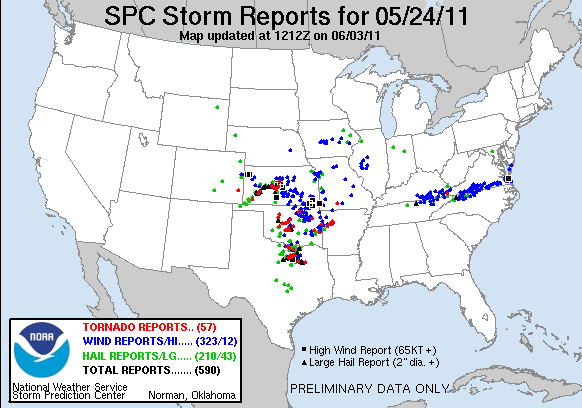 Leave a Comment: